Wunderbar, a new biennial showcase of performance and visual art for the north-east, aims to "place the audience at the heart of the experience". Spread across venues from the traditional to disused, the eclectic events in the programme all focus on interactivity. That means a chance to get your hair cut by local primary schoolchildren to explore the trust we place in them, or join Joshua Sofaer's Tours of People's Homes, where owners have communal bubble baths, storytelling and food fights planned.
Various venues, Fri to 15 Nov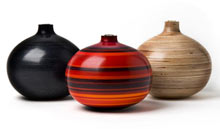 Fans of the old Newsnight Review lineup will be out in force to hear the soft, Eeyore-ish tones of Tom Paulin (pictured) as he reads his work and speaks about his favourite poems at this annual celebration of verse. The ever-enjoyable John Hegley performs his life story and also works with local young poets, while Kate Fox performs with ukulele accompaniment. Imtiaz Dharker, Albert Goldbarth and Valerio Magrelli headline on Saturday evening, preceded by David Constantine reading from his work on Brecht. Elsewhere, actor Roger Lloyd Pack shares his desert island poems, with Maureen Duffy, Richard Price and Ciaran Berry also appearing.
Various venues, Fri to 8 Nov
Liverpool shows off its creative stuff as the design festival hits full swing with this weekend's Eco Design Show. Held in the Cathedral's Crypt Hall, Sarah Thirlwell is among those whose stylish items from recycled and reused materials will be on display, while workshops with garment illustrator Emily Lansley and bag-makers Nook and Willow help give a new look to old accessories.
Various venues, to 8 Nov
OUT AND ABOUT
Saturday, Glasgow
Wake up with dark circles under your eyes? Perfect for mixing in with the undead dragging around the West End.
Starting at QMU gardens from 3pm
Saturday, Wellingborough
A day of car-crushing kicks from monster truck Podzilla and superfast track action from jet-powered racers finishes with fireworks and a bonfire.
Santa Pod Raceway, Airfield Road, Podington, call 01234-782828
Sunday, London
Day Of The Dead At British Museum
Family activities, performances, workshops and parades celebrate the Mexican Day of the Dead holiday, when family and friends gather to remember the deceased.
British Museum, WC1, call 020-7323 8000
Thursday to 17 Jan London
Natural History Museum Ice Rink
The east lawn again opens up for icy fun, with a mini-rink for younger skaters and, for a break from the blades, a carousel and cafe.
Cromwell Road, SW7, call 0844-847 1576