Spencer Ackerman: 'Eating with animal friends is heavenly'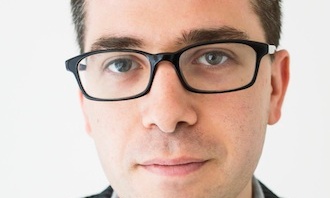 After 12 years of stalwart companionship, my dog Kingsley died on 21 March. He was an amazing soul: mischievous enough to be interesting, loving enough to respect boundaries. To the extent a beagle-rottweiler mix can be a people person, that was Kingsley. He indulged, with a cuddle and a tail wag, every unfamiliar child who'd cautiously ask to pet him, and there were many who asked.
I never tried to take Kingsley into a restaurant or a bar. But if I had, I know how he'd behave. He'd sidle up to my leg, sit at attention and quietly moan until I fed him from my plate, repeating the procedure as often as he could get away with it. He would not lunge at waiters, diners, tables or other dogs. I know because, like all true dog lovers, I made a point of training him to behave around other people.
So I have little patience for the disdainful greeting that some, like my colleague Jessica Glenza, have shown to New York state's proposed bill to permit dogs to accompany diners at outdoor restaurants.
This bill is best described as moderately pro-dog. Dogless diners need never interact with the dog section, as the bill would mandate separate animal entrances and devote the majority of space in the restaurant's outdoor seating area to unaccompanied humans. Importantly, the dogs will not ever set paw indoors – let alone the kitchen. They will be penned in patio areas and kept on leashes controlled by their owners, meaning that dogs already under restricted conditions will only be in public dining settings during the late spring and summer.
There are legitimate concerns about dogs in restaurants. Fortunately, all of them can be easily addressed. The bill should authorize stiff fines for unruly dog behavior – to include noise violations from sustained barking and lunging – and misdemeanor criminal penalties for menacing waitstaff and patrons. Severe penalties for poor dog behavior will deter those who can't control their animals and ensure a safe working and dining experience.
Now that we've dispatched both the reasonable and the frivolous objections, we're free to focus on the benefits. Having an animal friend near you while you enjoy your meal and your drink is heavenly. A dog's good spirits – irrepressibly loving and supportive – and adorableness put people in better moods. They're a fantastic icebreaker for the attractive person who spots you from a few tables away.
I'm a native Brooklynite. I hate many, many things you new arrivals have done to transform my home from its 1990s heyday. I want to sabotage your Mary Poppins bikes and your Wilson Fisk-like overdevelopment and your scientistic rejection of vaccinations is a public menace. But I thank you for being so insufferably bourgeois that you've built a powerful political constituency for dogs, those most loving of New Yorkers. As our greatest poet since Walt Whitman put it: spread love, it's the Brooklyn way.

Jessica Glenza: 'Dogs are impractical dinner companions'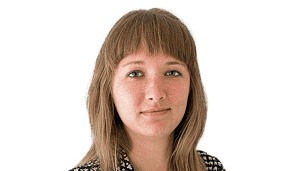 It was New Year's Eve 2013. My boyfriend and I headed to a sushi bar to celebrate. Given the jolly atmosphere of the holidays, the bartender allowed a dog owner to bring in their animal. After this first transgression, the dog owner proceeded to put the small, dirty white thing on his lap.
Then feed it sushi.
With his fingers.
Two seats down from us.
Needless to say, this left an indelible scar on my memory of the evening. It's nearly the only thing I remember.

This spectacle never should have taken place. Dogs are illegal in restaurants and the owner should have respected the good judgment of health officials.
No one wants to find dog hair in their cup of coffee, watch a dog eat an owner's food or endure a begging mutt's stare through dinner. But New Yorkers will have to bear these sort of unappetizing nuisances should this legislation go forward.
I want to issue a disclaimer here: I like dogs. There are people out there who have good dogs. They take care to lead well-trained animals around the fair city of New York.
In horrible, snowy weather, these owners pick up the steaming piles of poop from city streets so that passers by don't kick frozen poopsicles. They keep their dogs by their side as they walk, not letting out so much leash as to trip a distracted commuter or clothesline some unsuspecting child. These are the tame pooches who sleep away the afternoon while their owners are gone, not barking at every opening and closing of a building's heavy door.
God bless you, responsible dog owners of New York. You make this place a little bit more relaxing and enjoyable with your sweet, cute, well-trained animals.
Unfortunately, not all dog owners are that thoughtful and, because dogs don't have the capacity for rational thought, we can't expect them to consider the sensibilities of other diners.
It's not all about training, though. Other diners could have legitimate concerns about eating next to animals, such as allergies or an aversion to infrequently bathed dogs. There is a reason the Food and Drug Administration disapproves of dog-friendly food establishments.
There are other functional considerations as well. Should a bullmastiff be allowed to roam below the tiny seats and tables of a french cafe? Should the well-heeled owner of a pursed chihuahua be allowed to feed her animal from her plate?
I love dogs and actually want a dog myself. Still, I would not feel comfortable forcing other people around me to tolerate my pet inside the confines of New York's small outdoor dining spaces. Dogs are not traditional dinner companions out of respect for fellow diners.
So, New York, please, keep it illegal.