Even the holiest tall building symbolises someone's idea of sin, as the small case of St Paul's cathedral shows. Barely had Christopher Wren's Protestant pile raised London's skyline to a new record height of 111 metres than it was being damned as showy, gaudy and practically papist. Today, it seems bizarre that a building so synonymous with the capital and its survival of the blitz should have been seen as a bit dodgy and foreign. But that's the thing about skyscraping – it brings stuff down on your head.
Completed in 1710, St Paul's remained London's tallest building until 1962. Now its dwarfing by successors is just one of the reasons they in turn are so often objects of suspicion, disapproval and assault. The large exceptions prove the general rule. Last week we learned that one of the Square Mile's newer big arrivals, at 30 St Mary Axe, has gone into receivership. The Gherkin, as it's known to its friends, is unusual in being popular – Londoners' favourite according to a recent poll. Perhaps it has suffered for being insufficiently attacked.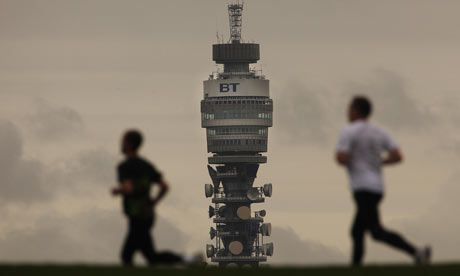 The first building in London to reach higher than the spire on Wren's dome was the Post Office Tower – the BT Tower as it is now – which hit the highest height like some sort of swinging London space probe planted in the heart of genteel Bloomsbury. Though incongruous, it spoke to the vibe of its time, a column of hi-tech that made it easier to telephone Glasgow or Birmingham and had a rotating restaurant at the top. It did not, however, unite all of the UK in reverence. In 1971, the IRA exploded a bomb in the restaurant gents and 10 years later the whole building was closed to the public.
Another monster of the era enjoyed none of the PO Tower's early esteem. Centre Point rose from a spot right next to Tottenham Court Road station in 1967 and stood empty for five years while its owner, the tycoon Harry Hyams, coolly waited for the single, big-time tenant he desired. A concrete brute assembled from pre-cast sections of crushed Portland stone trucked in from Dorset, Centre Point became known to the nation – including the little boy me out in the sticks – as a monument to property trade greed. It was briefly squatted by homelessness campaigners in 1974, giving rise to the misconception that the housing charity Centrepoint was born as a result (in fact it had been founded a few years earlier). Like the BT Tower, it is now Grade II-listed.
Will London's more recent tall buildings eventually meet with similar establishment approval? It's hard to imagine the City's bulbous Walkie Talkie being so embraced. The nearby Cheesegrater? Maybe. But the public bickering of aesthetes surely guarantees that the cloud-pricking Shard, at 306 metres the tallest building in the EU, will eventually be embraced by the very heritage lobby that now scorns it.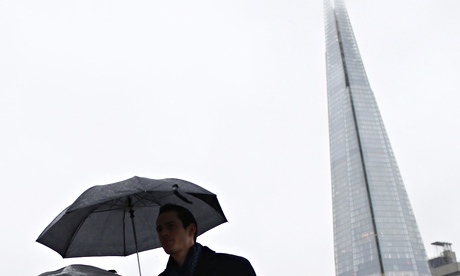 The Shard, you see, offers such versatility for quarrels about taste, values and scale. It is, depending on which pundit you ask, a "typical late-modern malapropism", "obnoxiously domineering", "an indictment of Britain's negotiated planning system", "a symbol of Britain's love affair with financial bling" and "the most beautiful addition to the London skyline" which "anchors the best piece of urban regeneration in the world".
It's also still mostly empty, inviting enemies to include it in the tradition of long, speculator middle fingers raised in the direction of those who think landmark heaps should at least be something more than shimmering shells. But even the lowest, dullest skyscrapers are seized upon as emblems of moral failures and social ills, the postwar, system-built, municipal tower block being the architectural folk devil at the opposite end of the income scale. And the same structure can be perceived as either threatening or benign, depending on the context and the time.
The Empress State building in Earl's Court – another 1960s pioneer tower, currently leased by the Metropolitan police – was designed as a hotel and then became home to the spooks of GCHQ, whose proximity gave comfort to an elderly, long-term council house tenant of my acquaintance who lives nearby. Now it is owned by property giant Capco, which wants to turn it residential as part of a gargantuan, destructive, redevelopment scheme that will see more towers sprout around it, and the council tenant and his poorly wife removed from their home against their will.
Perhaps that story illustrates how tall buildings can become a way of talking about just about everything we don't like except what matters most. Architecture should be pleasing, but serve other purposes too, such as providing places to live that people on ordinary incomes can afford. Central London's glut of largely residential towers are sometimes defended as answering a need for greater building density, but really they are an index of a warped property market that has no interest in serving the majority. Defending the skyline against barbarians is important, but the damage they are doing is far greater than just spoiling a view. And, after all, they do create a few good ones too.