Owing to my aversion to razors, the Guardian has kindly invited me to comment on singer Jessie J's announcement that she plans to shave her head for charity in March next year. On the one hand, I am the right hairy beastie for this job. My xyrophobia is but partial, you see – I've shaved my head twice now and will probably do so again the next time I'm trying to impress someone at a party. On the other hand, however, I feel a bit shoe-horned in, because I hadn't heard of Jessie J before today.
Yes, yes, I know. Have I spent the past year under a rock in China with my hands over my ears? Do I go about my life wearing a sensory deprivation helmet? I've already had all this flack from my incredulous workmates and flatmates, so please just find some other way to slag me off in the comments section.
Being a partial luddite and partial snob (snuddite?), I miss almost everything that happens in popular culture. Ergo, my snob half wrote a version of this article on the train back from work based on the arsey assumptions that a) Jessie J was a disposable plastic product of the X-factory and b) the internet was awash with hate-monkeys shrieking that if Jessie J shaved her head her vagina would fall off (just like they did with Miley Cyrus).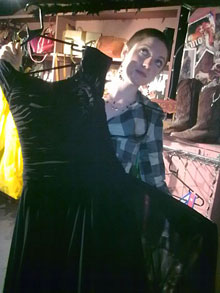 When I got home, my luddite half worked out how to search Twitter (I'm afraid of Twitter. Look what those birds did to Tippi Hedren). And I discovered, much to my chagrin, that Jessie J is AMAZING. She writes her own stuff, and her lyrics are cool; she has a phenomenal voice, and she's outspoken about her bisexuality; she has intelligent things to say, and she looks deadly! I couldn't find any hate monkeys at all. Not a single faeces-flinging primate was there in any Twitter tree. Instead, all the birdies were chirping stuff like "OMG Jessie J UR so BRAVE Im gonna shave my head 4 charity 2 UR my inspiration."
I hate it when I'm prevented from rolling out a prefabricated feminist diatribe. It makes me all stampy. But never fear! I've come up with a different unfounded and cynical assumption about Jessie J to peddle instead. Here it is. Jessie J isn't really shaving her head for charity. Jessie J is shaving her head because she wants to. Oh we all know people who do it – people who get you to sponsor their "charity" skydive, or their "charity" walk up Machu Picchu, or their "charity" MDMA-fuelled danceathon in Ibiza. Well, Jessie J is no different. Sure, she's raising some money (mo-nay, mo-nay) for a worthy cause, but she has a far more devious motive.
Imagine: you're an über-famous super-cool pop star who everyone except me has heard of. You harbour a deep and unrelenting desire (possibly based on a teenage obsession with Skunk Anansie) to see the contours of your own skull. But you are savant enough to know that you live in a world in which a white woman's decision to shave her head is seen, variously, as a sign of acute psychological distress (Britney), of living in an alternative dimension (Sinéad), or of having been locked in a basement by a masked man for months with only a scrap of loo roll for company (Natalie Portman in V for Vendetta). What do you do? That's right – you play the charity card. That way everyone thinks you're brave. No one even suspects that you're secretly a body non-conformist screaming against the strictures of gender normativity.
But I'm on to you Jessie J. I know you're excited at the prospect of irreverently skipping across the boundary of acceptable female behaviour, of breaking down learned beliefs about what is masculine, what is feminine, and what is beautiful. I know you want to rewrite the cultural schema of shaved-headed women, turning connotations of prisons, camps and collaborators into a narrative of playfulness, bravery and social value. And I think you're aware that when a woman admired as much as you plays this game, it gives others the permission to do so as well. It gifts women and men alike with the courage to take control of their physicalities, to make choices about their bodies based on individual desires, not blind conformity to stupid gendered bullshit or fear of social ridicule.
So Jessie J, if 2013 is the year of the shaved head, why not consider Armpits4August in 2014? All for a very good cause!