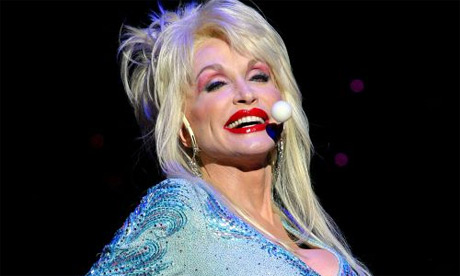 Prior to her performance at the O2 centre last weekend, which I had the pleasure to attend (although it would be presumptuous to claim to be a proper fan as I wasn't wearing an elaborately embroidered pink cowboy hat), last Thursday this newspaper ran an editorial in praise of Dolly Parton.
This was brave, given that some feminists staunchly disapprove of Parton having built her extensive commercial success out of flamboyantly exploitation of her sex appeal – not least her cheerfully-acknowledged breast implants. But who is exploiting whom?
Lest anyone suggest Parton's success is pure selfishness, rather than empowering to women generally, we need only reflect on the second verse of her hit song Nine to Five. Rather better known than anything written by Germaine Greer or Jeanette Winterson, the lyrics go as follows:
They let you dream just to watch them shatter
You're just a step on the boss man's ladder
But you've got dreams he'll never take away
On the same boat with a lot of your friends
Waiting for the day your ship'll come in
And the tide's gonna turn
And it's all gonna roll you away
Parton does not get into the dispute between advocates of capitalism and socialism over whether women offering "service and devotion" but denied a "fair promotion" are best off relying on a competitive labour market or legislative protection. But nonetheless, Nine to Five is surely an anthem for those who do not wish to passively accept the situation.
If the basis of feminism is women not allowing themselves to be pushed around by the opposite sex, then Parton offered a rousing endorsement of such a view during her performance, not just with her songs themselves but also with the jokes and anecdotes that punctuated them.
What about all those old-fashioned southern American values? What about them? Certainly she exemplifies them with emotional tributes to her parents' songs, not to mention her reflection on having been one of a family of 12 children: "People ask if we were Roman Catholic but I say 'No, we were just hillbillies.'"
Parton praises the institution of marriage but simultaneously makes it plain that she is not a downtrodden housewife. When her husband, a fan of rock groups including the Fine Young Cannibals, played her the track She Drives Me Crazy, Dolly was prompted to reinvent it as a country number. "My husband doesn't care for what I've done to it", she said at the O2 centre. "But since when did I do what I was told by anyone else?"
Earlier, performing perhaps her best-known hit, Jolene, she said: "I see so many drag queens at my concerts I sometimes think I should sing: 'Drag queen, drag queen, drag queen. I'm begging of your please don't take my man.'" She said that the song was inspired by her efforts to fight off attempts by a red-haired bank clerk called Jolene to take her husband.
"Well, we are still married. We've been married 42 years", Parton explained. "When I lie there listening to him snoring I think: 'Where's Jolene?' "
A worthy role model for us all.