Like a Conquistador trawling the rainforest for an ancient metropolis, the black-clad explorer crept through the undergrowth, foliage crackling underfoot.
"It's just like the Mary Celeste," he marveled, as he arrived at a clearing where the first metallic towers of a hidden kingdom came into view. "People just upped one day and left."
Around him unfurled a decaying sprawl of vine-covered structures, turrets and trees. Giant cranes reached heavenwards, steel claws clutching at tufts of cloud. Below, a rusty sign extended visitors an ominous welcome: "Your families are waiting for your safe return".
The lost city in question is not in the jungles of South America, but the smog-choked outskirts of Beijing where Brendan Connal was on his latest quest in search of a hidden China.
Connal, a 35-year-old from Norfolk, is one of a small but intrepid network of urban explorers who are fanning out across the industrial wastelands of mainland China, uncovering the dramas and mysteries of its astonishing economic rise as they go.
"Each time I find a new site I feel excited," says Zhao Yang, 29, another "urbexer" who documents his unconventional treks through abandoned military installations, cobweb-choked cinemas and derelict factories on a website called Cooling Plan.
Connal, who was raised in North Walsham, a small English market town, is one of the most active members of China's approximately 200-strong urbex community.
Worldwide, the pursuit – which some describe as "recreational trespass" – is estimated to have about 20,000 adherents, the majority in Europe and the United States.
Connal cut his teeth while living in London – for decades a hub for urbex collectives – hoisting himself into abandoned multi-storey car parks in Whitechapel and a Victorian psychiatric hospital in Mile End, both in the East End.
Now based in Beijing, he has been chronicling his adventures on a blog called Burbex since late 2013.
"My instinct every time I see a wall is: 'what's on the other side?'" says the Briton, whose day job is as an English-language examiner.
In China the answers to that question are rarely dull.
Connal's urbexing has taken him into derelict science museums, "haunted" pre-Revolution hotels, ghostly amusement parks, and a half-finished shopping centre that he calls the Great Mall of China.
Zhao, who is a professional photographer, says his edgiest find had been a deactivated field hospital built to treat victims of the 2003 Sars outbreak.
Connal, whose website receives thousands of visits each month, says a growing number of western tourists are choosing to spend their holidays hiking not up the Great Wall but through the concrete carcasses of white elephant construction projects.

Urban explorers travel light as they roam China's hidden periphery. As well as a first aid kit, Connal carries water, cheap Zhongnanhai cigarettes to placate irate security guards, a selection of torches, and a smartphone to record his discoveries.
His uniform rarely changes: black fingerless gloves for scaling walls and a black hoody and trousers to help him blend into the shadows. "Like a cat burglar," he says, grinning. He uses a mix of online research and detective work to pinpoint new locations and then find ways to sneak in.
"I'm quite imaginative about getting into places," he boasts. "Everything has an entry point. You might not be able to find it – but somebody knows the way in."
Sometimes, China's urbexers bite off more than they can chew.
While touring the mortuary of an abandoned hospital in north-east China, Zhao encountered an adult's mummified corpse and a small wooden box. "Inside, there was the body of a toddler," he recalls, adding: "I closed the box."
Zhao, who grew up in China's north-eastern rust belt, says his fascination with urbex began when, aged nine, he began roaming the Mao-era bomb shelters near his home in the city of Jinzhou. "Some said the shelters were haunted by the ghosts of children," he remembers. "We were curious kids."
These days, Zhao lives in Beijing and his trips to vacant factories offer an escape from traffic-clogged mega-city whose population last year hit 21 million.

"When I'm at abandoned sites, I feel I'm the only person in the world. Everyone likes different things [about urbex] – I like this sense of solitude," he says.

Connal, a fan of the British archeology television series Time Team, says his forays into this unseen world have given him a glimpse of Chinese history.
In each abandoned building he chanced upon "artefacts" offering tiny windows into the past: faded family photographs, notepads filled with the anonymous calligraphy of strangers, a yellowing newspaper containing a decades-old speech by former Communist party leader Deng Xiaoping. "You could call it urban archaeology," he says.
On a recent morning, the urbexer clambered over crumbling walls, fences and an overgrown railway track to reach the heart of Shougang, an industrial complex on Beijing's western outskirts that was once home to 200,000 workers.
The area's steel mills began production in 1919 – three decades before Chairman Mao's communists took power – and Shougang went on to become one of China's top iron and steel producers.
But production was halted in the lead-up to the 2008 Olympics as authorities fought to clean up the city's notoriously toxic air.
Weeds have since consumed the ruins of this once bustling steel city.

"Everything is disintegrating here," Connal says, hauling himself over a mouldering conveyor belt past a sign that reads: "Beware of the machines. No climbing."
Inside a dilapidated changing room for workers, he finds dust-coated underpants, shoes, bras and metal lockers scattered across a cracked tile floor. "These are all little relics," he says. "It's weird how it all just rots like this."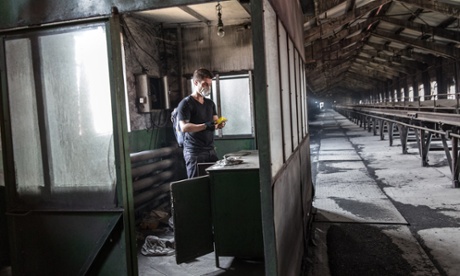 The urban explorers mapping China's forgotten wastelands describe their mission as a race against time. Zhao says his country's breakneck urbanisation – which has seen hundreds of millions flock to the cities since economic reforms began in the 1980s – meant he would often return to an urbex site to find the bulldozers had moved in.
"China is changing at an astonishing speed. It's not like other countries where abandoned sites might stay there for a decade without being touched."
Demolition appears to be the likely fate of the Shougang steel complex.
As Connal snuck across the vast industrial wasteland – sprinting across deserted roads and courtyards to avoid the attention of security guards and stray dogs – he saw teams of excavators preparing to reduce one section to rubble.
Hours after his expedition began, he slipped out the complex's western gates past billboards advertising plans to replace Shougang's wreckage with an industrial-themed residential community called "S-Park".
Posters showed blueprints for tree-lined boulevards and a luxury shopping district called Coking Plant Plaza.
Connal says he was disappointed that the days of his favourite Beijing haunt appeared to be numbered. But in a country as large as China there would never be a shortage of urbex destinations.
"I've heard there are ghost villages in Sichuan," he says, with a mischievous smile.
Additional reporting by Luna Lin