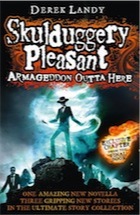 Skullduggery Pleasant and Valkarie Cain are very busy sorcerers at the best of times, but have you ever wondered what they get up to between the books? Join them on thrilling adventures as they take down vampires, meet the mystifying myosotis terra, battle Bubba Moon and his black magic and defeat goblin tricksters greedy for gold. Prepare to be amazed.
I adore how this brilliant book is made up of 14 short stories and two novellas, as it gives you the option to read the book in any order you wish. I was really engaged with the missions that Skullduggery and Valkarie embark on. My favourite story was 'The End of the World' because it has lots of intricate plot lines. Each short story has a different focus, some bring you right back into the story lines of the original books. In some of the stories you get insights into characters that might just appear on the sidelines of the main books, and that gives a whole new way of looking at them as they are fleshed out a lot more. Some of them are much less related to the series and I enjoyed these stand alone aspects too. There are so many new insights and back story, some more exciting than others, but the book is packed with great imagery and excitement that this is naturally hard to sustain across so many tales.
I like both of the lead characters immensely. Skullduggery is suave and debonaire. He always finds time to compliment himself. Valkarie is a young sorceress who is the perfect foil for her partner bedecked in his suit and tie, they are a very unlikely partnership, but work really well together because of their differences and sarcastic banter. They are always making witty remarks, mostly at each other's expense. She remains a typical teenage girl no matter what is thrown at her and this is hugely enjoyable to read.
This book rates a very worthy 5 stars out of 5 and I would recommend it to boys and girls 11+, however it is not for the faint hearted, give it a try, unless you dislike horror, as there is loads to keep you gripped in this collection.
• Buy this book at the Guardian Bookshop.
Want to tell the world about a book you've read? Join the site and send us your review!