Unfortunately, I quickly realised that it was going to be impossible to sift through the hundreds of digested books swimming around in my subconscious and miraculously fish out that precious gem – my favourite Book of All Time. Instead, I asked myself, if a Vogon Constructor Fleet *spoiler alert!* were about to demolish the Earth, and if I had time to grab a handful of books and hurl them into my rucksack before thumbing a lift off the planet, which would I choose? This instantly made me realise which book I had to review.
It is sometimes hard to remember that my first encounter with Douglas Adams's surreal, whimsical universe came in the form of the creased and battered, slim paperback – part of a box-set delivered one Christmas, courtesy of the Book People – which even now I have cradled on my lap. This is because, in all its incarnations – radio series; 2005 film with Martin Freeman; live play with the original radio cast at the Anvil Theatre, in Basingstoke, near a roundabout, on a Thursday (you had to be there); and TV series – I have always been willing to suspend my disbelief and immerse myself in the experience as if for the first time. Arthur Dent, Ford Prefect, Trillian, Zaphod Beeblebrox and of course Marvin were my companions and watch-overers during my transition to secondary school and I am intimately familiar with them.
To read The Hitchhiker's Guide to the Galaxy is to step into the garden shed of a maverick genius while he's out, to discover what ideas he has left lying around. But it is also as though Douglas Adams is speaking to you personally, gently, as he guides you through a perplexing world, assuring you "Don't panic".
This is the story of the two human beings who survive the Earth's senseless destruction, and their adventures in space and time while attempting to discover the meaning of life or, in Arthur Dent, the main protagonist's case, simply find a decent cup of tea (something which can sometimes constitute the same thing).
Unlike my first space operatic love, Star Wars, there is no evil Empire in Douglas Adams' galaxy – the main villains, the Vogons, are bureaucratic, mean-spirited and terrible poets, but not actually on the Dark Side, as it were.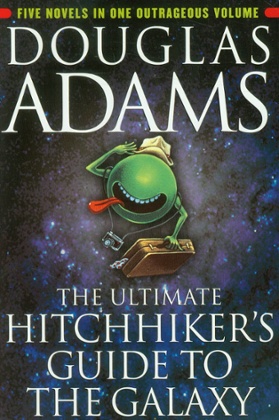 Also, Douglas Adams goes to extreme lengths to describe how the technology of his world works – such as the telepathic Babel Fish which can translate all known languages, and the Infinite Improbability Drive which powers the spaceship Heart of Gold. The explanations are clearly absolutely bonkers, yet with casual references to 'Brownian Motion' (one of Einstein's earliest contributions to physics) Adams slyly shows that he knows his stuff. The idea of an 'electronic book', which must have seemed terribly futuristic in the 1970s, also seems Cassandraic now.
Douglas Adams was truly a word master. Could anyone else have put the English language together in such a way as to create the sentence "The ships hung in the sky in much the same way that bricks don't" or the phrase "having your brains smashed out by a slice of lemon wrapped round a large gold brick"? Who else could have assembled the syllables in 'Slartibartfast' in quite such a way?
Although this book is famous as a cutting satire on philosophy and religion ("'You'll have a national Philosophers' strike on your hands!"'), it actually contains some quite insightful reflections on the human condition. One thing which pretty much everyone knows about The Hitchhiker's Guide to the Galaxy is that the 'meaning of life' (actually the Answer to the Great Question of Life, the Universe and Everything) is '42', but there is also a much subtler answer to perhaps this very question tucked inside.
When Slartibartfast, a planetary architect, tells Arthur that he is particularly fond of the Norwegian fjords he designed, citing the "little crinkly edges", there is an almost Buddhist suggestion of taking mindful enjoyment of the present, and a Bertrand Russellesque view of fulfilling work and self-improving leisure. The dark side of scientific materialism is also illuminated by an almost throwaway line about the uncanny feeling that "relationships between people were susceptible to the same laws that governed the relationships between atoms and molecules."
Adams also has plenty to rail against; mankind's endless foibles and failings are lampooned tirelessly, from the suggestion that human unhappiness cannot be solved by the movement of "small green pieces of paper", to the two trigger-happy intergalactic police who justify their gung-ho instincts by claiming to "write novels". Pretty much everyone's famous character, Marvin, the chronically depressed robot, is the product of almost unimaginable cruelty – not actual malevolence, just banality – whose creators chose to give him a Genuine People Personality.
It is surprising to think how this book, read at the impressionable age of eleven, primed me with so much of the science and philosophy I was later to discover in far more serious and weighty tomes, and was an early but vital instruction in how the English language could be made to do amazing things and defy all rules while still making hilarious sense.
Buy this book at the Guardian Bookshop.
Want to tell the world about a book you've read? Join the site and send us your review!