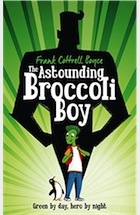 Hmmm… Why would Rory suddenly turn green after he emerges from a lake he had been pushed into?
Well, nobody knows why. Rory is taken into a hospital and cared for. Everyone avoids touching him, in case he's "contagious".
And then… Pow! His nemesis "Grim" Komissky also turns green. Oooo…
They fight. Rory's catapulted into the wall. And he doesn't get hurt.
After that, Grim sleepwalks off the roof. And Rory teleports. They both fall a 12-storey drop.
Anything bad happened to them?
Nope.
Okay, children with superpowers. At least it's a reason to read this book, isn't it?
I can only say this book starts with action, continues with action, and ends with action (unlike a lot of other books). I have to admit I had a bit more fun reading this than other books I've read.
If you're a fan of sci-fi, then definitely get this book.
• Buy this book at the Guardian Bookshop.
Want to tell the world about a book you've read? Join the site and send us your review!