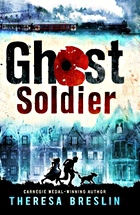 This is a cracking good book, set in Scotland during the First World War. Rob, his sister Millie and their parents live in a small farming community. The family is devastated when their father is reported missing after the Battle of the Somme. Their mother takes the news really badly and can't carry on normally, so Rob and Millie have to look after themselves with the help of their dog Nell. Both children refuse to believe that their father is dead and they make up their minds to try to find him.
Rob and Millie manage to get onto a troop train that is carrying injured soldiers to Edinburgh, when they realise that the reality of the war is very different from the picture that is painted by the authorities. On the train they meet two young soldiers who have been so badly affected by the war that they have to be chained to a post in the carriage.
When Millie's puppy is about to be requisitioned as a messenger dog, Rob and Millie are brave enough to ignore the rumours about a ghost in Mill House so they can hide their puppy in safety, but what they see at the house makes them wonder if the rumours are true.
The book is double spaced which makes it very easy to read, and I like the main Characters: Rob because he is brave, Millie because she is an optimist and Jed because he has the courage to change. The book will give you insight into what it was really like for all the young men who fought in the First World War and I think it is important for children today to learn about the great sacrifices that people made.
• Buy this book at the Guardian Bookshop
Want to tell the world about a book you've read? Join the site and send us your review!