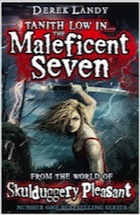 "I don't want to end the world," said Sabine "because I'm not evil. But Tanith is…"
The Maleficent Seven is a violent, scary book that I would put in the genre 'action fantasy'. It half scared the wits out of me because I'm not good with blood, but if you like the Skulduggery Pleasant series then it might not do that to you. Derek Landy's purpose for writing this book is to entertain people. Even though I was a bit frightened, there were numerous humorous bits that distracted me from the scarier ones. Landy likes to use very funny conversations between the main action scenes. This helps you keep interested and engaged in the storyline. In my eyes, the funny bits were actually the best thing about the book. The violence was my least favourite thing about the story, but it was because Landy described those sections so well that it disturbed me. The main plot point to this story is that Tanith Low (from Skulduggery Pleasant) has got a remnant bonded to her soul and has recruited a group of seven beings (including her) and is on an illegal mission to find and get rid of the god killer weapons, some of the most dangerous objects on the planet. She wants to destroy them so there is nothing for the mortals to use to stop Daquesse from ending the world. These seven beings are Tanith (of course), Springheeled Jack, Sabine, Black Annis, Billy-Ray Sanguine, Dusk and one who lurks in the shadows. We only find out near the end of the book who this mysterious weirdo is. In the Skulduggery Pleasant series, Tanith Low is a good guy and helps Skulduggery out in quite a few sticky situations. But in this book she's been changed and 'improved' into a bloodthirsty, evil psychopath. The others in her group include Springheeled Jack, the mysterious building hopper who roams the roofs of London at midnight and has no idea of where he comes from or what he is. Black Annis is a normal woman – apart from the fact that she has a curse on her that can turn her into a strange, blue–skinned creature that hates the light and her favourite meal is human flesh. Sabine seems quite normal, but has one power – she can put magic into things, making them almost undetectable if swapped with the real thing. Dusk once was a normal mortal, but was bitten by a vampire and now if he restrains himself from drinking blood, he turns into a mindless, mad vampire. Billy Ray Sanguine loves Tanith and has no eyes, so he wears sunglasses over his eyeless face. His power is that he can sink into the ground and appear somewhere else entirely. There's also a gang of seven good guys in this book (these people being Dex Vex, Saracen, Frightening, Wilhelm, Aurora, Donegan and Gracious). There's a picture at the front of the book of the Maleficent Seven and a picture at the back of the good guy gang – but it got very confusing working out who was who. So I ended up looking up the characters online and writing down the name on each picture. This helped me to keep track of all the different people and improved my understanding a lot. Although I found the violence difficult to read, I'm sure many other people (boys) would find the story a little boring without it. I wouldn't change anything even if I had the chance. I recommend this book to Skulduggery readers, because it might confuse you (as it did to me) if you haven't read many in the series. I rate it 7 out of 10.
• Buy this book at the Guardian Bookshop
Want to tell the world about a book you've read? Join the site and send us your review!