The price of oil fell for the second day in a row on Friday, wiping billions off the values of oil companies and putting huge investments at risk after Thursday's decision by Opec to maintain the cartel's existing production levels.
The cost of the benchmark Brent blend slumped below $72 a barrel before rallying slightly but some industry experts – including the chief executive of Rosneft, Russia's largest oil producer – have predicted that crude values will keep on going down, possibly as low as $60.
If this were to happen it would mean that the price of oil had dived by nearly 50% in less than six months. If the price stayed at that level for any amount of time it would radically change the landscape for producers and consumers alike in the UK. Here are five potential consequences.
Petrol and diesel prices
The big four supermarkets sliced another 2p off the price of fuel on Friday in reaction to the crude slump. When the price of oil was $60 in December 2006, the price of petrol at the pumps reached 88.2p a litre and diesel 93.7p. This compares with a current average price – before the wave of 2p cuts on Friday – of 122.4p for petrol and 126.95p for diesel.
Since then British motorists have seen increases in the fuel duty and VAT levied by the government. Unless the government cuts fuel duty and VAT, the cost of petrol and diesel might not fall to the levels seen on the forecourt eight years ago.
The AA says there is usually a time lag between pump prices falling and motorists using their vehicles more, so families may choose to spend their savings on food rather than drive more.
The commercial sector – road hauliers – would benefit from lower fuel costs, as would the airlines and the shipping industry. That should lead to lower consumer prices for food and even commodities such as steel, which require a lot of energy to make.
Scotland's oil economy and Treasury tax receipts
The North Sea offshore oil industry tipped £6.5bn into the pockets of the taxman in 2012-13, and is an important driver of the Scottish economy, as the Scottish National party (SNP) made clear during the referendum on independence.
Alex Salmond, the former Scottish first minister, argued that $24tn (£15tn) worth of oil and gas was still waiting to be extracted, but these figures were premised on a crude price of $100 a barrel. An oil price substantially below that would complicate the SNP's costings for an independent Scotland, which would be looking to the North Sea for a sizeable contribution in tax and jobs.
The offshore lobby group Oil & Gas UK said that even before the recent fall in crude prices there had been a huge drop-off in exploration activity in the North Sea. The organisation has been lobbying George Osborne hard to reduce taxes in his autumn statement next week in a move to improve the situation.
Mike Tholen, Oil & Gas UK's economics director, said on Friday that a prolonged period of $60 oil would be disastrous for investment and jobs. "Decommissioning [oil platforms] would become the biggest activity and that would be a crying shame. It would cost the Exchequer a fortune [in tax breaks] to take the stuff away and mean oil left in the ground."
Inflation
Lower energy prices have helped to hold down UK inflation, which reached 1.3% in October on the CPI measure – just above its lowest level in five years. The Bank of England estimates that a $1 a barrel increase in oil adds 0.1% to inflation over a two-year period.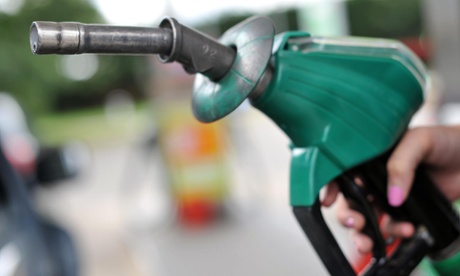 But one of the reasons why energy prices are falling is that demand for the product is not as high as expected. That is in turn because the global economy, with the exception of the US, is not powering ahead. Lower oil prices and lower inflation should be a boost to economic growth, at least in those countries such as Britain, which are not dependent on producing commodities, as Russia or Venezuela are.
So $60 oil would significantly cut inflation, giving comfort to the Bank of England which, like other central banks, worries about how to pitch interest rates when goods and service prices are rising. Expectations of lower inflation has made buying government debt less attractive and pushed 10-year yields on US Treasury bonds to five-week lows on Friday.
Dominic Rossi, a director at Fidelity Worldwide Investment, said: "The fall in oil prices will boost economic activity." HSBC analysts said in a research note that corporate profits would be pushed up as a consequence and equity markets should benefit.

Alternative energy

A slump in the oil price to $60 should drive down the gas price, leading to lower household heating and lighting bills in Britain – so long as the Big Six energy suppliers passed on the gains. It would also lead to more gas-fired power stations being used to generate electricity, which would damage profits for nuclear power stations and windfarms.
The gas price is not directly linked to the oil price in Britain, though it has broadly followed oil's downward trajectory in the UK. Crude prices are down in Britain this year by about 33%, while wholesale gas has fallen in value by 17% and coal by 12%. The price of wholesale electricity in the UK is down 12% this year at £48.80 a megawatt hour (MWh).
Peter Atherton, utility analyst at Liberum Capital, says a prolonged period of $60 oil could be expected to drive down electricity prices below £45 a MWh, which would cut profits for existing nuclear plants and be very painful for renewables. "It would destroy value on existing renewable energy projects and make it difficult to raise financing for future projects," said Atherton.
One project in particular would look like a bad deal for the taxpayer in a $60 world: the first nuclear reactor constructed in Britain for a quarter of a century. The government is backing a guaranteed payment of £96.90 a MWh for EDF's new atomic plant at Hinkley in Somerset, which would look like an even worse deal for the UK if the oil price slumped further.
Fracking
Lower oil and gas prices could fatally undermine the government's desire to see a shale industry take off in Britain.
The rate of drilling in the US – the fracking pioneer – has fallen dramatically since the price of gas there plunged from $12 per million British thermal units (mmBTU) to $3. The value of gas in Britain currently is the equivalent of about $12 to $14 per mmBTU, and many experts believe it could cost UK shale drillers such as Cuadrilla Resources about $8 to $10 to extract. If $60 oil dragged down gas prices to $8, that could make it uneconomic to continue with UK fracking unless the industry came up with new ways to cut costs.
It would also make imports of liquefied natural gas a potentially cheaper option. But no one really knows whether gas can be fracked in Britain economically because almost no wells have been drilled yet.
The UK Onshore Operators Group says oil and gas firms are long-term thinkers and unlikely to be blown off course by short-term price fluctuations, certainly in the exploration phase. Ken Cronin, UKOOG's chief executive, said: "There are also a number of reasons why the UK wants gas, including to displace coal."