HSBC has set out how chief executive Stuart Gulliver received £7.2m in 2011 – a year when the bank's performance was "satisfactory in aggregate" according to chairman Douglas Flint.
Gulliver has a salary of £1.25m. He can get three times that amount in his annual bonus and six times that in a long-term incentive plan which pays out on a three-year time horizon.
For 2011, he actually received £7.2m – compared with a maximum potential bonus and salary of £12.5m – because the bank awarded him 1.72 times his salary for his annual bonus and three times his salary for his long-term incentive plan.
Turning to the annual bonus of £2.1m, financial targets accounted for half of his potential bonus and he achieved 30% out of 50%. Here is the break down, the percentage figure being the maximum that could have been awarded:
• Capital strength: 10% – achieved.
• Dividend: 10% – achieved.
• Profit: 10% – half achieved.
• Cost reduction: 10% – half achieved.
• Return on equity: 5% – not achieved.
• Return on risk-weighted assets: 5% – not achieved.
Non-financial targets accounted for the other half and he achieved 27.5% out of 50%:
• Strategy and execution: 25% – awarded 20%
• People and values: 10% – awarded 7.5%
• Compliance and reputation: 15% – nothing.
In terms of the long-term bonus, the weighting between financial and non-financial measures is 60% and 40% and the result was that 50% of the total targets were achieved.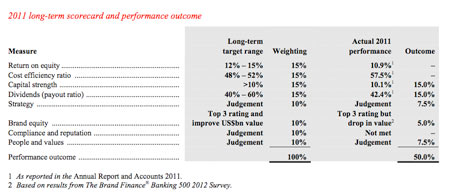 The table above shows how this was measured.