The chief executive of drugs group AstraZeneca, David Brennan, quit on Thursday after more than six years in the post, following pressure from shareholders who had called for a radical shake-up of the group's top management.
The boardroom reshuffle, which also includes the early departure of the pharmaceuticals company's chairman, came just hours before Britain's second-largest drugmaker held its annual shareholder meeting.
While the company would not comment about his retirement package, which is still being finalised, Brennan could walk away with about £5m – after receiving more than £9m in pay, perks and shares last year.
Shares in the group, which also announced a 38% drop in three-month profits to £1.34bn and a reduction in its 2012 earnings target, were the biggest fallers in the FTSE 100, down 6.1% at £26.66, wiping £2.2bn from the company's market value.
Brennan will be replaced temporarily by finance director Simon Lowth from 1 June. Former Volvo boss Leif Johansson will take over as chairman from Louis Schweitzer, 69, on the same day – three months earlier than planned. Johansson will then lead the hunt for a permanent successor to Brennan. Headhunters Spencer Stuart have been hired to scout out internal and external candidates.
Brennan, 58, said he had been contemplating his departure for some time and told the board formally of his intention to quit on Wednesday, following private conversations with the chairman. The board then decided to accelerate the process by appointing Lowth as interim CEO, a move backed by Brennan.
Both Brennan and Schweitzer were reportedly encouraged to retire earlier than planned by non-executive directors on the board. However, Brennan insisted: "The decision to retire was entirely my decision. I've been contemplating it for a while. It was time to give someone else the chance to take the company to the next level."
He said he wanted to spend more time with his family (he is married with four grown-up children and has six grandchildren) and to "figure out ways to influence healthcare from a different position".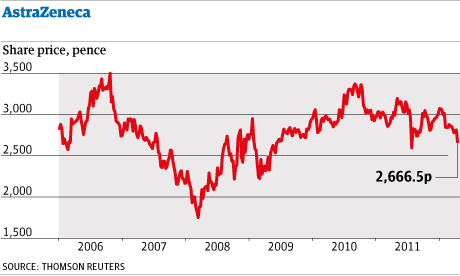 At the annual meeting in London, shareholders demanded to know the real story behind Brennan's departure, while the board sat poker-faced. Schweitzer said: "We have not ousted David Brennan. He has decided to retire." Several investors were concerned that he could get a huge payoff, following his big payday last year.
Brennan's £9m remuneration last year included £5.6m of share awards. While the group said his retirement package was still being negotiated, he could be in line for a golden goodbye equal to his annual £997,000 salary plus bonuses worth £1.4m and share options worth about £2.2m. He also has share awards worth millions more, which will be paid out pro-rated for his shortened term in office.
His pension pot is worth $23m (£14m), or £978,000 a year, and he has already received share awards that vested earlier this year worth a total £4.1m based on Thursday's share price.
Some 8.6% of investors voted against AstraZeneca's 2011 remuneration at Thursday's meeting – a similar level to previous years.
John Farmer, a private shareholder, told the board during the annual meeting: "It seems a lot is being paid for very little – by which I mean paltry shareholder returns." Another private investor told the Guardian she was "appalled" that Brennan had pocketed such a big package last year after so many people got made redundant: "I thought it was obscene".
Keith Doyle, another individual investor, chipped in: "He's controversial because of the amount of bonus he's taken … [His strategy] hasn't worked out too well. It's quite sensible for him to step down."
An American who began his career as a sales representative for Merck in 1975, Brennan had come under increasing pressure from investors as he made little headway in replenishing AstraZeneca's rapidly dwindling pipeline of new products. He restricted himself to small acquisitions, partnerships and licensing deals after his one big acquisition – the 2007 purchase of US biotech firm MedImmune for $15.6bn (£9.63bn) – turned out to be an overpriced flop.
Brennan stepped up dealmaking in recent weeks, unveiling a collaboration with Amgen on five products to treat inflammatory diseases, and agreeing the takeover of gout drug developer Ardea this week. City analysts expect even more dealmaking under the new leadership, with fresh talk that AstraZeneca could snap up its partner, Forest Laboratories.
Shareholders stood up to criticise the Ardea acquisition at a time when the company is cutting thousands of its own research staff. Martin Symons said: "What future is there for British industry if this is happening? This company will not survive if it does not do its in-house research."
Lowth, who joined AstraZeneca from Scottish Power five years ago without any pharmaceuticals experience, reiterated the company's strategy of small deals and collaborations, rather than large-scale acquisitions. At this time of year, the board always carries out a strategy review, so a shift under the new leadership is possible in the second half of the year.
"We're navigating a difficult period with patent expiration," said Lowth, adding that the next two quarters would be even tougher. Many of AstraZeneca's bestselling products, , have come off patent and face competition from cheaper alternatives. Two other major products – heartburn pill Nexium and heart drug Crestor – will lose their protection in 2014 and 2016 respectively.
Brennan, one of the longest serving chief executives in the pharmaceutical industry, was expected to step down by the time of his 60th birthday next year. Miles White at Abbott is the only chief executive of a major pharmaceutical company who has been in place longer.