Téa Obreht: 'In America, we make progress, then revert in horrific ways'
At 25, she won the Orange prize with her first novel, The Tiger's Wife. In her long awaited follow-up, she tackles the history of the American west
Joanna Scutts
24, Aug, 2019 @9:01 AM
Inland by Téa Obreht review – the wild west just got wilder
This exquisite frontier tale from the author of The Tiger's Wife is a timely exploration of the darkness beneath the American dream
Alex Preston
12, Aug, 2019 @9:00 AM
Inland by Téa Obreht review – a spectacular reinvention of the western
This follow-up to the award-winning The Tiger's Wife is an otherworldly vision of 19th-century Arizona
Elizabeth Lowry
07, Aug, 2019 @6:30 AM
The age of anxiety: what does Granta's best young authors list say about America?
The US is in crisis - what about its literature? Michelle Dean reports on the 2017 Granta list of writers under 40, which is as diverse as the country itself
Michelle Dean
26, Apr, 2017 @3:50 PM
Who is your Bailey of Baileys winner?
A jury of former judges is currently deciding which novel deserves to take the laurels as the last decade's finest novel by a woman. Who gets your vote?
Claire Armitstead
02, Nov, 2015 @2:05 PM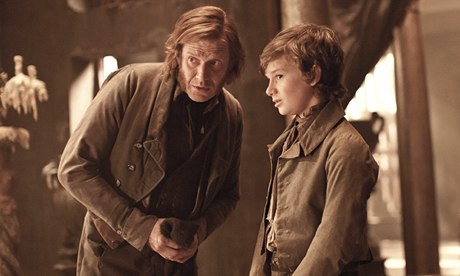 Reading literary fiction improves empathy, study finds
New research shows works by writers such as Charles Dickens and Téa Obreht sharpen our ability to understand others' emotions – more than thrillers or romance novels, writes Liz Bury
Liz Bury
08, Oct, 2013 @7:00 AM

Books for giving: fiction
Justine Jordan finds much to admire in the novels published this year
Justine Jordan
02, Dec, 2011 @10:55 PM

Stefan Obreht by Téa Obreht
'My grandfather was a man of incredible valour and integrity, well respected throughout his life. He was a giant of a man with a thundering voice'

Guardian Books podcast: Feminism in literature
How literature has engaged with the feminist movement, with Orange prize 2011 winner Téa Obreht, Granta editor John Freeman and writers Naomi Alderman and Ann Patchett
Sarah Crown
10, Jun, 2011 @2:48 PM

Téa Obreht: 'I don't feel I've earned the Orange prize'
The author of The Tiger's Wife is, at 25, the youngest person ever to win the prestigious literary award. So why does she have such mixed feelings about the honour?
Kira Cochrane
10, Jun, 2011 @7:00 AM

Does Téa Obreht's Orange prize signal a return to fabulism?
Sarah Crown: The Tiger's Wife's use of folklore chimes with a number of other writers' recent work. Is there a trend in the making?
Sarah Crown
09, Jun, 2011 @12:00 PM
Téa Obreht is an exuberant Orange prize winner
The Tiger's Wife weaves together a set of picaresque wartime fables in a dazzling first novel
Justine Jordan
08, Jun, 2011 @6:15 PM