The Sandman, Catch-22, Cloud Atlas ... is there such thing as an 'unfilmable' book?
Books by authors like Neil Gaiman and Gabriel García Márquez have been dismissed as too difficult to adapt. With Netflix offering both time and cash, is that true anymore?
Sian Cain
03, Jul, 2019 @1:23 PM
Neil Gaiman's The Sandman is green lit by Netflix
After several attempts to film Gaiman's acclaimed comic book series, the streaming giant has picked it up in a 'massive' deal with Warner Bros
Alison Flood
02, Jul, 2019 @11:16 AM
Neil Gaiman on Good Omens, Sandman film rumours and his next book
Good Omens, Neverwhere, Coraline, American Gods ... the genre-defying author joined us to answer your questions
Bigger dreams: how Neil Gaiman's Sandman universe is expanding
The groundbreaking comics author has bequeathed his fantasy universe to a new generation of writers, who reveal their changes to his unconscious world
David Barnett
24, Oct, 2018 @12:00 PM
Re-enter Sandman: Neil Gaiman's comics return with new writers
Bestselling author appoints a team of four fantasy writers for the launch of the Sandman Universe later this year
Alison Flood
02, Mar, 2018 @4:14 PM
Sandman: is Neil Gaiman's comic masterpiece unfilmable?
The adaptation of the author's classic work has been shedding writers, directors and has left some people wondering if the project is cursed
David Barnett
04, Nov, 2016 @6:52 PM
Neil Gaiman's Sandman: maybe a film adaptation just isn't meant to be
Attempts to bring the Neil Gaiman comic books to the screen have foundered repeatedly – but is filming such a complex work a good idea in the first place?
David Barnett
10, Mar, 2016 @10:00 AM
Joseph Gordon-Levitt quits adaptation of Neil Gaiman's Sandman
Gordon-Levitt had been in line to direct and star in the big-screen version of Gaiman's graphic novel fantasy
Ben Child
07, Mar, 2016 @12:55 PM
Lucifer: the devil's charismatic but the show is predictable as hell
Based on a much-loved comic book character from Neil Gaiman's comic The Sandman, Lucifer is a derivative drama with a satanic twist
Brian Moylan
22, Jan, 2016 @4:50 PM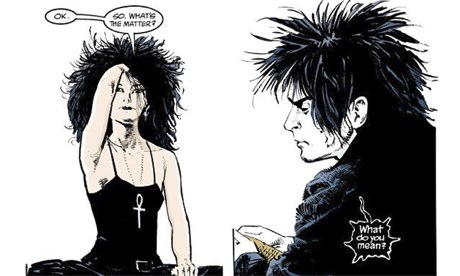 Neil Gaiman and Dave McKean: how we made The Sandman
Writer Neil Gaiman and artist Dave McKean recall the reinvention of a DC character who went on to outsell Batman and Superman and reinvigorate the comics industry
Interviews by Phil Hoad
22, Oct, 2013 @11:01 AM
Sandman: Dave McKean's favourite covers - in pictures
Illustrator Dave McKean on some of his favourite covers for Neil Gaiman's Sandman series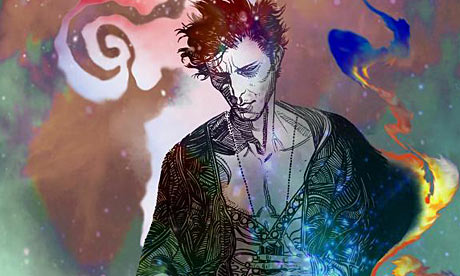 Neil Gaiman's Sandman returns for prequel
Author to release six-issue series focused on 'the one story we never got to tell'
David Barnett
02, Jul, 2013 @2:41 PM