Unique Pablo Neruda archive – and slice of history – up for auction
Chilean poet's letters, photos, rare books, postcards and artefacts represent 'a huge part of the 20th century'
Sam Jones in Madrid
13, Mar, 2020 @7:00 AM
Gabriela Mistral | Letters
Letters: She won the Nobel prize 26 years before Pablo Neruda, writes Heather Mayall, and was the reason for his love of literature
Letters
13, Mar, 2019 @5:39 PM
Poet, hero, rapist – outrage over Chilean plan to rename airport after Neruda
Human rights activists argue that the honour is inappropriate for a man who described raping a maid in his memoir
Charis McGowan in Santiago
23, Nov, 2018 @6:00 AM
How we made Il Postino
'At Massimo's funeral, his film double walked behind the coffin in homage – and all the Neapolitans thought it was his ghost'
Interviews by Phil Hoad
23, Oct, 2018 @5:00 AM
Quiz: can you guess the city from the literary quote?
Which city did Margaret Atwood describe as 'New York without the garbage and muggings'? Which writer called one London area 'ungentrified, ungentrifiable'? Pit your wits against our quiz
Naomi Larsson
09, May, 2018 @10:00 AM
Pablo Neruda: experts say official cause of death 'does not reflect reality'
Panel of 16 experts says that when the Nobel prize-winning poet died in 1973, there was no indication of the cancer that was supposed to have killed him
Adam Feinstein
23, Oct, 2017 @9:50 AM
Neruda review – frustratingly slow anti-biopic
Jackie director Pablo Larraín loses his way in a film built loosely around the fugitive years of Chilean poet Pablo Neruda
Simran Hans
09, Apr, 2017 @7:00 AM
Neruda review – poetry and politics clash in Pablo Larraín's historical caper
Gael García Bernal plays a police officer sent on a sham pursuit of the dissident poet Pablo Neruda, in a jokey chase film set in President Videla's Chile
Peter Bradshaw
07, Apr, 2017 @6:30 AM
Poet's Pacific paradise: Pablo Neruda's homes in Chile
As a new film about Pablo Neruda gets a UK release, we visit two of the Pacific-facing homes where the poet found inspiration: beachside Isla Negra and the 'crazy port' of Valparaíso
Chris Moss
07, Apr, 2017 @5:30 AM
Fast, loose and lyrical: Pablo Larraín's Neruda anti-biopic
After his Oscar-nominated Jackie, the director is taking on Nobel prize-winning poet Pablo Neruda. But what does his biographer make of the film's freewheeling approach to the facts?
Adam Feinstein
06, Apr, 2017 @7:00 AM
Nabokov, Neruda and Borges revealed as losers of 1965 Nobel prize
Nobel archives have been opened to reveal who was nominated for the 1965 prize for literature, a controversial year won by divisive victor Mikhail Sholokhov
Alison Flood
06, Jan, 2016 @3:47 PM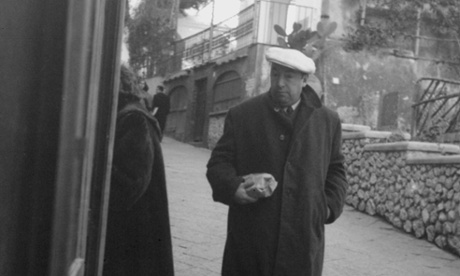 Nephew of Pablo Neruda claims Chilean poet was murdered
New bacterial evidence proves Neruda was murdered by the Pinochet regime says Rodolfo Reyes – however, other family members remain unconvinced
Adam Feinstein
07, Oct, 2015 @3:25 PM