Marcus Sedgwick obituary
Author whose critically acclaimed books, mostly for children, were told with optimism despite their often dark themes
Julia Eccleshare
01, Dec, 2022 @4:57 PM
Marcus Sedgwick, celebrated children's author, dies aged 54
Tributes have flooded in for the much-loved writer, who wrote more than 40 books for children and adults including the recent Be the Change handbooks
Sarah Shaffi
17, Nov, 2022 @1:02 PM
Top 10 books about borders
From Bruce Chatwin to Cormac McCarthy, these are some of the best stories about what happens when boundaries – physical, political and psychological – are crossed
Marcus Sedgwick
19, Oct, 2016 @11:14 AM
Top 10 thrilling locations in children's books
Discover settings ripe for adventure all over the world in Sara Grant's top 10 incredible story locations
Sara Grant
28, Apr, 2016 @7:30 AM
Carnegie medal and Kate Greenaway shortlists 2016 announced
Patrick Ness and Chris Riddell are up for hat tricks again this year. Discover all the shortlisted writers and illustrators for the 2016 medals – how many books on the shortlist have you read?
Lily Waddell
15, Mar, 2016 @7:29 PM
What are the best books to make children feel positive about the world this new year?
Reading is a time to escape and enjoy, and the beginning of a new year is a good time to be reminded of that. But hope and optimism often come after overcoming difficulties – that way they seem more special. The Book Doctor recommends some against-all-the-odds successes, from His Dark Materials to Wonder
Julia Eccleshare
31, Dec, 2015 @9:00 AM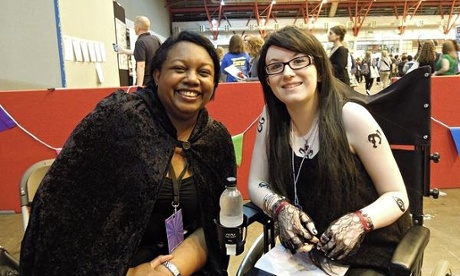 Why I want more disabled characters in books
Teen blogger Megan The Book Addicted Girl kicks off a day of celebrating disabilities diversity in children's books – and calling for more
Megan Quibell
08, Dec, 2015 @8:07 AM
The Ghosts of Heaven by Marcus Sedgwick – review
HorseLover3000: 'The Ghosts of Heaven constantly teases the reader with pieces of information and subtle links between the stories'
HorseLover3000
19, Oct, 2015 @11:00 AM
The Ghosts of Heaven by Marcus Sedgwick – review
RebeccaV: 'My excitement and happiness for this book never died'
RebeccaV
23, Sep, 2015 @8:00 AM
Magic and Mayhem by Marcus Sedgewick – review
sporty1: 'I really enjoyed this book due to its interesting and suspense–building plot'
sporty1
16, Aug, 2015 @2:00 PM
Dark Satanic Mills by Marcus and Julian Sedgwick, John Higgins, Marc Olivent - review
Hannah K: 'The art style is very detailed and different'
Hannah K
22, Jun, 2015 @11:00 AM
She is Not Invisible by Marcus Sedgwick – review
Lottie Longshanks: 'The book is very beautifully written so that the language as well as the gripping story sucks you in'
Lottie Longshanks
12, Jun, 2015 @5:00 PM