Struggling to read, or write? How to be creative in lockdown
Are you finding it hard to concentrate, or don't know where to start? Michael Frayn, Marian Keyes, Richard Osman and more share their tips
Richard Osman, Marian Keyes, Kerry Hudson, Michael Frayn ,Sara Collins, Jessie Burton, Kit de Waal and Joe Dunthorne
02, May, 2020 @8:00 AM
O Positive by Joe Dunthorne review – natural joker finds a new home
Novelist Joe Dunthorne makes an assured leap to poetry
Kate Kellaway
03, Sep, 2019 @8:00 AM
Joe Dunthorne on Swansea: 'At night I would be woken by the screech of stolen cars'
The author recalls joyriders, smokestacks and empty beaches, in a city with a cracked personality

Joe Dunthorne
16, Mar, 2019 @11:00 AM
Book clinic: which writers can lead me inside the minds of millennials?
Sally Rooney's confessional style and Joe Dunthorne's biting satire should help a teacher understand the 'avocado generation'
Johanna Thomas-Corr
21, Jul, 2018 @5:00 PM
Joe Dunthorne: 'On the Road takes longer to read than it did to write'
The Welsh writer on why you can't trust Jack Kerouac, paying homage to Don DeLillo, and the 'weird and witty' Jane Bowles novel that remains underrated
Joe Dunthorne
13, Jul, 2018 @9:00 AM
My summer in a windowless special care baby unit: 'I have never looked so dead nor felt so alive'
When novelist Joe Dunthorne's son was born, he and his wife hardly slept, found beauty in hospital vomit bowls and heard hip hop horn samples in the squeaks of the electric bed. It was, he says, a magical time.
Joe Dunthorne
28, May, 2018 @6:00 AM
The Adulterants by Joe Dunthorne review – growing pains of a big kid
A thirtysomething father-to-be struggles with the demands of adulthood in Dunthorne's witty, economical third novel
Natasha Tripney
04, Feb, 2018 @9:00 AM
The Adulterants by Joe Dunthorne review – brilliantly knowing
The 2011 London riots form the backdrop to a comedy about millennial angst and rampaging house prices
Toby Litt
02, Feb, 2018 @7:30 AM
Joe Dunthorne: 'This novel took more out of me than the others'
The author of new comic novel The Adulterants on how becoming a parent helped him create his latest misanthropic anti-hero
Vanessa Thorpe
07, Jan, 2018 @12:05 AM
Best holiday reads 2016
From gripping fiction to history, brilliant poetry to biography, our guest contributors offer their recommendations for the beach and elsewhere
The Observer
10, Jul, 2016 @6:30 AM
The perils of writing about sex: 'Your partner will think it's about them. Or – even worse – someone else'
Should you use exotic euphemisms or anatomical detail? Should it be comical, tender or shocking? And what if your mum reads it? Three generations of writers reveal the pitfalls – and pleasures – of writing about erotic encounters
Joe Dunthorne, Stephanie Merritt and Arlene Heyman
11, Feb, 2016 @7:00 AM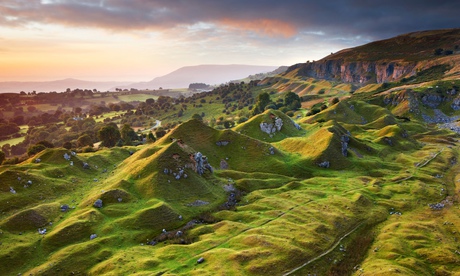 The top 10 books of rural Wales
From Alan Garner to RS Thomas, Bruce Chatwin to Dylan Thomas, the mythic power of place in these works casts a potent spell, writes Cynan Jones
Cynan Jones
26, Nov, 2014 @12:59 PM