Lost story by 'poet of the tabloid murder' James M Cain discovered in Library of Congress
Strand Magazine will publish Blackmail, a tale of a blind Korean war veteran, found by New York editor Andrew Gulli
Martin Pengelly in New York
26, May, 2023 @7:00 AM
Top 10 criminal duos in fiction | Peter Swanson
Authors from James M Cain to Patricia Highsmith show how partners in crime can really bring out the worst in each other
Peter Swanson
01, Mar, 2023 @12:00 PM
Bob Rafelson: subtle and complex director was presiding genius of the Hollywood new wave
Rafelson was a director who got era-defining performances out of Jack Nicholson in Five Easy Pieces and The King of Marvin Gardens, as well as co-creating the Monkees
Peter Bradshaw
25, Jul, 2022 @9:59 AM
Top 10 novels about adultery | Douglas Kennedy
From Graham Greene's anguished transgressions to Milan Kundera's happy-go-lucky erotic adventures, fiction has long adored illicit affairs
Douglas Kennedy
18, Dec, 2019 @10:54 AM
Top writers choose their perfect crime
Crime fiction is now the UK's bestselling genre. So which crime novels should everyone read? We asked the writers who know ...
Obsession review – Jude Law channels Macbeth in tale of passion and murder
Law and Halina Reijn impress in Ivo van Hove's stylish stage version of Visconti's 1942 film but the production glosses over the original's harsh story
Michael Billington
25, Apr, 2017 @11:02 PM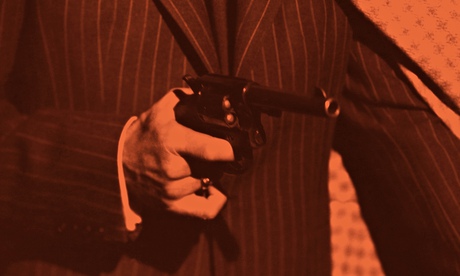 Choose December's Reading group: Noir Christmas
Sam Jordison: This month we're after a hard-bitten great to get to grips with. Please help round up some likely suspects
Sam Jordison
02, Dec, 2014 @1:00 PM

Postman Pat: The Movie review – shiny, slightly scary spin-off
With bland digimation and sinister cyborgs delivering the post, the film lacks the charm of the TV original, writes Mark Kermode
Mark Kermode
24, May, 2014 @11:05 PM

Top 10 crime movies
Murder, robbery, revenge... some of the greatest films revolve around the vilest human acts. The Guardian and Observer's critics pick the best crime films ever made

Crime fiction: the new punk?
Just as the Sex Pistols invigorated a hidebound rock establishment, so contemporary noir could wake up literary novels to a wider world
Adrian McKinty
04, Jun, 2013 @11:16 AM
Crime novels - review
The Cocktail Waitress by James M Cain, The Jewels of Paradise by Donna Leon, I Remember You by Yrsa Sigurdardottir and Choked by Tania Carver
Laura Wilson
18, Oct, 2012 @9:14 AM

Philip French's classic DVD: Double Indemnity
Billy Wilder's collaboration with Raymond Chandler produced a superb thriller that helped define film noir, writes Philip French
Philip French
28, Jul, 2012 @11:01 PM