Elizabeth Barrett Browning
'My Elizabeth Barrett Browning film needs a woman's touch – but where are all the female directors?'
Screenwriter of biopic about the radical poet says the industry must do more to get women behind the camera lens
Dalya Alberge
31, Oct, 2021 @10:45 AM
Poem of the week: Sonnet from the Portuguese by Elizabeth Barrett Browning
A defiant assertion of the poet's power to overcome physical separation from her beloved
Carol Rumens
19, Jul, 2021 @10:00 AM
Pain on the page: is this the end of the hysterical, ill woman of literature?
From Hilary Mantel to Irenosen Okojie, contemporary writers are rewriting the story of illness and the female body
Arifa Akbar
19, Jun, 2021 @11:00 AM
Two Way Mirror by Fiona Sampson review – a fine life of Elizabeth Barrett Browning
A portrait of the poet and 'public prophet' spotlights her entanglements with empire and race but doesn't neglect the schlockier pleasures of biographical speculation
Kathryn Hughes
24, Feb, 2021 @10:00 AM
What we can learn from Elizabeth Barrett Browning's years in lockdown
After being diagnosed with a severe respiratory illness, Barrett Browning was forced to live in isolation. Her response offers great insights into how to cope, writes her biographer
Fiona Sampson
15, Feb, 2021 @8:00 AM
Elizabeth Barrett Browning letter describing lonely quarantine up for sale
Auctioneers say 1839 letter to her cousin bemoaning isolation in Torquay, with visitors 'a thing forbidden', is very apt reading this year

Alison Flood
10, Dec, 2020 @7:00 AM
Karl Ove Knausgaard is wrong – writers should own dogs
The author blames his dog for the fact that he was blocked for two years. But pets provide a vital emotional lifeline for anybody who spends time alone
Rebecca Nicholson
20, Aug, 2018 @2:37 PM
Fatal attraction – writers' and artists' obsession with the sea
From Shakespeare to Woolf, Turner to Gormley, Philip Hoare explores the eternal allure of the ocean
Philip Hoare
24, Jun, 2017 @8:00 AM
Victorians Undone by Kathryn Hughes review – the naked truth
Tennyson smelt and Darwin suffered from wind … this study of the bodies of famous Victorians is life-writing at its most dazzling

Robert Douglas-Fairhurst
04, Feb, 2017 @9:00 AM
Sebastian Faulks: How Poems That Make Grown Women Cry made me cry
Is it a poet's job to make the reader weep? Sebastian Faulks is moved to tears by an anthology of verse chosen by women
Sebastian Faulks
05, Mar, 2016 @10:00 AM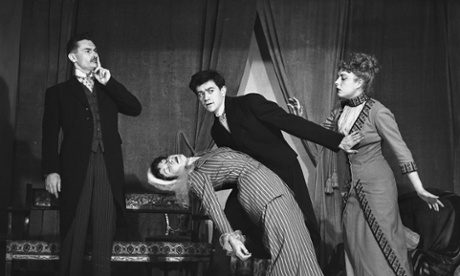 The top 10 literary swoons
From the Virgin Mary to Chaucer's Criseyde to the narrator of The Bloody Chamber, here are the most memorable fainters, female and male
Naomi Booth
19, Jun, 2015 @8:00 AM

Steinbeck's The Grapes of Wrath and the literary spouse
When Steinbeck was stumped for a title for his novel, his wife saved the day. Literary history is full of marital interventions, but what's your favourite example of writers wedded to their inspiration?
John Dugdale
12, Apr, 2014 @11:00 AM