The Guardian view on the picture book: not just for children
Editorial: When a Nobel-prizewinning novelist turns to illustrated fiction, it's time to question assumptions
Editorial
19, Mar, 2021 @6:33 PM
Graphic artist Art Spiegelman on Maus, politics and 'drawing badly'
Forty years on from 'the first masterpiece in comic-book history', the Pulitzer-winning cartoonist talks fame, switching styles and why he doesn't want to draw Trump
Sam Leith
17, Oct, 2020 @8:00 AM
President Supervillain: behind the alarmingly accurate Trump-Marvel mashup
The popular Twitter account, which puts Trump speeches into the mouth of Red Skull, is so convincing that the creator had to clarify that the president isn't quoting the supervillain
Sonali Nandi
23, Oct, 2019 @4:41 PM
Art Spiegelman's Marvel essay 'refused publication for Orange Skull Trump dig'
Maus author says he was told the comics giant – whose chairman is a prominent Trump supporter – was trying to remain apolitical
Alison Flood
16, Aug, 2019 @4:00 PM
From Maus to Tamara Drewe: the 10 graphic novels everyone should read
With Nick Drnaso's Sabrina becoming the first graphic novel longlisted for the Man Booker prize, it's a good time for readers to discover more
Paul Gravett
02, Aug, 2018 @9:33 AM
Nadja Spiegelman: 'There was nothing in my family that could be agreed upon'
Nadja Spiegelman talks about the influence of her artist father Art Spiegelman, creator of the graphic novel Maus, and her new family memoir
Hannah Beckerman
27, Nov, 2016 @7:00 AM
London jazz festival review – a dazzling display all across the musical spectrum
The opening weekend of the festival featured a virtuosic set from Joshua Redman and Brad Mehldau, an audiovisual tribute to comics by Art Spiegelman and Silent Six, plus the poised 13-year-old piano prodigy Joey Alexander
John Fordham
13, Nov, 2016 @3:38 PM
David Walsh of Mona: on art, sex and why (gallery) size matters
In Mona's most ambitious exhibition to date, four experts outside of the art world ask why humans make art – is it cultural, biological, or all about sex?
Steph Harmon
08, Nov, 2016 @9:56 PM
London jazz festival 2016: 10 acts not to miss
A Gil Evans tribute, cartoonist Art Spiegelman takes the stage and Eve Risser brings her White Desert Orchestra to town … our jazz critic picks the festival's top tickets
John Fordham
08, Nov, 2016 @4:09 PM
So you'd like to get into highbrow comics. Here's where to start
From superheroes to memoirs, there's never been a richer time for comic books. But where does one start with a genre that is exploding so quickly?
Sam Thielman
17, Dec, 2015 @6:46 PM
VE Day quiz: second world war in children's fiction
To commemorate the 70th anniversary of VE Day, commonly known as the day that the allies (Britain, France and Russia) defeated Germany in the second world war, we've put together a quiz about books which are set during that time. Have a go if you think you're smart enough...
Also see What are the best books on or set in the second world war
Natalie Tipping
08, May, 2015 @11:00 AM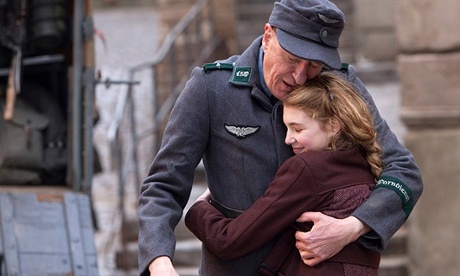 What are the best children's books on the second world war?
To mark the 70th anniversary of VE Day, children's authors including Shirley Hughes, Michael Morpurgo, SF Said, Piers Torday and Katherine Rundell, together with children's books site members, share their favourite books set in or about the second world war
Emily Drabble
08, May, 2015 @7:22 AM