Honolulu. The most un-American of all American cities. Honolulu is both the westernmost and southernmost major American city and the most remote city in the world – its geography the first act of distancing itself from the United States. The city does not think of itself as American, and conversely, when thinking of American cities, no one thinks of Honolulu.
Roughly translating to "calm port", Honolulu is the only American city with a royal palace, a reminder of the 1893 overthrow of the Hawaiian Kingdom, subsequent annexation and eventual American statehood in 1959, the same year James Michener published his epic historical saga Hawaii, a 937-page chronicle of the island which goes all the way back to the lava flow which gave the island birth.
In 1846 the Honolulu Police Department was established, perhaps providing inspiration Earl Derr Biggers's detective novels starring fictional Chinese detective Charlie Chan. Apparently based on real Honolulu detective Chang Apana, the protagonist was meant to serve as a rebuttal to the stereotyped Chinese villains in films and books.
While Honolulu is mostly thought of by Americans as a tourist destination, it's also a connective port between Asia and the United States, making it a central nexus of business, immigration and the military. The 19th century saw obsessive attempts by global powers to control the islands; Hawaii has always had an influence and lure greatly disproportionate to its size.

The cross-section of Pacific and Asian cultures that arrived brought a mix of races, food and languages. Alan Brennert's Honolulu follows the lives of Korean immigrants in the early 20th century, focusing on a female protagonist, Regret. She escapes Korea as a mail-order bride, looking for education and a better life, but finds herself married to violent man who works on the plantations. This account of exchanging subjugation in one country for oppression in another gives a terrific portrait of early Asian immigrants to the islands.
Authors have come as well. From the visitors who penned tales there passing through, including Mark Twain, Jack London, Robert Louis Stevenson and Somerset Maugham to authors, like Paul Theroux, who end up calling it home – the island city has long held a magnetic attraction to foreigners.
Those travellers often stay in Waikiki. Once a playground for royalty, the beaches of Waikiki still attract throngs of tourists year round. Paul Theroux penned a satirical novel, Hotel Honolulu, about a 49-year-old writer down on his luck who lands a job managing a hotel and showing us a cross-section of those who pass through. There's even a bar in Waikiki named after the 1925 Charlie Chan novel, House Without a Key.
What you read of Hawaii is largely written in English and often by people born elsewhere. Before the missionaries arrived, the islands held an oral tradition. Mary Kawena Puku'i, Hawaiian historian and author, preserves the Hawaiian culture with books like Olelo No'eau, a collection of over 3,000 proverbs and sayings, relating the beliefs and practices of the Hawaiian peoples.

The Hawaiian language as it was condensed into written form by missionaries, consists of just twelve letters – five vowels, seven consonants – plus an 'okina, which is a reversed apostrophe to indicate a glottal stop between two syllables, helping visitors to pronounce names like Ka'a'awa (Kah-ah-ah-vah). However Hawaiian is a nearly extinct language; you're more likely to catch the local pidgin dialect, used often in the novels and stories written by authors born and raised in the islands.
Local staple Pidgin' to Da Max is an illustrated comic guide to the language, which opens with the caveat: "Remember Pidgin' to Da Max is not a tourist guide to pidgin. So don't try to speak it after reading this book. You'll just get in trouble."
Trouble in paradise is an evergreen theme for writers of Hawaii. Behind the island's scent of plumerias and sunny face is the shadow city the tourists never see. Alexei Melnick's novel Tweakerville follows a young drug runner who confronts the devastation of crystal meth, portrayed with vibrant local colour and a deft use of pidgin. Chris McKinney's teases out the racial complexities of Hawaii in his novel Tattoo, which follows two men, one white, one Japanese local, both serving time in Halawa Correctional Facility. Mark Haskell Smith's Delicious, a novel about a Las Vegas company moving in on a family-run business in Honolulu, is a page-turning tale which sometimes veers into vulgarity, illustrating that while reception of white mainlanders ranges from tolerance and reservation, it often teeters to outright distaste.

Over 200 years after Captain Cook was killed by native Hawaiians, another white traveller arrived, this time on a 747 and drunk as a skunk. Hunter S Thompson got an assignment – to cover the Honolulu Marathon for Running Magazine – a tale told in his hilarious and little read The Curse of Lono.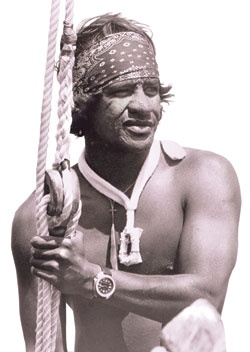 On Thompson's travels he brings several books with him, including Mark Twain's Letters from Hawai'i and the Journal of William Ellis, which relates the 19th-century missionary's time in the islands, a book whose dry style and decorum are a far cry from the colourful episodes told in Thompson's rollicking prose, typified by the time he entered his friend Ralph Steadman in the world-class surfing contest, Pipeline Masters.
Much writing and travel to Honolulu involves the longtime royal sport native to the islands – surfing. Jack London wrote of surfing adventures which forced him to stay in bed in The Cruise of the Snark, a 1907 travelogue of sailing to Honolulu. The life of one of Hawaii's most famous surfers, Eddie Aikau, is chronicled in the pages of Eddie Would Go, by Stuart Coleman, the title evoking Aikau's willingness to take on the waves when others wouldn't dare. Even Mark Twain took up the board in 1866, describing it as waiting "for a particularly prodigious billow to come along" and then "whizzing by like a bombshell."
The waters bring other kinds of visitors, of course, perhaps the most infamous being the Japanese military. The attack on the Honolulu naval base Pearl Harbor on 7 December 1941 is chronicled in Gordon W Prange's At Dawn We Slept and Day of Infamy by Walter Lord. Both books make use of extensive research and interview to paint a portrait of a day that changed the once-open feeling of Hawaii's ports, in a continued echo of the gunboat diplomacy and global powerplays laid out in the 19th century.
The days of long treacherous voyages are gone and those ports, while guarded, are still open. It is easy now to access the once elusive Honolulu. You don't need to sail your own yacht like London, or voyage for months on end like Captain Cook. But just because the most isolated city on Earth is now easy to reach doesn't mean it's easy to find. Even after reading everything ever written about Honolulu, a visitor might find themselves harboring the same sentiments penned by William Somerset Maugham in 1921: "Nothing had prepared me for Honolulu."
Anisse Gross is a writer and editor based in San Francisco. She was born and raised in Honolulu. Her website is anissegross.com.