The last bout saw Raymond Chandler's The Long Goodbye triumph over Saul Bellow's Herzog. Who will be next to make it through to the next round?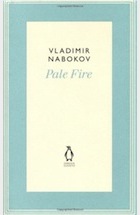 Pale Fire is a great prank of a novel masquerading as a work of non-fiction. It has as its subject a delightful 999-line poem in heroic couplets from which the book takes its title: "I was the shadow of the wax-wing slain/ By the false azure in the window pane;". This is the opening line and it proceeds to give a potted biography of its author, John Shade. Then comes the main meat, an eccentric commentary by Charles Kinbote, a wonderfully deluded man whose notes are often bizarre, sometimes short and usually fabulously florid. They start to take the shape of a story- a story about his seemingly one-sided friendship with the late poet, John Shade, but also about an exiled King of a land called Zembla and a plot to assassinate its runaway royal. If it sounds far-fetched that's because it is, but Nabokov controls the craziness brilliantly and pulls together an extremely entertaining read.
This can be read in a number of ways; even the foreword is fiction – but I wouldn't advise setting out your stall there, it nearly put me off the whole book. I suggest reading the commentary/novel part first whilst referring back to the poem as Kinbote does. Then take in the foreword and the index when all the secrets are revealed. Finally luxuriate in the poem and decide if it is a spoof in itself or actually a self-standing masterpiece.
Pale Fire is utterly amazing, and would be considered highly original in any generation of novels.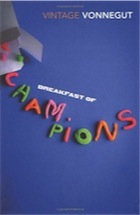 Breakfast of Champions is a strange, tangential novel, packed full of ideas, satire, filth, violence, humour and funny little drawings of all sorts of things from anuses to electric chairs. It is a product of weary brainfag, a glorious sink of all the scraps left in the troubled mind of the narrator who is, in a delightfully meta kind of way, doubting the place of stories in the world; do they carry any weight? Can they put right the wrongs of a corporate, soul-vacuuming America? He brings together snippets of ideas and a variety of former characters from other novels to an explosive denouement into which steps the sunglassed author himself. This was my first Vonnegut and I shall definitely read more of his work but Breakfast Of Champions felt a bit muddled and dare I say, amateurish, in the face of Nabokov's mischievous brilliance.
Winner Pale Fire by Vladimir Nabokov
• Next time: Cormac Mccarthy's The Road vs John Fante's Wait Until Spring, Bandini