It was President Jimmy Carter's mother, Lillian, who first brought photographer Bill Bernstein to the legendary Studio 54 nightclub in New York one evening in the late 1970s. "I was working for the Village Voice when I got the call to go and photograph her," he recalls. "She was receiving an award for her humanitarian work and, for some reason, the ceremony was at Studio 54. So I went there and shot what I needed to, including a photo of her and Andy Warhol talking together."
As Bernstein was packing up his camera equipment, though, the regulars started to arrive. "Except," he says, "these people were not your regular regulars. The mix of humanity that started coming though the door, the way they dressed, the way they walked and talked and posed, it was like, suddenly, I wasn't going home early."
So began Bernstein's odyssey into New York's disco scene, a journey that took him from the glamour of Studio 54 to the street energy of the Empire roller disco in Brooklyn, from the decadence of Le Clique, where scantily clad acrobats performed above the dancefloor, to the anti-disco electronic pulse of new wave music venues such as Hurrah and the Mudd Club. That odyssey is captured in a new book of evocative black-and-white photographs, simply titled Disco, published by Reel Art Press (£40).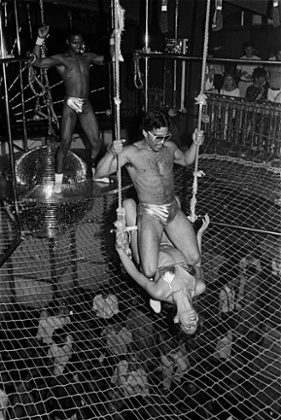 It was on that first night at Studio 54, though, that Bernstein found his subject. Afraid that if he left, he would not be admitted back in by notoriously elitist door staff, he bought several rolls of film from another photographer who was leaving and blended into the shadows of the club with his camera. "Over the next five or six hours, my world underwent a transformation," he writes in the book's introduction. "Had I been suddenly transported back to a prewar Berlin cabaret? Who were these people of the night...?"
That question echoes throughout the book as the exotic and the outre appear in full escapist flight in Bernstein's images. Many of his subjects are simply, as the Sister Sledge song goes, lost in music, transported by the insistent beat and gauzy strings of the disco anthems that signalled the coming of modern dance music. Others are, of course, shameless posers, throwing moves or lying spreadeagled on the floor beneath Bernstein's lens. Here and there, he catches famous faces – Warhol, Tiny Tim, Divine – and fledgling superstar DJs – Larry Levan behind the decks at Paradise Garage.
Mostly, though, it is the nightclubbers themselves who are the stars in Bernstein's photographs. "I sensed early on that disco, in its own extravagant way, was a very progressive, democratic scene. There was a real acceptance of people, no matter who or what they were, and an incredible tolerance of diversity. They encouraged and celebrated it."
As Bernstein points out, the roots of disco lay in New York's gay club scene and part of its initial appeal to him was its semi-underground status. "Before disco went overground with Saturday Night Fever, it was a series of smaller scenes with very defined crowds. At the roller discos out in Brooklyn, you'd see some white kids, but it was mainly a black scene and one in which everyone seemed to know each other. Roseland was mostly Hispanic, while places like the Loft in Manhattan or the Ice Palace 57 were gay discos."
GG's Barnum Room, which billed itself as "the different disco", was, in Bernstein's words, "a transgender haven – I met people who were pre-op and people who who were post-op and they loved being there mixing with the straights. I figured it was a place where they felt safe because it was their world and the straights were, for once, the outsiders."
Disco's ascendancy to the mainstream was short-lived. Most of these photos were shot in 1979, what Bernstein calls "a pivotal year" for disco. By then, there was a growing cultural backlash against the music and its supposed inauthenticity. In 1980, Studio 54 was closed down and its owners were jailed for, as Bernstein puts it, "stashing huge amounts of cash in their office ceiling". On 3 July 1981, an article in the New York Times identified a new and deadly virus called Aids.
"Suddenly, it was all over and it was as if people in New York were afraid to party," says Bernstein. "Without knowing it, I had chronicled a scene that is now a part of history." A short, but vibrant, scene that seems impossibly distant, but that resounds through pop culture to this day.
Disco is published by Reel Art Press (£40) in November. Click here to buy it for £32. There will be an exhibition of the images at Serena Morton Gallery, London W10 from 3 Dec 2015 – 24 Jan 2016