As Jonathan Bate acknowledges in the last chapter of his biography of Ted Hughes, the poet liked to say that literary biographers were "vampiric", and that famous authors should act together to frustrate their researches. But Hughes did not follow his own doctrine. He took care to preserve thousands of his manuscripts, including journals and letters. Some he sold to Coca-Cola-endowed Emory University in Atlanta, Georgia, whose plentiful funds helped make his last years affluent. Many others he left to the British Library, a rich trove for a biographer. He can hardly have wanted them left unread.
The main service that Bate has done is to read this huge mass of material with a scholar's ability to date and arrange it. His biography is a first report on what lies in wait in the archive. It is, however, a report that has been hindered and constrained. As has been widely reported, he began his work on a "literary life" with the support of the Ted Hughes estate, controlled by the poet's widow Carol. Late in the day this support was withdrawn: evidently, his researches were not purely "literary" enough. Permission for any substantial quotation from Hughes's writing was also withdrawn, and Bate's Unauthorised Life has to grapple with this ban.
Carol Hughes had, of course, a strong reason for scorning the curiosity of literary investigators. To some he is always "Her husband", the man who deserted Sylvia Plath, and the man to blame for her suicide in February 1963. Some feminists demonised him. Public fascination with his relationship with Plath, and its influence on her extraordinary, utterly disquieting, poetry seemed unstaunchable. Bate's biography makes clear that it was a fascination that Hughes himself shared.
When they met, Plath was a sophisticated and sexually experienced young woman – when she first called on Hughes in London she was en route to see a lover in Paris – but this was something else. Ted had "sex as strong as it comes", she said. Three months after first going to bed together they were married. Hughes was in his mid-20s: he had done national service before going to the University of Cambridge and, after graduating, had oscillated back and forth between London (where he had casual jobs) and Cambridge (where he found his girlfriends). He was set on being a poet.
In their first years together Plath was his manager as well as his wife. It was she who collected his poems and found a competition for which they could be entered (and which they won), she who persuaded Faber to publish The Hawk in the Rain, she who found university teaching posts in the US. His second volume, Lupercal, published in 1960, made him a poetic star – even the society magazine Queen celebrated him. Reviewers rhapsodised. TS Eliot invited him to dinner. The happy writing couple started a family and bought their writers' house in Devon.
But then the other lovers came along. First, Assia Wevill, who would also eventually kill herself, along with the daughter that she had by Hughes. Then Susan Alliston, a secretary at Faber. Hughes was in bed with her the night that Plath died. It is impossible not to think, as he later often did, of that phone ringing and ringing in his empty flat, as his desperate wife tried to pull him back. Bate does his best to tell it from Hughes's point of view: he had not deserted Plath but was still seeing her almost daily. We do not have to blame him for her madness to recognise the selfishness with which he gave himself up to his passing passions. He later told one of the other two lovers with whom Wevill had to share him that "he no longer wanted to be dependent on one woman; he felt it was weakening and suffocating him". In her will, Wevill left Hughes only "my no doubt welcome absence and my bitter contempt". From the journal entries that Bate quotes, it is clear that she thought Hughes still in the grip of his dead wife.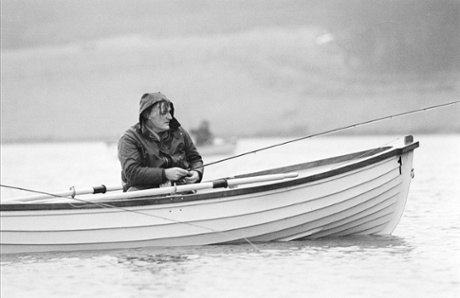 Some of his women despair; others know they have to put up with it. A few days after marrying Carol Orchard, he is making love to old flame Brenda Hedden. When he leaves his wife in Britain for a trip to the Adelaide poetry festival, he is soon in bed with the alluring press officer, then another woman who interviews him, then a rather interesting Australian poet. Surely no reviewer will resist quoting Bate's plea on behalf of his tormented author: "his infidelity in later relationships was partly a function of his fidelity to the memory of Sylvia". He is, apparently, the jaguar of his famous poem. "After the end of his first marriage, never again would he allow himself to be fully caged." Names are named, but the overall range of Hughes's love life remains to be guessed at. I say "love life" because Hughes was not some heartless sensualist. Au contraire: the problem seems to have been that he was pursuing some God-bestowed drive – what Wevill called "the animal thing between us". The poet's self-mythologising sanctioned the harm he did to others. In his journal he wrote: "3 beautiful women – all in love, and a separate life of joy visible with each, all possessed – but own soul lost".
And what about his poetry? After Plath's death, her star rose and his slowly waned. With each new volume, we find Bate flinching from Hughes's portentous mytho-poetic phrasing. He puts little faith in Hughes's magnum opus, Crow, which is "all too parodiable". Yet, very near the end of his life, Hughes turned the tables on the sceptics. First, there was the rivetingly confessional Birthday Letters, "the fastest-selling volume of verse in the history of English poetry". Then there was the visceral Tales from Ovid, reminding former fans of his early days and gripping many a teenage reader. Hughes had his own imaginative world, into which he forced what he saw and what he read. He brilliantly turns Ovid's witty and elegant modernisations of myth back into the dark stuff of his own primal imaginings – into Ted Hughes poems, in other words.
The near-ban on quotation has radically limited Bate's poetic analysis. More disablingly, he can give us only small fragments of the sheaves of Hughes's letters and journals and jottings in which he has immersed himself. Some letters have been published, but very many remain unknown. Bate thinks Hughes one of the greatest of literary letter and journal writers; his letters are compared to those of Keats. Like Coleridge, in his journals he was a dedicated and brilliantly sharp-eyed recorder of material that might or might not one day get hammered into poetry, and even the tiny pieces that Bate gives us glitter.
In the later years there were good deeds – support for the Arvon Poetry Foundation, campaigns to clean up Devon's rivers – and much hobnobbing with Tory cabinet ministers and members of the royal family. At least Hughes had an excuse: the ruling classes gave him access to prime stretches of fishing river, and fishing had taken over from sex as his ruling passion. Yet Eros still held some sway: Bate tells us that in his late 60s there was a lover whom Hughes visited on his trips to London, and whom he was seeing when he was taken mortally ill. It is evident that Hughes carried on telling himself tales from myth about the desires that drove him. This scrupulous and lucid biography makes it all seem like muddle and self-deception, tormenting to himself and the many who loved him.
• To order Ted Hughes for £24 go to bookshop.theguardian.com or call 0330 333 6846. Free UK p&p over £10, online orders only. Phone orders min p&p of £1.99.