The first thing you learn about Zone is that it is 500-odd pages composed of a single sentence. This is not, perhaps, the most important thing about it, but it grabs the attention. Published in France in 2008 (and translated here for Fitzcarraldo Editions by Charlotte Mandell), it has subsequently been hailed, by the New York Times, the Millions blog and various respectable French critics, as one of the most significant novels of the century so far; and its subject matter is certainly weighty.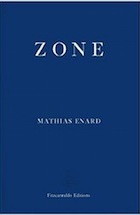 The narrator is one Francis Mirković and the book is made up of his thoughts as he sits in a train on the way to the Vatican, where he will hand over a briefcase containing a dossier he has compiled of war crimes committed in various parts of what he calls "the Zone": an area around the Mediterranean and central Europe historically associated with bloodshed on a large scale. The narrative itself is a continuous chain of memories; some of the narrator's childhood, and the violent times he has lived through and participated in, specifically as a mercenary fighting for a far-right Croatian militia in the 1990s. There are also digressions imagining or remembering the Holocaust, Malcolm Lowry strangling his wife in Sicily, the Iliad, or indeed anything that seems to pop into his head.
It is one sentence because the narrator is on speed, and on a train; and also because one's thoughts and memories do not come punctuated. Here's a sample chosen at random: "... heroes are often wreathed in shadows, marked by Hades great eater of warriors, Eduardo as well as others, even though in those days journalists were falling like flies, in Croatia at least, or later on around besieged Sarajevo – in central Bosnia, between Vitez and Travnik, they made themselves much scarcer ..."
The book also contains a few brief extracts from another work: a novel about a female Palestinian fighter. Here the writing is a few notches below the standard already established, whether to throw the rest of the book into sharper relief, or to illustrate Mirković's casual antisemitism, I do not know. "what a story I wonder if it's true", muses Mirković. If nothing else, it makes one appreciate the larger truth that is transmitted by the full stop-free narration, in which the material of a conventional thriller has been sublimated into an atmosphere of violence, power and cruelty; humanity here is little more than a vector through which various kinds of insanity flow.
If the aim is to make us feel bleak about history, then it certainly does that. Whether the book succeeds on terms other than its own is another matter. I can't recall ever veering so wildly between differing opinions of a novel before. The days I spent reading it alternated between something approaching elation at the book's audacity and vision; and sheer weariness and suspicion, as if it were itself the perpetration of – well, if not a fraud, then a kind of deception. (Stuffing a book with deep, dark things and invocations of Homer does not necessarily make it deep and dark and Homeric.)
The book's formal apparatus is not nearly as much of an impediment as you might fear – which may actually present a problem. There is something inherently comic about the stream-of-consciousness rant; and while there are some good grim jokes here, one doesn't have the sense of controlled style found in other writers who have used similar techniques – Apollinaire, Joyce, Beckett, Bernhard, etc. (This might be down to the translator, but I doubt it.) Then again, if you were going to write a story of mankind's savagery, it would have to look pretty much exactly like this. You might have to make your own mind up on this one
• To order Zone for £11.99 with free UK p&p call Guardian book service on 0330 333 6846 or go to guardianbookshop.co.uk.