In Lipstick Traces, the brilliant "secret history of the 20th century" in which Greil Marcus placed punk rock at the end of a long tradition of subversion and sedition, the Sex Pistols were hailed as immeasurably more than just a four-piece rock group. "It doesn't seem like a mistake to confuse their moment with a major event in history," Marcus wrote, and he identified one quality in particular that allowed them to acquire such significance. There was, he said, a "black hole" at the heart of their music, "a wilful lust for the destruction of values that no one could be comfortable with, and that was why, from the start, Johnny Rotten was perhaps the only truly terrifying singer rock'n'roll has ever known".
A quarter-century after those words were written, they seem rather quaint. In recent(ish) years, Rotten – who has long since reverted to calling himself John Lydon – has appeared in that ironically titled celebration of faded fame I'm a Celebrity … Get Me Out of Here!, starred in an ad for Country Life butter, and hosted such examples of TV anarchy as John Lydon's Megabugs and John Lydon's Shark Attack. The Sex Pistols were last seen playing Las Vegas, and lending their name to a brand of unisex perfume ("fighting conformity and disregarding aromatic conventions, it leaves a fresh, restless bite of lemon, sharpened and intensified by a defiant black pepper"). And now comes Lydon's second memoir, following 1994's Rotten: No Irish, No Blacks, No Dogs: a slightly straighter example of the great seasonal genre-cum-publishing ritual that is celebrity autobiography, which this year sees Lydon pitched against John Cleese, Stephen Fry and Westlife's Shane Filan.
On the face of it, Anger Is an Energy is true to the form: light on reflection and context, and told with barely a pause for breath. As with other celeb memoirs, it sometimes achieves a tone of self-importance that takes it into the realm of the Pooteresque. But it is a relief to report that it is also fascinating, and stands as a corrective to the idea that Lydon is merely a former pantomime villain. It also amounts to a 500-page yell of insistence that he should be entitled to do what he damn well likes, for two reasons: first, the superlative nature of so much of the music that he has created; and second, the life through which he struggled before music offered him an escape route. In an age in which a caste of privately educated musicians threaten to dominate what remains of British rock while singing about nothing much at all, this is what gives the book its fundamental spark: the sense of raw working-class art, and someone driven to create by the furies to which the title allude.
Lydon's co-author, the music writer Andrew Perry, took the sensible decision to stay true to Lydon's singular mode of expression and thereby convey his personality; a matter, sometimes, of brazen malapropisms, but also of language that can somehow be both elegant and blunt. "I come from the dustbin," Lydon says on page three, and he is not wrong. The child of Irish immigrants who settled in Finsbury Park, his early years suggest that the postwar welfare state had distinct limits. "In the bedroom was Mum, Dad, me, and then my younger brothers, as they arrived … Then it was six: four kids, two parents … you imagine: two double beds and a cot in a tiny room with an oil heater." His mother, he says, suffered several miscarriages: "It's quite a thing to carry a bucket of miscarriage – and you can see the little fingers and things in it – and have to flush it all down the outdoor toilet." (Shades here of "Bodies", the Sex Pistols' pitch-black evocation of abortion: "Die little baby screaming / Body! Screaming fucking bloody mess").
The most moving passages in the book describe how, at seven, he contracted meningitis (from rats), endured a long coma, and lost most of his memory. "I hadn't forgotten how to read, yet I couldn't talk – language was gone," he says. When his parents came to take him home from hospital, nurses and doctors "told me that they were my mum and dad, and I had to believe them". Lydon himself cannot quite find the words to convey the profundity of all this, but it surely sits at the core of a lot of what still defines him – not least, a furious urge to express himself.
This is what Marcus's "black hole" theory perhaps overlooked. There undoubtedly was an amoral, nihilistic impulse behind the Sex Pistols, but it was largely the work of their manager and Lydon's bete noire, the late Malcolm McLaren (a mere "suburbanite", Lydon says), whose attempts to prolong the life of the Sex Pistols beyond Lydon's exit took the whole enterprise into schlock. Lydon, by contrast, was always, he says, driven to live as "a completely honest human being". Give or take his own tendency to self-mythologisation, this is manifested here in a loathing of other people's cant, pretension and anything else that might trivialise the obvious fact that life is very, very serious.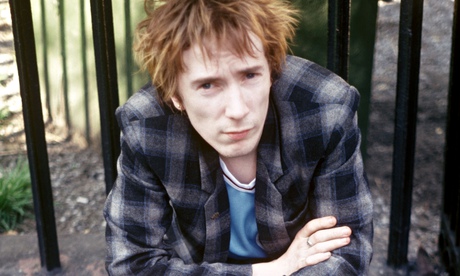 These impulses drove what he achieved with the Pistols (witness, say, the rapier-like declarations of national decline in "Anarchy in the UK" and "God Save the Queen", or a key line from "Pretty Vacant": "I don't believe illusions / 'Cos too much is real"). They also fired the project Lydon founded after the Pistols' demise: Public Image Limited, AKA PiL, "a consortium of like-minded loonies prepared to jump into the next universe without any tools". The drive to honesty, as well as envelope-pushing musical imagination, defines their 1979 masterpiece Metal Box as well as the cream of their other music– something best illustrated by a quick visit to YouTube and archive footage of them performing "Death Disco" on Top of the Pops. The song fearlessly deals with Lydon's loss of his mother: I can well remember watching it as a 10‑year-old, and just about understanding that here was something much nobler than the froth that surrounded it.
Reading Anger Is an Energy brings to mind something the rock writer Nick Kent said of Keith Richards – that he achieved a "strange purity amidst filth". In Lydon's case, though, what burns through is not Richards's brand of piratical nobility, but old-fashioned self-respect and exacting standards (again, working-class values, rather than those of bourgeois bohemia). The punk milieu was full of deadbeats and smackheads, and lifestyle options that quickly killed Lydon's close friend Sid Vicious. But Lydon kept his head: he claims to have tried heroin only once. A recruit to the latest lineup of PiL, he says, was hired when Lydon found that "he loves his wife, loves his kids, he's got that area of life sorted … Fantastic, I'm listening to a stable-minded human being."
Lydon has been with his German-born wife Nora since the distant days of punk: two chapters are devoted, in every sense of the word, to their relationship. Towards the book's end, the couple adopt the twin sons of her daughter, the late Ari Up of the Slits, who came to live with the Lydons having experienced the many downsides of a bohemian upbringing. Lydon found them, at the age of 14, "basically illiterate, really way behind". Resolving to pull them away from being "antisocial" and "unemployable", he set about teaching them "a respect for others", and had their dreadlocks cut off.
Once again, his account of all this conveys the fact that the only truly terrifying singer rock'n'roll has ever known proudly defies his own stereotype. "What they needed," says the man formerly known as Johnny Rotten, "was boundaries, as do all kids."
• To order Anger Is an Energy £16, go to bookshop.theguardian.com or call 0330 333 6846.