A blue note is a flattened or – in the terminology of jazz – a "worried" note, which dips below the major scale to vouch for the intensity of an emotion; Blue Note is a record label which, since its foundation 75 years ago, has recorded the bluest and most worried jazz performers. Shaded by nocturnal melancholy, blue is the preferred tonality of their music. A classic album by Miles Davis was called Kind of Blue, and Blue Note later recorded the guitarist Kenny Burrell's Midnight Blue, attuned to the mood of a moonlit sky seen through the glare of urban streetlights.
Uncompromising Expression, the phrase from Blue Note's mission statement that Richard Havers applies to his lavishly illustrated history of the label, also serves as a definition of jazz. Duke Ellington actually proposed renaming the music played by his band, because "jazz" to him was a smutty synonym for having sex. He preferred to describe his repertoire as "the American Idiom, or the Music of the Freedom of Expression".
Yet as Havers explains, that American idiom – used, like abstract expressionist painting, as propaganda for go-getting Yankee liberties during the cold war – owed its preservation on records to a Berliner. Blue Note was founded in 1939 by Alfred Lion, the son of a Jewish architect who settled in New York in 1933 after fleeing from the capital of the Third Reich. Lion slept rough at first in Central Park, and when he could afford to rent a room immediately installed a Victrola gramophone to play the jazz records he bought on excursions uptown to Harlem.
In Hitler's Germany, jazz was reviled as Negermusik, a savage un-Teutonic din. Escaping to America, Lion heard in bop, boogie-woogie and honky-tonk a rowdy proof of his adopted country's impromptu, endlessly self-renovating energy. That faith persisted at Blue Note even after he gave up control of the label, and it was proclaimed all over again in 1986 by Spontaneous Inventions, a collection of "vocal gymnastics" in which Bobby McFerrin teamed up with the manic Robin Williams, who scatted, rapped and wordlessly burbled through a track called Beverly Hills Blues. The result was not so much spontaneous invention as demented free association.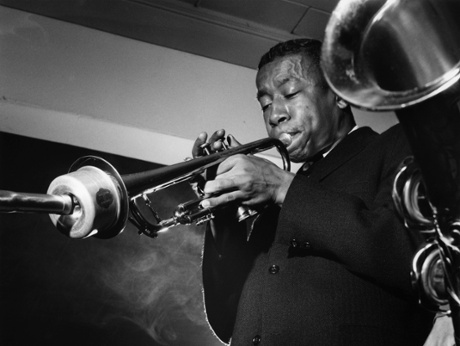 Lion became, as Havers says, an "evangelist" for America's home-grown music, with jazz as his gospel. Among the bands he recorded was Art Blakey's Jazz Messengers, who adapted the "funky church stuff" of black religion to preach on behalf of the blues. Another Blue Note pianist offered a mystical revelation: Lion regarded Thelonious Monk as "the holy grail of jazz", and said he was proud to be "the first to put his radical and unorthodox ideas on wax", which makes it sound as if recording was a way of trapping spirit in material form. Like the pianist Andrew Hill, Havers enrols Monk's later followers in a holy order that Hill himself punningly entitled the New Monastery. Many Blue Note musicians played at a triangular den in downtown New York called the Village Vanguard; with the same sense of jazz as a sacred calling, the pianist Jason Moran has called it "the place where Mohammed and Moses and Jesus walked!"
Monk considered all musicians to be "subconsciously mathematicians", and Lion was proud of Blue Note's intellectualism. Cecil Taylor's first album for Blue Note was entitled Unit Structures, and presented itself as an experiment in Einsteinian physics, with "time measurement as isolated matter abstracted from mind": no matter how syncopated your steps are, it's hard to dance or even tap your feet to a demonstration of the relativity theory. An album led by the percussionist Tony Williams drummed out a more metaphysical plaint. The liner notes claimed that Williams's timpani, woodblocks, maracas and triangle made audible a cosmic uproar: "Everything which the universe has given life has a right to that life and a right to propel into that life all the values it can." Remember that next time a neighbour turns up the volume of a boom box at three in the morning.
The expressiveness of Lion's musicians demanded lengthier recording sessions and longer-playing records: he favoured 12-inch, not 10-inch discs because, as he said, "these guys need more room to stretch out". He may have been a little too indulgent towards his self-willed virtuosi. These evangelical messengers and monastic pianists came to rely on drugs as fuel for their instrumental fantasias, and Havers's chronicle, despite its emphasis on the contribution of "musical searchers" like Wayne Shorter, can't help noticing a succession of tormented lives and premature deaths.
A sorry conclusion comes with the fate of the trumpeter Lee Morgan, who dispensed "soul jazz to the max" until in 1972 he was unsoulfully gunned down at the age of 33 by his commonlaw wife during a gig at Slug's Saloon in the East Village. His wounds were superficial; Havers primly omits to mention that he bled to death on the floor because the ambulance was reluctant to venture into the lawless no-go area where Slug's was located. Not all jazz clubs were as stylishly avant garde as the Village Vanguard.
Despite Lion's admiration for "American vitalism", jazzmen like Morgan proved to be rather too freely expressive and uncompromising for their own good. Shaw called music the brandy of the damned, and it's all the more addictive if combined with heroin and cocaine. Blue is the colour of lush, sensual midnight, and also of a bleary, bruised, hungover dawn.
Blue Note: Uncompromising Expression is published by Thames & Hudson (£48). Click here to buy it for £36

See also: 75 Years of the Coolest Visuals in Jazz - in pictures