The sky in Leeds is slate grey and there's rain in the air. What better day to visit Headingley cricket ground to see Yorkshire wallop Northamptonshire (weather permitting) in the company of the home side's president, Dickie Bird, the much-loved former umpire who used to be in his neurotic, comically worrisome element on days like this?
"Morning, Mr President," chirp the handful of obsessives who have turned up for this chilly early-season match. One of them suppresses a grin as he says it. We bump into Brian McDermott, coach of the Leeds Rhinos rugby league club – they play at the adjoining ground – and Bird tells him he's president of Yorkshire this year. "They'll let anyone do it these days," says McDermott.
"Can you do owt about the rain?" one wag asks Bird as we wander round the ground. He admits he can't. "All the rain we get up here could cost us the championship," he says sorrowfully. "This is your fault," match umpire Ian Gould tells him as the players wait for the clouds to clear. "It was always your fault, and it's still your fault." The abiding image of Bird during his 23 years as a Test umpire was him fiddling with his light meter or fretting about the drizzle.
He says he doesn't mind the hint of affectionate mockery with which his presidency is treated. "In life you've got to smile. Accidents seemed to follow me around when I was an umpire. I always had my mannerisms, and liked to have a joke and a laugh with the crowd. I don't think that would happen today. The characters have gone out of sport, which is sad. Cricket was a game for characters."
His fame in the period 1973-96 when he umpired Test matches and the affection in which he was held were such that, in retirement, he became a one-man industry. His autobiography sold more than a million copies – the bestselling sports book of all time, he tells me proudly; his show, An Evening With Dickie Bird, still tours – he says he got a bigger audience at Leeds Grand Theatre than Shirley Bassey; he has launched a foundation to help disadvantaged teenagers play sport; and his home town of Barnsley erected a statue of him.
This afterlife is important to Bird because he never married – "I was married to cricket," he says – and he admits that, now he has passed 80 (the peg for his new book of cricketing memories), life can be lonely. "The one thing I've missed is not having a family. I think I'd have made a good father. But I've seen so many divorces in cricket, and I'm the kind of chap, it would have killed me if I'd had a broken marriage. That's why I never married." He says he came close twice, but decided in his mid-20s to stay single and concentrate on cricket.
He had a stroke in 2012, and, while he has recovered physically, it has left its mark. "It leaves you very emotional," he says, "and you lose your confidence. You can get very depressed if you don't watch yourself." Regular exercise is one source of strength – he does 45 minutes every day before breakfast; religion another – he is a Methodist and committed churchgoer, and says his faith has carried him through.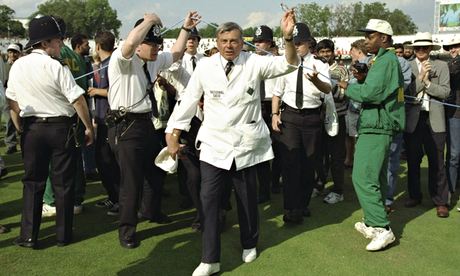 It's hard to believe there will ever be another phenomenon like Bird – a journeyman county cricketer turned outstanding Test umpire who became better known than any player. He harks back to an age when cricket was part of the country's cultural life in a way it no longer is. The sport's migration from terrestrial TV to Sky has robbed it of a mass audience. "I would never have become so well known now," says Bird. "Michael Vaughan [the former England captain] said to me recently that cricket being on the BBC made me and Ian Botham national figures."
Bird worked hard to polish the public image. "I always said when I got on to the first-class umpires list [in 1970] that I was going to smile and sign every autograph for every kid, even after I'd had a tiring day of seven hours in the field. At close of play, I'd line them up and sign every one."
He's happy to have umpired in a more innocent, less commercially driven age – and one where umpires hadn't become slaves of technology, with endless slow-motion replays determining many decisions. "Umpires have become coat-hangers," he complains. Though he was a worrier – a trait which undermined his career as a player – he says that, as an umpire, he was surprisingly good at putting wrong decisions behind him. "You have to get it out of your mind. That's finished. It's gone. It's history. You've got to concentrate on the next ball going down."
Despite the stroke and the occasional lows, Bird remains in good form, buoyed by the presidency and the fact that he has not been forgotten. He's a man who needs an audience. I first met him 15 years ago, just after he'd retired, and he seems barely any older, though he does nod off when play finally gets under way in the afternoon and misses the fall of a wicket.
Only once does his emotional nature manifest itself – when he stands up to demonstrate the way his father, who was a miner and died before Bird found fame as an umpire, used to bowl to him in the little park in Barnsley where his statue now stands. "I'm getting a lump in my throat," he says. "I always start to well up when I talk about my mother and father." But the moment passes, and he is soon absorbed in the game again, the game that has sustained him for the whole of his singular life.