Tove Jansson was born almost 100 years ago, on 9 August 1914. In appearance she could not have been less like her most famous creation, Moomintroll. She had an alert face, a wry mouth, a pointed chin and a distant look in her eyes. Moomins have bulbous snouts and rotund bellies – the sweetness of sugar mice, the generosity of hippos. They can be happy, melancholy, philosophical. They have captivated generations of children and been published in 20 languages but were a mixed blessing – sometimes tyrants – to their creator.
The first authorised biography of Tove Jansson, Life, Art, Words by Boel Westin, comes out alongside Jansson's haunting childhood memoir, Sculptor's Daughter, making its first appearance in English in 40 years. It's best to read the autobiographical fragments first to get a sense of Tove's Finnish bohemian parents: her father, Viktor Jansson, a sculptor, and her mother, Signe Hammarsten-Jansson ("Ham" to her children), an illustrator. And it's important to glimpse the grandfather she likened to God – who saw that it was good (and when it wasn't). The religiosity of her childhood when she was with her grandparents was overpowering. Even the bees sounded like "organ music". An angel, said to live at the bottom of the garden, was not to be disturbed.
But the greatest revelation, reading the memoir, is that what drove Jansson's imagination was fear. This is a book of perils. The dark is a faceless monster with "distinct hands". Snow is like "grey hands with a hundred fingers". An eiderdown behaves like a fist. Ice breathes. Snakes in the carpet are almost real. The words "safety" and "dangerous" repeat themselves. The external world was always an internal landscape for Jansson. Reading her is like a return to childhood: things happen that are inexplicable when adults are in charge. It's unwise to pretend to know what is coming next. Life, she indicates, is best approached gingerly, with respectful regard.
It is with respectful regard that Westin, a Swedish academic, approaches her biographical task. Jansson was a novelist, painter, illustrator and comic-strip creator. She studied art in Stockholm, Helsinki and Paris. She wrote adult novels (including the intriguing Sun City – about old age) and short stories. Her private archive is colossal. Westin has toiled through diaries, notebooks and letters, leaving not a page unturned.
She first met Jansson and her partner, the graphic artist Tuulikki Pietilä, in 1982 when working on a thesis about the Moomins. And Jansson and Pietilä believed studying the "material" would, on its own, deliver the biography. As Westin took notes in the Helsinki studio, Jansson offered watered-down whiskies but, it seems, no confidences. And Westin does not step back to judge – the book is constrained by her deference. Even though Jansson died in 2001, the sense is that this biography is for, as well as about, its subject.
But it's crammed with factual interest and encourages one to read in the way Jansson liked readers to do – as imaginative assistants, filling in gaps (in Finn Family Moomintroll, children are advised to confer with their mothers about what the Muskrat's false teeth were transformed into under the Hobgoblin's magic hat). And transformation emerges as a Jansson obsession. She treated words as if they were alive, believing in their transfiguring power. Another obsession was with wild nature. She loved islands, storms, stones and fur (at 15, she proudly designed and wore a pair of outlandish fur trousers). Throughout her life she worked. She believed in "work and love" – in that order. At best, they were fused: she commandeered the word "Mymble" from the Moomins to refer to making love, or a lover of either sex. It's a joke that may have been necessary – homosexuality was illegal in Finland until 1971.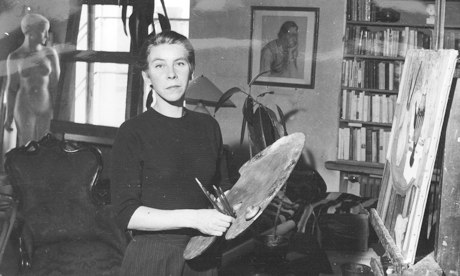 It was in 1946 that Tove Jansson met Vivica Bandler, a married theatre director. She'd had affairs with men, including the communist philosopher Atos Wirtanen. The relationship with Bandler marked her crossing to "the other side". Their affair lasted three-and-a-half weeks and was "shattering". Westin tells but does not show why. What's missing in her placid commentary is any sense of the eroticism that sometimes animated Jansson's writing and, presumably, her life. Take "Annie", in Sculptor's Daughter, gathering cherry blossom: "Her dress stretched tight all over… flowers rained all over her face and I whispered stop, stop, that's enough." She describes being "beside myself with fright and ecstasy".
What we do learn is that Jansson minded acutely not being able to talk to her mother about her sexuality. Of her mother's silence she wrote: "I can accept that this is right and more elegant. But it feels lonely."
The Moomins are safer territory. Invented by Jansson's uncle Einar, they started out nasty. If you were caught stealing from a pantry, a Moomintroll might swipe at your legs or blow down your neck. By the 1950s and 60s, Jansson must have felt the Moomins were breathing down her neck. Moomin madness had struck. Advertisers wanted Moomins. Ditto Walt Disney (Jansson turned him down). Moomins were available in marzipan and on television. There were Moomin pens, piggy banks, waste paper baskets… For Jansson the problem was how to cleave to her first love – painting. She had to control the trolls to paint on.
It was at an artists' guild party in 1955 that she met Tuulikki Pietilä, a woman with a gift for quietening fears. Jansson wrote: "I love you, enchanted and… in great peace, and I am not afraid of anything that lies before us." Tuulikki (also "Tooti") was the inspiration for cheerily enigmatic Too-Ticky in Moominland Midwinter – Jansson's masterpiece. She wrote: "Tooti made me write that book about what it is like when things get difficult."
And things often got difficult. There was anguish during the second world war, intermittent depression, stretches of feeling artistically void. Jansson asked: "How do you set about showing an empty room?" And, in the 60s, more comically: "What can you do with a troll who has reached puberty?" Her stallings must have been hard, for she aspired to Moominpappa's hurry to get on with things while you feel up to it.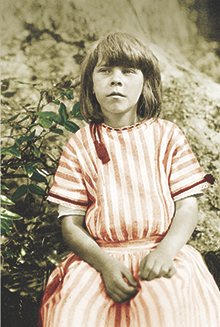 One marvellous thing she "got on with" in middle age was an island cottage on Klovharun off the south-east Finnish coast, "the landscape I love more than all others… no other place has contributed more to my work". After her beloved mother's death, she wrote: "Today, there's a thick fog; all four windows are white and the cottage seems to be sailing through empty space." It seems Jansson often wished to sail through space herself and vanish from view (fame made this tricky: enthusiastic sightseers disrupted her island existence). She loved solitude, space, whiteness. She revelled in her white studio resembling the "inside of a freshly rinsed shell", and in the Moomins' moonlit house in winter where a chandelier hibernates in white gauze.
When Sculptor's Daughter was published in Finland in 1968, readers longed for more. But Tove Jansson's response was firm – another bid for invisibility: "No, I'm not going to let the sculptor's daughter grow any older… I'm not the least bit interested in trying to describe what happened to her later; it's only the child's way of experiencing things that interests me."