His voice quavering, the son of Seamus Heaney has told mourners of his father's final words, minutes before his death.
At a requiem mass in Dublin, crowded with mourners, Michael Heaney described how the poet and Nobel laureate, who died last week at the age of 74, had chosen Latin for the message to his wife, Marie. His last words were "in a text message he wrote to my mother just minutes before he passed away, in his beloved Latin and they read: 'Noli timere' – 'don't be afraid.'"
Mourners at the Church of the Sacred Heart in Donnybrook, south Dublin, were led by the poet's widow, Marie, and their three children, Christopher, Michael and Catherine Ann.
But such was Heaney's impact and the affection in which he was held that the crowd was swollen by Hollywood actors, rock stars, presidents past and present and prime ministers, as well as scores of ordinary people whose lives were touched by the Nobel prize winner's poetry.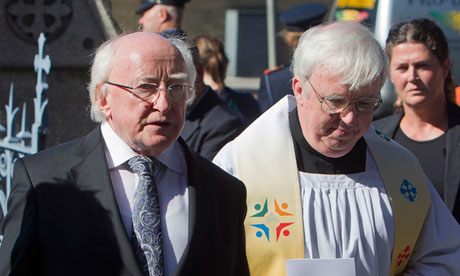 Among the crowd were the members of U2, led by Bono, the actor Stephen Rea and Paddy Moloney from the Chieftains. Shane MacGowan, former frontman for the Pogues, arrived as Holy Communion was being given out.
The president of Ireland, Michael D Higgins, attended as did the taoiseach, Enda Kenny, his deputy prime minister Eamon Gilmore and the former Irish president Mary McAleese. Martin McGuinness and Gerry Adams represented Sinn Féin.
Heaney's fellow poet Paul Muldoon recalled that when he landed in Belfast international airport on Sunday a security officer checking his passport had asked what he did for a living in the United States.
"I told him I was a teacher and when he asked me what I taught, I said poetry. And then he looked at me directly and said: 'You must be devastated today.'" For Muldoon the words of genuine concern from a border control official reflected how his friend's work had touched so many around the world.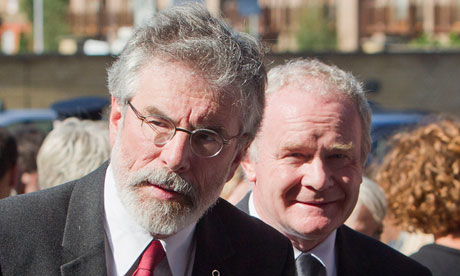 During his tribute at the end of mass, Muldoon lightened the mood when he remembered a phone call he made to the Heaney household in Dublin nearly 30 years ago.
Muldoon said that Michael Heaney, then a teenager, had picked up the phone and eventually said: "I suppose you want to speak to Head-the-Ball?", meaning his father.
Muldoon said the nickname Michael had given his father (a term in Ireland to denote someone being slightly mad) told him that there had been a "wonderfully relaxed attitude between father and teenage son, one I now know is so difficult to establish and even more difficult to maintain".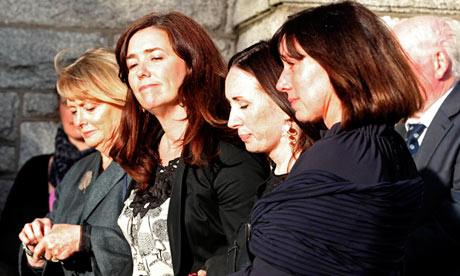 Among the celebrities and politicians were ordinary people, some of whom had their own stories about encountering Heaney. Pat McParland from south Armagh told the Guardian how the poet gave him and his future wife Joanne an impromptu engagement present inside a Dublin restaurant six years ago.
"Joanne and I were in Dunne and Crescenzi, an Italian restaurant in Dublin's Frederick Street to celebrate our engagement. Seamus Heaney was sitting nearby us with some people having dinner. We kept getting mobile phone calls as people rang in to congratulate us getting engaged. Seamus must have overheard us and went over to wish us all the very best. Then he pulled out a poetry collection which contained his poem Scaffolding. He then wrote a couple of verses from that poem into the book by hand and then gave it to us as an engagement present. This gift from Seamus has become a very precious thing for Joanne and myself," McParland said.
Among others from the Irish literary world were one of his oldest friends and fellow Northern Irish poet Michael Longley. Other mourners included the former Beirut hostage and author Brian Keenan as well as the folk singer Paul Brady whose songs reflected in music the concerns and pain of the Northern Ireland Troubles that Heaney wrote about in so much of his poetry. Liam O'Flynn played haunting traditional Irish laments on the uillean pipes during the service.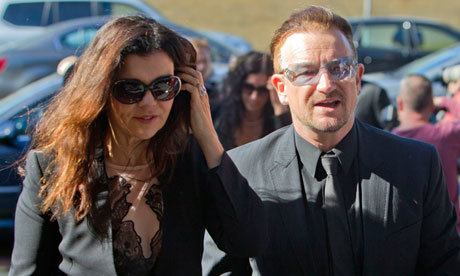 After the mass ended the funeral cortege began the long journey north, across the border and into south Derry where Heaney drew much of his inspiration in his early poetry. He was buried in Bellaghy, the south Derry village where he grew up.
There has been wave after wave of tributes to the Nobel laureate since his death was announced on Friday. Around 80,000 stood up and clapped and cheered in his honour for three minutes at the All Ireland Gaelic football semi-final on Sunday between Dublin and Kerry. Books of condolence have been opened in Derry, Belfast and Dublin. But it was his son Michael's speech which he said would be "nothing fancy" that encapsulated the writing and the philosophy of the greatest Irish poet since WB Yeats.
Seamus Heaney told generations of aspiring writers: "Do not be afraid" in taking up the pen. Through decades he implored politicians, north and south, unionist and nationalist, "do not be afraid" in choosing the path of peace and eventually ending the Troubles by putting down the gun.