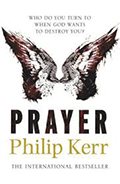 Prayer (Quercus, £18.99), Philip Kerr's first standalone novel in a decade, is a rum beast that uses the cosy familiarity of the thriller form to buttress a fantastical supernatural plot – "the strange and the sinister embroidered on the very type of the normal and the easy", as one character puts it, quoting Henry James. Gil Martins, an FBI agent specialising in domestic terrorism, is a lapsed Catholic confident in his atheism, never mind that it has caused a rift with his devout wife. However, when several enemies of the Christian right – scientists, polemicists, abortionists – die mysteriously, Martins becomes convinced that they have been killed by the power of prayer; that a charismatic Texan preacher whose church his wife attends has found a way to channel prayers so that they summon God's avenging demon Azrael. As fans of his Berlin-set Bernie Gunther novels will know, Kerr is a details man. His deep-level research brings Houston and its environs to dusty, sun-bleached life. Martins' narration, too, is deftly handled – Prayer demands to be read more than once. A shame, then, that the Amityville-style theatrics which, um, bedevil the last act should resemble bad CGI – too weightless and literal to be as scary as Kerr needs them to be.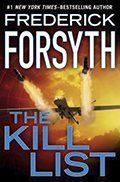 Talking of weightless … Perhaps, if I hadn't read Terry Hayes's I Am Pilgrim so recently, I would have been more kindly disposed towards Frederick Forsyth's The Kill List (Bantam, £18.99). Hayes used the template laid down by Forsyth in The Day of the Jackal et al, but upgraded it to reflect the complexities of modern hi‑tech espionage. The Kill List's hero is US colonel Kit Carson, AKA The Tracker; its villain is The Preacher, an Islamist cleric who delivers his internet lectures in perfect English. Plot: The Tracker hunts down The Preacher, with a bit of last-minute help from Our Boys. Forsyth's style mixes bombast and TV‑movie dialogue ("I do not want to shoot you, Sheikh. You are not he whom I seek") with a laundry-list blankness, which may be deliberate but in practice reduces already one-dimensional characters to mere archetypes. Technical detail is plentiful, but much of it rings hollow in the light of Forsyth's self-confessed "cyber-dumbo" status: "The records were fed into the computers which scanned them far faster than the human eye could read or the human brain digest." Um, Fred – no offence, but wouldn't the records already have been in the computers?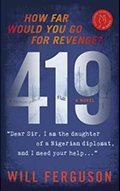 Canadian Will Ferguson is best known in this country for his 2001 satire of the self-help industry Happiness™. 419 (Head of Zeus, £16.99), which won Canada's prestigious Giller prize last year, is very different – an elegant literary thriller about a shy but resourceful copy editor, Laura, who travels to Nigeria to confront the men responsible for her father's death. Henry Curtis killed himself after he was bankrupted in an elaborate 419 scam – the kind that used to begin with an email from a west African prince promising riches if you sent him money first. (419 refers to the section of the Nigerian criminal code that relates to obtaining money or goods under false pretences.) Alongside this revenge plot, Ferguson gives us the stories of three Nigerians whose lives have been blighted by lawlessness and western predation: the scammer himself, Winston, who is in the grip of a terrifying gang boss; pregnant Amina, escaping from her family of cattle herders across the dusty desert; and Nnamdi, a fisherman's son drawn into the black market for petrol. 419 is immersive, neatly structured, and full of smart dialogue and oblique insights. Yet Henry, a retired schoolteacher from Calgary, never seems like the kind of person who would have fallen for a 419, even though the fictional one Ferguson devises is carefully targeted to its victim.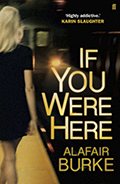 The daughter of crime legend James Lee Burke, Alafair Burke has two series of crime procedurals to her name. If You Were Here (£12.99), her first novel with Faber in the UK, is a likable standalone mystery in the style of Harlen Coben and Linwood Barclay. McKenna Jordan, a one-time prosecutor turned writer for a New York gossip mag, is investigating an internet story about a phone thief pulled from the path of a subway train seconds before it reached him. Footage of the incident reveals the woman who saved him to be McKenna's friend Susan who disappeared 10 years before … That there should be a connection between these events and the case that ended McKenna's legal career is as inevitable as the link is tenuous, but in most other respects Burke knows how to keep readers guessing.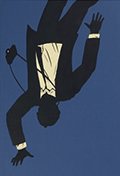 Finally, the Folio Society has produced a beautiful edition of Eric Ambler's top-notch 1938 thriller Epitaph for a Spy (£29.95). A big influence on Alan Furst and William Boyd, Ambler focused not on professional spies but on ordinary people who happened to get caught in the web of espionage – people such as Epitaph's Josef Vadassy, whose Riviera holiday is disrupted when his camera is swapped with someone else's and he suddenly finds himself in possession of photographs of important naval installations … There's an introduction by Stella Rimington and bold, subtly retro illustrations by Paul Blow.