The curator of the exhibition of illustrated children's books that opens this week at the British Library found one curious connection between many of the artists: they tend to be solitary creatures, unmarried, and often without children. "In fact I think many of them don't much like children," Matthew Eve said, firmly naming no names.
Nor do the authors always love their illustrators. Kenneth Grahame originally wanted The Wind in the Willows published without pictures. (Two of the illustrators who helped make the book immortal, EH Shepard and Arthur Rackham – who worked on the images for half an hour a day in the last weeks of his life – are among those included in the exhibition, Picture This.)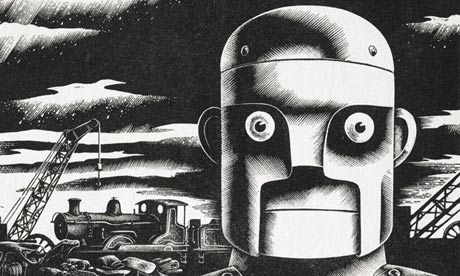 Others in the show are illustrations of Paddington Bear, Peter Pan, The Hobbit, The Borrowers, and Ted Hughes's Iron Man. It also includes Hughes's own sketch of The Iron Woman, on the front page of a copy of The Iron Man that he gave to a friend. "Looks a bit like Madonna in that Jean Paul Gaultier bra," Eve, an author and illustrator himself, judged.
The first illustrated book Eve read was Michael Bond's Paddington, with the original illustrations by Peggy Fortnum – who went to London zoo when she heard of the book, before even contacting the publishers, and made 50 drawings of a Malaysian sun bear, 30 of which went straight into the text. Paddington in later hands became less a bear and more a toddler.
Eve met Bond at a book signing when he was six, and met him again when he interviewed him for the exhibition. The story of the birth of Paddington is itself a classic. He wears Bond's own army surplus duffel coat and hat, and his adoptive parents, Mr and Mrs Brown, are thinly disguised versions of Bond's parents.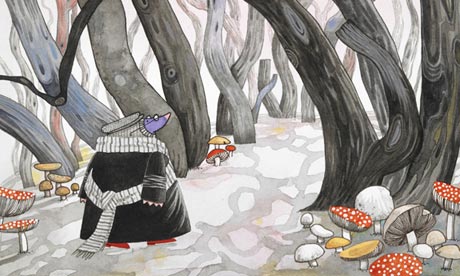 Paddington was inspired by a teddy bear Bond bought as a stocking-filler for his wife. It was Christmas Eve, and snowing – "I know this sounds like something out of a children's story", Bond apologises – and in the toy section of Selfridges, where he was slightly puzzled to find himself since he was then childless, he saw one small bear alone on an empty shelf. "I walked away and then thought: I can't just leave him alone there all over Christmas." He bought the bear, and the rest – millions of cartoons, toy bears, mugs, jigsaws, toffee tins, welly boots, and even books later – is literary history.
Picture This, British Library, London NW1, free until 26 January