'Disowned': family says pleas for help ignored as Australian man dies of Covid-19 in India
Daughter of 59-year-old criticises consular officials' response and says her mother has been abandoned by her own government
Elias Visontay with wires
08, May, 2021 @5:44 AM
Australia Day honours list: Jane Turner and Campbell Newman among 2020 recipients
Teen LGBTQ activist Georgie Stone is the youngest to be honoured alongside war veterans' advocate Colin Hamley, 97
Naaman Zhou
25, Jan, 2020 @11:00 AM
The premier, the shock-jock, and the dogs: Baird lands awkwardly after his backflip | Richard Ackland
When Mike Baird did a U-turn on greyhounds, maybe he had a permanent loop from Alan Jones running in his brain, saying that he was wrong, wrong, wrong
Richard Ackland
14, Oct, 2016 @8:00 PM
Quiz: how well do you know Australian political scandals?
Sam Dastyari is not the first politician to fall on his sword after a blunder, take our quiz to see how well you know Australia's political controversies
Bridie Jabour
09, Sep, 2016 @10:00 PM
Liberal party announces panel to review poor election performance
Andrew Robb, Barry O'Farrell and Richard Alston among those appointed to look into disastrous campaign amid internal recriminations over strategy
Katharine Murphy Political editor
02, Sep, 2016 @9:28 AM
The rise and rise of Barangaroo: how a monster development on Sydney harbour just kept on getting bigger
Its critics have called it 'contemptuous' and a 'shocking breach of the public's trust'. But who cares what the critics say when you have a former prime minister, a billionaire and some helpful tweaks to the law on your side? Bridie Jabour unpicks a quintessentially Sydney story
Bridie Jabour
30, Sep, 2015 @4:07 AM
Icac powers to be limited after Margaret Cunneen case, Mike Baird announces
New South Wales premier adopts recommendations of review into corruption watchdog and says its powers will be limited to 'serious corrupt conduct'
Bridie Jabour
11, Aug, 2015 @3:03 AM
New South Wales reimagined: resize the state by the statistics that matter
See how the state shapes up by different statistics with this interactive map
Guardian Australia's awards of the year: winners (and losers) of 2014
Bill Shorten added linguistic zing, Redfoo didn't. The Bachelor kept a straight face, while Sam Burgess bashed his into putty. Abbott did his bit for humanity, via the coal industry, while Hockey took off his smoking jacket long enough to think about the poor. We give you those who shone, or otherwise, in 2014
Oliver Milman
18, Dec, 2014 @11:33 PM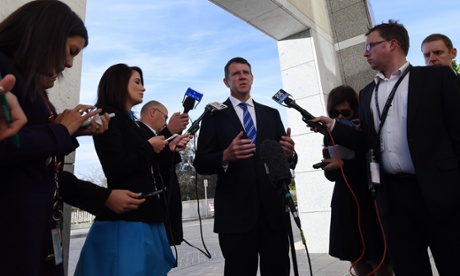 Corruption scandals prompt overhaul of NSW election funding laws
Premier Mike Baird says increasing penalties and capping campaign donations will 'clean up politics' in New South Wales
Michael Safi
14, Oct, 2014 @9:01 AM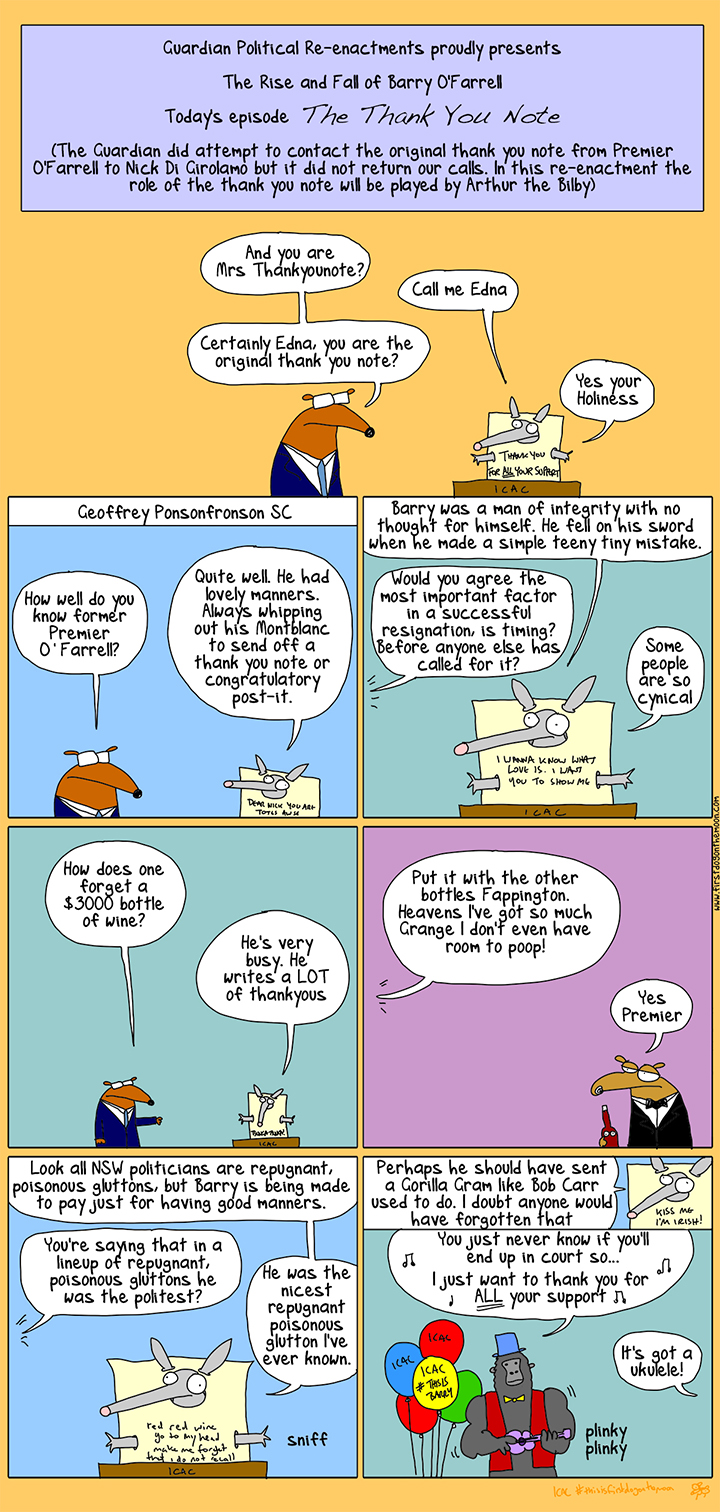 First Dog on the Moon presents ... the thank you note episode - cartoon
Barry O'Farrell always had good manners, but First Dog on the Moon points out it wasn't enough to avoid having to resign
First Dog on the Moon
22, Apr, 2014 @1:59 AM
Gerard Henderson clashes with Kate McClymont on Lateline - video
Thinktank director Gerard Henderson has criticised the Independent Commission Against Corruption over its role in the resignation of NSW premier Barry O'Farrell, clashing with Fairfax journalist Kate McClymont on ABC's Lateline on Wednesday. Henderson said McClymont was 'confused' while the journalist accused Henderson of not knowing all the facts around the story.