'Dress like your life depends on it': art's most glamorous and scandalous nightclubs
Fuelled by booze and fleeing the humdrum, they dressed and danced like their lives depended on it. We celebrate the heyday of racy caverns crammed with art and attitude
Hettie Judah
14, Oct, 2019 @7:00 AM
'We're asking the art!' The one-to-one tarot show inspired by Bauhaus
Choreographer Jennifer Lacey explains why there is more modern art than movement in her new life-coaching piece
Chris Wiegand
10, Oct, 2019 @9:42 AM
Sex, sin and sausages: the debauched brilliance of Leigh Bowery
His shocking shows – featuring births, enemas and vomiting – thrilled and appalled. Two decades after his death, why is the influence of this 80s nightclub legend still so pervasive?

Lauren Cochrane
13, Aug, 2018 @5:00 AM
Festival watch: Festival No 6 2016 review
Extreme weather threatened to become the headline act but a wonderful set from Super Furry Animals and a carnival spirit saved the weekend
Ally Carnwath
11, Sep, 2016 @6:59 AM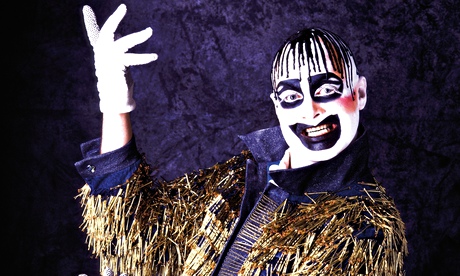 The night I put Leigh Bowery on the catwalk – and he stole the show
As fashion editor of Blitz, Iain R Webb asked a group of designers to customise a jacket. Among them was a man who would become an icon of the 1980s
Iain R Webb
01, Nov, 2015 @10:30 AM

Lucian Freud's muse 'Big Sue' sketches a new career in art
Sue Tilley, the model for Benefits Supervisor Sleeping, picks up her crayons and becomes an illustrator
Vanessa Thorpe
21, Jun, 2014 @12:43 PM

Club to Catwalk: London fashion in the 80s remembered
A new show at the V&A celebrates the creativity of the 80s clubbing and fashion scenes in London. Lauren Cochrane find out what inspired the decade's cool kids
Lauren Cochrane
09, Jul, 2013 @5:29 PM

Lucian Freud Portraits – review
Both his subjects and the paint itself are laid bare in this monumental survey of Lucian Freud's portraits, writes Laura Cumming
Laura Cumming
12, Feb, 2012 @12:05 AM
Food tales of the rich and famous: Cherry pie with Leigh Bowery
A fruit dessert with the Australian performance artist
John Hind
16, Apr, 2011 @11:03 PM

Photographer Fergus Greer's best shot
Fergus Greer: Leigh Bowery would call about twice a year, saying he had some more "looks". He called this one Future Juliet
Interview by Andrew Pulver
30, Mar, 2011 @9:29 PM

Leigh Bowery's unlikely influence on Westlife
Boyband star Mark Feehily has revealed that the performance artist is his 'inspirational hero'
Alexis Petridis
24, Mar, 2011 @7:59 PM
Leigh Bowery, ideal husband
Art's agent provocateur used to 'give birth' to his wife Nicola Bateman on stage - amid a flurry of sausages and blood - and threw ice cubes into her bath. But, she recalls, they also went to Sainsbury's together.
Barbara Ellen
21, Jul, 2002 @12:12 AM