Top 10 badly behaved biographies
Life writing is usually a conventional business, but these writers take on the job by discarding the rules, with thrilling results
Catherine Lacey
12, Apr, 2023 @11:00 AM
'They said I'm a badass and Hollywood needs me': how Florence's Machine took Tinseltown
As the other half of Florence + the Machine, Isabella Summers has worked with the likes of Beyoncé and Jennifer Hudson. Now the film world can't get enough of the musical sensation
Kate Finnigan
30, Nov, 2022 @4:31 PM
Art from acrimonious divorce raises $676m at Sotheby's in New York
Works by Warhol, Rothko and Pollock sold in most valuable auction ever held at Sotheby's
Harriet Sherwood Arts and culture correspondent
16, Nov, 2021 @4:37 PM
Lust, heartbreak and suggestive sculpture: was this art's greatest love triangle?
For Valentine's Day, we look at how the interweaving passions of three American greats – Cy Twombly, Jasper Johns and Robert Rauschenberg – were as mesmerising as their art
Jonathan Jones
12, Feb, 2021 @5:33 PM
The Guardian view on artist Tacita Dean: epic, intimate and in touch with history | Editorial
Editorial: Contemporary art is often seen as having brutally abandoned tradition. But the best work of the present is in conversation with that of the past
Editorial
18, Mar, 2018 @6:08 PM
Cy Twombly review – blood-soaked coronation for a misunderstood master
The first retrospective since the US artist's death in 2011 celebrates a man pushing sex and death into a gore-soaked new space for art
Jonathan Jones
30, Nov, 2016 @9:08 AM
Robert Rauschenberg: 'He was just something to be around'
From his paint-spattered bed to a stuffed goat, the American artist broke boundaries. On the eve of a major retrospective, his friends recall a generous spirit on his island hideaway
Alex Needham
19, Nov, 2016 @8:00 AM
Robert Rauschenberg: the leader of American art's great ménage à trois
The dazzling, haunting 'combines' at the heart of Tate Modern's forthcoming retrospective were part of a private game between Rauschenberg and his peers and sometime lovers, Cy Twombly and Jasper Johns
Jonathan Jones
29, Aug, 2016 @10:35 AM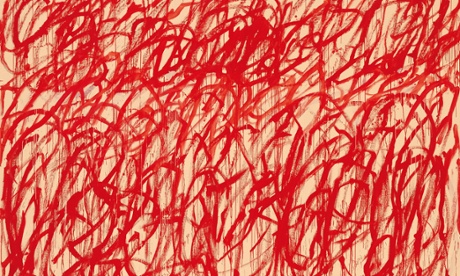 Cy Twombly makes me want to plan the art heist of the century
The last great masterpieces of abstract expressionism have descended on Mayfair – but this exhibition feels too market-led to let such colossal works shine
Jonathan Jones
08, Oct, 2015 @3:45 PM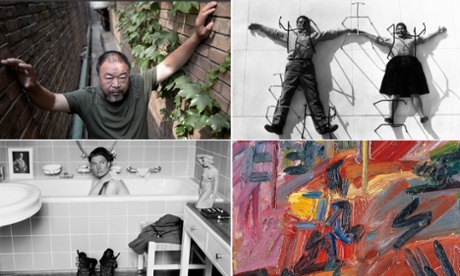 Art, design and architecture: what to see in autumn 2015
Ai Weiwei hits Britain, Turner goes to Glasgow, the Celts invade the British Museum – and Damien Hirst has a crack at curating with the opening of his own £25m gallery
Adrian Searle, Jonathan Jones, Sean O'Hagan and Oliver Wainwright
08, Sep, 2015 @5:00 AM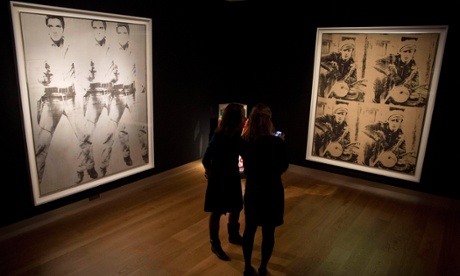 Warhol's Elvis sells for $81.9m to help Christie's smash record
Total sales of contemporary art pieces come in at $852m as separate Warhol of Marlon Brando sells for nearly $70m
Edward Helmore
13, Nov, 2014 @3:55 PM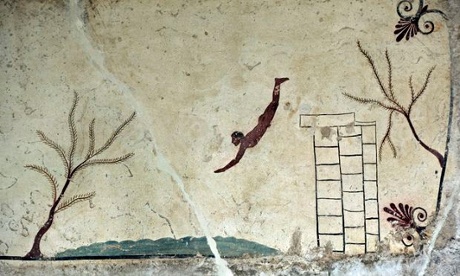 The top 10 swimmers in art
Jonathan Jones: When it's hot, everybody loves a good dip. And from David Hockney's famous splash to kids in pools and ancient divers, here are the best swimming scenes yet captured by artists on canvas and mammoth tusk...
Jonathan Jones
17, Jul, 2014 @12:22 PM