Julian Opie review – we need so much more from art than this empty irony
Staged in Sir John Soane's Ealing mansion, Opie's brand of dot-eyed simplicity – epitomised here by a sterile model town showpiece – is stuck in the 90s
Jonathan Jones
24, Jun, 2021 @11:27 AM
Royal Ballet: The Unknown Soldier / Infra / Symphony in C review – bittersweet beauty
Alastair Marriott's evocation of conflict is caught between gracefulness and tragedy while Wayne McGregor and George Balanchine still shine
Lyndsey Winship
21, Nov, 2018 @11:40 AM
Abstraction in photography and nature in fashion – the week in art
Photographic experiments from Man Ray to Thomas Ruff, a philosophical cabinet of curiosities, and Parliament Square's first female statue – all in your weekly dispatch
Jonathan Jones
27, Apr, 2018 @11:21 AM
Julian Opie: 'It's only when you are bored that you can see'
The artist explains how he created the crows, Cornish vistas and 3D cityscapes of his most recent work
Julian Opie
25, Apr, 2018 @11:53 AM
What to see this week in the UK
From Funny Cow to Julian Opie, here's our pick of the best films, concerts, exhibitions, theatre and dance over the next seven days
Steve Rose, Michael Cragg, John Fordham, Andrew Clements ,Jonathan Jones, Lyn Gardner and Judith Mackrell
20, Apr, 2018 @11:29 AM
A Certain Kind of Light review – let there be mirror balls
An exhibition on the theme of light is the latest to draw on the Arts Council's huge national collection. But how illuminating is it?
Laura Cumming
29, Jan, 2017 @8:00 AM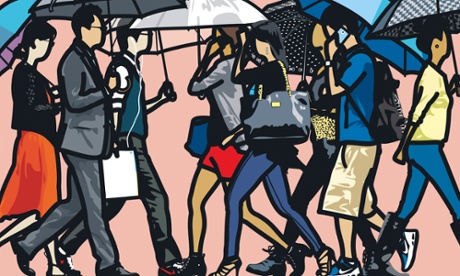 Julian Opie's portraits in motion: this is what genius looks like – review
He paints with simple black lines and most of his characters don't even have faces. Yet Julian Opie captures our world in stunning detail
Jonathan Jones
03, Jun, 2015 @4:37 PM

Julian Opie: 'The idea of what I'm doing … it makes me nervous'
Artist's secret passions explored in rich exhibition of his work from the past 20 years and pieces from his private collection
Mark Brown, arts correspondent
20, May, 2014 @10:49 PM

Peter Duggan's Artoons: a picture of Dorian Opie
Julian Opie likes to relax with a glass of port and a cigar, in the distinctly Oscar Wilde attic of his home where he can be his very own Dorian Gray. They do say great art is ageless ...

Framing the view: six artists reveal how they choose landscapes
From glimpses of Concorde to the sea seen through a lighthouse prism – artists such as Wolfgang Tillmans and Tacita Dean describe how they select and crop landscapes
Wolfgang Tillmans, Julian Opie, Fiona Crisp, Tacita Dean, Carol Rhodes and Lisa Milroy
02, Feb, 2013 @9:01 AM

Julian Opie: my magic-eye Christmas wrapping paper
Some of Britain's leading artists have designed Christmas wrapping paper especially for the Guardian. We're kicking off with paper featuring Julian Opie's signature figures, which the artist introduces here

Peter Duggan's Artoons – Julian Opie
In this week's caricature of the art world, British artist Julian Opie fails to see eye-to-eye with the world of detailed draughtsmanship