What are the greatest artistic feuds in history?
An exhibition by painter Mackie at James Freeman Gallery looks back at some recent rows between famous artists. It is called You Were Shit in the 80s, which Mackie imagines was an insult exchanged between Lucian Freud and Francis Bacon. The great painters fell out, he claims. If this is true, then it was a blip on a beautiful relationship. They painted each other with great intensity, and the evidence of their portraits of one another suggests that Bacon and Freud were much more friends than enemies. After Bacon died and Freud's portrait of him was stolen in Germany, Freud made a Wanted poster for it that felt like an act of mourning. So I don't buy the idea of them hurling banal insults at one another.
Nor is the feud between David Hockney and Damien Hirst that Mackie also chronicles in his paintings really much of a clash. Hockney does not like Hirst's work, but why would he? One is a painter, the other a conceptualist. They are chalk and cheese.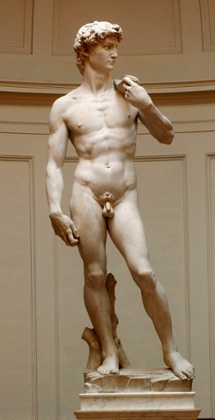 To have a real feud, artists need to have something in common – they need to be rivals, in the same space and moment, for the same prize. That's why the greatest artistic feud ever is that between Leonardo da Vinci and Michelangelo. Leonardo and Michelangelo were enemies because they were so similar. Both were trained in Florence, and both were gifted in a way contemporaries considered "divine". It was when they were challenged to paint the same hall in competition with each other that their relationship went pear-shaped.
Michelangelo insulted Leonardo in the street, shocking bystanders when he sneered at the older genius for never finishing his statue of a horse in Milan. Leonardo said at a meeting about where to site Michelangelo's David that the nude statue needed its penis covering up – a symbolic castration of his rival.

Picasso and Matisse were similarly rivalrous. As with the two Renaissance titans, it seems incredible that two geniuses such as Matisse and Picasso both emerged in early 20th-century France. They respected one another but also eyed each other up in a tense, cynical way. The most bizarre example of their lifelong tensions came when Picasso introduced his new lover Francois Gilot to the elderly Matisse. The sensual artist of colour charmed Gilot so much so that Picasso became sexually jealous. He was threatened by Matisse as a man as well as an artist.
There have been worse feuds. Italian Renaissance and Baroque artists even resorted to violence. The 16th-century craftsman Cellini, for example, murdered a rival goldsmith and – he confesses in his autobiography – contemplated killing a sculptor who got on his nerves.
Yet the saddest artistic falling out was surely between Van Gogh and Gauguin. The passionate, idealistic Van Gogh hoped to create an art colony in the south of France and got his hero Gauguin to come and join him. As their friendship deteriorated, Van Gogh cut off his ear and Gauguin fled, leaving Van Gogh to be institutionalised. So much for artists working together.
Art is messy and people get hurt. Sometimes it is fellow artists who get insulted or worse. And strangely enough, the greatest artists have the biggest fights.