Three-thousand porcelain river crabs clamber over one another in a great red, green and white sprawl of twitching legs and claws. Porcelain sunflower seeds are one thing, crabs another. Good thing they're not quite real.
This is but one small moment in the largest show Ai Weiwei has held in Britain. Not exactly a retrospective, it is certainly the best show of his work I have seen anywhere, as well as being the best thing I've seen at the Royal Academy, London, for years. It is filled with surprises, shocks and tremors. Its effect is cumulative. Those who have doubted Ai's integrity and seriousness (I have never been among them), or his qualities as an artist, should find plenty to pause at here.
The word for crab, hie xie, is a homonym for harmonious, we are told, and much bandied about in Chinese government circles. There's not much harmony here among the crustaceans. The word is also used a lot on the internet in China, as slang for censorship. Thinking Ai might shut up after his 81-day incarceration in 2011, and the bulldozing of his newly completed Shanghai studio by the authorities, the Chinese government got it wrong.
In the same room as the crabs, the artist has built a wall, made from the rubble of his studio, which had originally been sanctioned and encouraged by the Shanghai authorities. Within it are fragments of decorated wooden supports from a much earlier, Qing dynasty building. Carved birds rest on carved branches, among leaves and flowers and the reclaimed rubble. Ai's art, for all its references to minimalism and conceptualism, has always been grounded in his own experience and his place in Chinese society. His outspokenness on social issues, and on the development of Chinese society, are not at odds with this.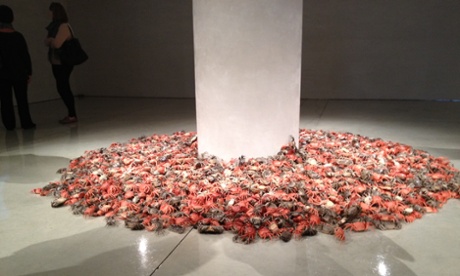 A dark, smoothly finished work in ironwood sits on the floor. It is like an unrolled carpet, still rucked with folds across its width, which come at you like ripples as you enter Ai's show. Called Bed, it is really a map, but you have to lie down next to it to see along its length, and appreciate how the edge traces the geography of China's border, with its snaggly promontories and indentations. We follow the coastline and numerous internal borders. By now my clothes are dusty, even before I notice how this huge timber construction is made from innumerable sections, all perfectly dovetailed into one another in a complex of saw-cut meetings across and through the grain.
How things are made matters in Ai's work as much as what is being made, unmade and remade. This is more than a matter of recognising or demonstrating the consummate skills of Chinese woodwork and cabinet-making, marble-carving, metal-working, modelling and casting. Such skills, with their long history, are not redundant, even though so much has been lost in China's surge to modernity, in a fog of pollution and destruction.
Not so much a maker of things as a director, a commissioner, an orchestrator, Ai understands the specifics of matter and materials, of what they signify as well as what they can do. Lots of artists possess enviable skills – no matter how many people complain that artists now are no longer trained in the business of artisanal or technical skill. Most are trained in the business of business, and Ai is that, too. He is not the one who carves the jade and marble, or cuts the wood, or fashions a butterfly joint.
Much of Ai's work is also about recycling: the grove of bare trees that stands in the RA's courtyard has been constructed from the mismatched trunks and branches of felled trees, each an amalgam of sawn and dovetailed parts. Among them sits a battered padded vinyl or leather armchair. From a distance, it looks as if it has been rescued from a skip. In fact, it has been carved from striated black marble. The wood for Bed is recycled from Qing dynasty timber. The conjoined arrangement of acrobatic wooden stools, and the tables that take a sudden right angle, so one pair of its legs rest on the wall, are reworked from original pieces of furniture rather than built from scratch. These playful, useless objects hark back to Marcel Duchamp, although Ai always affects some kind of radical transformation. Elsewhere, we find silicone sex-toy buttplugs and anal balls remade in carved jade; a child's stroller carved from marble sitting on a marble field of grass; a perfectly detailed marble gas mask carved from the same hunk of marble it sits on.
All this is more than a clever double-take, or an updated version of the Chinoiserie produced by the ton for the western market in the 18th and 19th centuries. If these were just conversation pieces, and demonstrations of skilful toil, that would be the end of it. Although Ai's work is dependent on the Duchampian readymade and the found object, and the reworked manners of minimal art, he brings to this language something crucial and acute.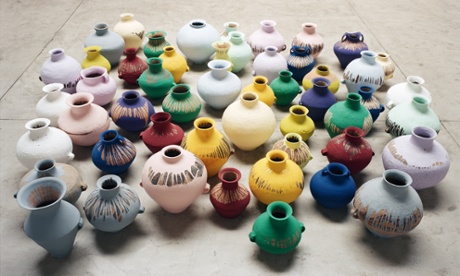 There have always been questions about whether minimalism was itself authoritarian and somehow anti-human in its regularity, with its preference for the grid and the machine-made surface. Ai has always turned this around. A group of cubes comprise a sheer-sided ton block of compacted tea, a delightfully carved enlargement of a small ebony box his poet father once gave him, and an intricate puzzle box with hidden, sliding and interlocking compartments for treasure. Looking inside this is like looking into a model of a mind. Even the pallets on which the objects sit are perfectly jointed and planed timber.
If there is an object fetish at work here, it can also encompass destruction. The neolithic and Qing dynasty pots he dips in drooling industrial paint gain as much as they lose. Some in any case were bought as fakes – albeit fakes that were made with the same repertoire of skills that went into the originals. For all their lurid colour, they are still in their way beautiful, satisfying forms.
An arrangement of tall, rusted steel boxes fills another gallery. Each has a door, a window or two, and a hole on the top through which one can stare down, as though through a skylight. Inside, you can see the grim conditions of Ai's 2011 imprisonment: these half-scale models of his prison – he was forbidden to discuss it, but remembered the place down to the smallest detail – show scenes of his nightmarish life there. Two guards watch him at every moment, but do not communicate with him, as he eats, sleeps, defecates and showers. We see him interrogated. Nothing really happens except this awful proximity. Everything is modelled in numbing detail, from the wretched bathroom to the plastic-covered furniture, the bowls of food, the uniforms. The scenes are vertiginous and awful. What cannot be spoken about is turned into silent images.
Ai's show is a rollercoaster. The pace never lets up. What holds it all in check is the reserve of the objects themselves. The exhibition builds, returns, develops. A room with an acrobatic dance of stools and furniture doing impossible things is followed by the wails, shouts and screams of Ai's video Little Girl's Cheeks in the next and largest gallery at the RA. The film opens in the confused aftermath of the 2008 Sichuan earthquake. The footage is extremely upsetting. We see dead children and attempts at resuscitation, grieving families, speechless rescue teams. Bodies and schoolbags are strewn about in the rubble. We see groups of visiting officials in their suits. Some even smile. We see building inspectors aghast at the shoddy "tofu-dregs" construction of the collapsed schools and overhear phonecalls to stonewalling public offices.
The film also follows the process of making the work that now fills the gallery. Ai managed to reclaim over 150 tonnes of the twisted steel that was meant to reinforce the concrete structures that collapsed. He employed a team to straighten the rods and return them to an almost pristine state. These have now been stacked across the floor, creating a kind of landscape of longer, shorter, thicker and thinner bars, rising a few inches from the floor. They create a kind of plain, a low fissured relief. It goes on and on, like a landscape sheered by tectonic forces. On the walls on both sides of this implacable and dour arrangement is a gridded list of the names of the dead children, all 5,196 of them. Art without a human dimension is impossible. Sometimes the obvious needs to be stated. What a great and moving show.
• Ai Weiwei is at the Royal Academy of Arts, London, 19 September to 13 December. Buy tickets at theguardianboxoffice.com or call 0330 333 6906