David Jones was a master of the art of sideways looking. Many of his finest paintings are of glimpses through a window. A boat far out at sea viewed through flapping curtains; a secret downwards vista into a walled garden where two lovers meet. He craved the secure feeling of containment, "looking out at the world from a reasonably sheltered position". In our age of the full frontal his nervy intellectualism has tended to make people resistant to his work.
But he was an artist and a poet who in his own time attracted passionate admirers. Kenneth Clark, in the mid-1930s, was describing Jones as "the most gifted of all the young British painters". TS Eliot regarded In Parenthesis, Jones's modernist epic of the first world war, as "a work of genius". Auden judged The Anathemata, published in 1957, as "very probably the finest long poem to be written in English this century". Jones's work is indeed complex, but it is wonderfully resonant and rewarding. If we shy away from him on grounds of his obscurity we have ourselves to blame.
In the first world war Jones enlisted in the Royal Welch Fusiliers, fighting on the western front for more than two years, longer than any other major poet of the war. This was certainly the most defining experience of his life. He served in the ranks, rejecting the suggestion of becoming an officer on grounds that he wasn't "that sort of person". He shared with Stanley Spencer, another artist for whom fighting in the war was a formative experience, the appreciation felt by the oddity, the social misfit, for the ordinary camaraderie of soldiery. Jones observed this as "the extreme tenderness of men in action to each other".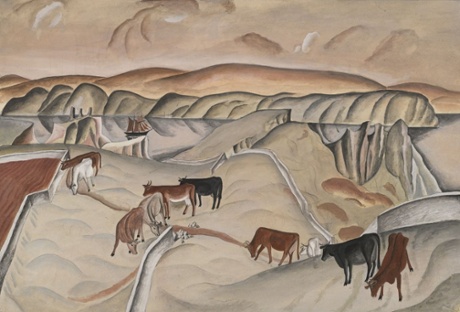 Dai Greatcoat, Jones's well-known image of the soldier in tin hat and belted overcoat, is an obvious self-portrait. He himself wore huge coats always, even in hot summer, as a kind of protective carapace like armour. But Greatcoat is also a more generalised image of soldiery through history. War is the recurring theme of his poetry. He saw the glory of it as well as all the suffering. Uccello's panoramic painting The Battle of San Romano, studied in the National Gallery, remained an inspiration. Jones came to view the coming together of battle, in its frenzy and its clarity, as symbolic of sexual consummation.
Vivid images of war service stayed with him for ever, affecting all he wrote and all he painted from then on. He was still going over the particular detail of his time in northern France in the marvellous letters he wrote in his old age, describing moving south from Ypres to the Bois-Grenier sector, "that place of incredible quiet where convolvuli grew over the revetment frames of the communication trenches and where a little French boy used to come up and blow a little horn of some sort to let us know he had issues of Le Matin". Who can say that Jones is impossibly obscure?
One of the most intense of his wartime recollections was of watching a Catholic mass for the first time. He was out alone in the Ypres sector scrounging for firewood in the woods when he became aware of a mass in progress in a ruined farmhouse. He watched the proceedings through a chink in the wall. Again, the characteristic sideways vision as he spotted the priest "in a gilt‑hued planeta, two points of flickering candlelight, white altar cloths and a few huddled figures in khaki". The matter of factness of the scene impressed him. This almost businesslike routine had been going on for centuries. In 1921 Jones himself became a Roman Catholic.
We need to view him as fundamentally a maker. He formed things with his hands as he shaped things in his mind, combining the visual and verbal with creative intensity not seen in Britain since the time of William Blake. There was little history of making in his background, except for his maternal grandfather, a mast and block maker in Rotherhithe. What he learned about skill and the religion of making he absorbed from Eric Gill, who became his father figure. Jones went to work with Gill at Ditchling in Sussex, welcomed into the community Gill had himself invented, "a religious fraternity for those who make things with their hands".
The first job Gill gave him was the painting of the lettering on the war memorial in the chapel of New College, Oxford – a suitable commission for someone who had seen so many comrades die in France. He responded to Gill's discipline of workmanship, and his postwar agitation was gradually soothed in the nurturing atmosphere of Ditchling, with its homemade bread, home-killed pigs and handmade clothes, its comfortable Catholic women, demure girls and its recurring religious rituals, for which the craftsmen all downed tools and made off to the chapel. In 1922 Jones became engaged to Gill's second daughter Petra, the skilled weaver, and pupil of Ethel Mairet. It is Petra in her rose-coloured dress who is depicted in the poignant, tender painting The Garden Enclosed, now in Tate Britain. The aspiring lover who clasps her so inexpertly is surely Jones himself.
Within three years the engagement had been broken off. In the conversations I had with Petra in the middle 1980s, when I was researching a biography of Gill, she said ideas of marriage had always been illusory: he had no regular income with which to support a wife and family, and his work always came first. Did he know at the time of the history of incest between Gill and the two eldest of his daughters? This seems to me unlikely, although it is obvious from his published correspondence that he became aware of the facts later. Jones never married, although he had several later adorations. His romances in late life were mostly carried on by telephone, and his portraits of women become more and more idealised, Arthurian and fey.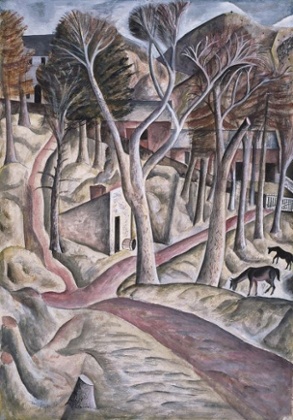 In the mid 1920s Gill and his close entourage moved away from Ditchling to resettle at Capel-y-ffin in the Black Mountains. Jones went with them to the "land of enchantment", the remote Welsh countryside he viewed romantically as the country of his forefathers. Although Jones was a suburban boy from Brockley, south-east London, his father, a printer, came originally from Holywell in Flintshire and liked to sing Welsh songs.
In Wales, in that ancient mythic landscape of rolling hills and unexpected brooks, his work began to flourish independently of Gill's, first with a series of copper engravings and then, still more impressively, with a whole sequence of watercolour landscapes of the country around Capel and the Caldy Island coastline. These wayward and mysterious Welsh landscapes infiltrate his poetry as well.
It is no good defining him as a modernist painter. He was something much odder, defying categories. But in 1928 he was nominated by Ben Nicholson for membership of the Seven and Five Society, then London's most progressive exhibiting organisation. Other members were Christopher Wood, Barbara Hepworth, John Piper, Henry Moore. He was taken up by Jim Ede, assistant to the Tate Gallery director and later the founder of Kettle's Yard in Cambridge. Through Ede, Jones met his great supporter Kenneth Clark.
In the same year, Jones also began writing his war poem In Parenthesis. This ambitious work is tremendously peculiar, both epic and demotic, grand and chatty. War is seen through the eyes of the archetypal soldier, the Cockney Private Ball. The poem took him years to write and was certainly too much for him; he suffered a bad breakdown in 1932, after working through a draft. He called his illness "Rosi", referring almost fondly to the "rosi" in "neurosis". He broke down again, in a more acute attack, soon after the second world war.
He had stayed in London through the blitz, deeply conscious of the ruination of the city. A quality of dreamscape now entered his work and he painted his most hauntingly mythical paintings, the most beautiful of which, Aphrodite in Aulis, shows Aphrodite as the goddess and love object of all dying soldiers, German as well as British. Jones was writing a great deal of new poetry in wartime. The Anathemata, his longest, most complex and ambitious statement, was eventually published in 1952. One of the ideas that dominates the poem is of the interchangeability of serving armies: fighting men are always movable, and had been throughout history. The 10th Roman legion fought in Britain having been in situ at the crucifixion of Christ.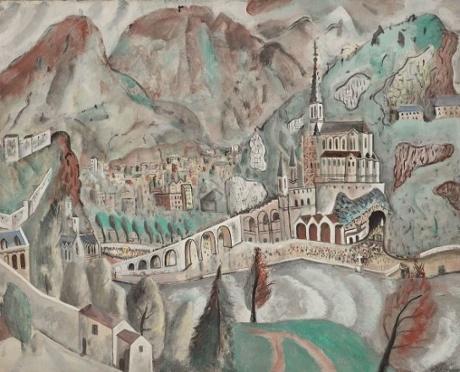 The most curious and moving of all his works are his painted inscriptions, of which he made almost 80 from the 1940s onwards. These were the closest he came to abstraction, simple, subtle configurations of words painted on paper. The inscriptions are literally "making a shape with words". These are works of art beyond the art market – deeply personal artefacts, most of them in Latin, made for people he knew, sent to friends at Christmas or made to mark special occasions such as birthdays or wedding anniversaries. They are archetypal things, having something in common with folk art, a 20th-century equivalent of samplers you might find in an old Welsh country cottage. I own one myself and look at it every day.
Jones was in some ways such a solitary figure. He camped out in hotel rooms. After the war he lodged in the house of a Harrow schoolmaster in Harrow-on-the-Hill, ending finally – and all too fittingly? – in Calvary Nursing Home. His inscriptions remind us, however, that far from being a recluse he was at the centre of a group of intensely loving and admiring friends: René Hague, Eric Gill's son-in-law; the Catholic journalist and editor Tom Burns; Douglas Cleverdon, the influential BBC producer; Harman Grisewood, who more or less invented the Third Programme. A Catholic intellectual powerhouse.
These friends appreciated him not only for his work of such astonishing diversity but also for his courage, his gaiety, his charming originality of attitude. "Under stress he would drop his shopping, lose his papers or find himself smoking two cigarettes in one hand," as one of these close friends, Peter Levi, wrote of him. Jones, although so poor that he received a civil list pension, saw no problem in travelling by taxi or buying the finest hand-made shoes from Lobb's.
There are signs that, after a long period of relative neglect, he is now on the brink of a revival. The last major exhibition of his art was at the Tate in 1982. Two concurrent exhibitions will be opening this month: a large and comprehensive one at Pallant House in Chichester, curated by Paul Hills and Ariane Bankes, who have also co-written a new David Jones biography; and a smaller, more specialist show at Ditchling Museum of Art and Craft, The Animals of David Jones.
One of his great admirers among today's artists is Edmund de Waal, who like Jones is both a writer and a maker. He acknowledges that Jones's own reductive, intellectually disciplined approach to making influenced him greatly when he himself first began to work in porcelain. As a kind of tribute, he has made a new work for the show at Pallant House: if we attend is a white wall-mounted vitrine containing 16 porcelain vessels. This work echoes line two of The Anathemata: "We already and first of all discern him making this thing other. His groping syntax, if we attend, already shapes."
The Ditchling exhibition, with its emphasis on animals, brings out another fascinating aspect of Jones's work by concentrating on the curled up and watchful domestic cats, the leopards, yaks and elephants with which the artist himself felt such a kinship. His view of animals was not a sentimental one, but serious. He saw dumb animals in mythic terms as ancient silent witnesses of "inward continuities" of site and history.
One of his art teachers at college recognised his talent, saying of his work, "Look at that, you see, Jones leaves out everything except the magic." These two autumn exhibitions will remind us of just how magical he was.
• David Jones: Vision and Memory is at Pallant House Gallery, Chichester, 24 October – 21 February. pallant.org.uk. The Animals of David Jones is at Ditchling Museum of Art + Craft, 24 October – 6 March. ditchlingmuseumartcraft.org.uk. The Art of David Jones by Ariane Bankes and Paul Hills is published by Lund Humphries.