John Craske was a fisherman from a family who had been fishermen for as long as anyone could remember, but he became too ill to go to sea. The sea was in his blood, he felt at home there, both when it was calm and breathing like a great beast and when it was wild and holding his life by a thread. And so he learned how to go to sea in his mind, making pictures of the element that mattered to him and that he understood.
He was born in 1881, in the town of Sheringham on the north Norfolk coast and he died in 1943 in the Norwich hospital. I began my research into his life by going to Sheringham and looking for old people who might remember him. Ena, who had had 13 children and at the age of 92 could still dance, thought he was her uncle "Ninny" Craske, but she wasn't sure. She told me of "Little Dick" Craske, her grandfather, who learned to tap dance on a wooden chest when he was sent to Icelandic waters at the age of nine, and who would dance for the ladies and their clients in the Two Lifeboats whorehouse. "Where's my little Dick?" asked his mother when she came looking for him, and that was how he got his name. The only Craske that Old Bennet knew was Jack, drowned in 1931; they saved his friend Sparrow by grabbing hold of his hair. Old Bennet had lobster pots instead of flowers in his front garden and he giggled like a schoolboy when I asked him how to catch whelks: "They'll eat anything, whelks … they travel about the sea looking for dead meat … a boat turned over and three men drowned, they was full o' whelks."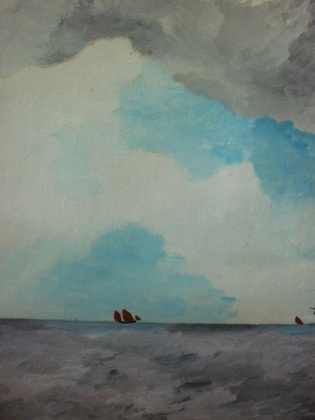 The fishing industry was already in decline along that stretch of the coast when Craske was growing up. Tourists were taking over, moving in to enjoy the air, the newly built promenades, the frequent train connections with London. They took photographs of the fishermen who looked as wild as tribesmen, lolling against their boats: high Cossack hats, tight Guernsey sweaters, heavy thigh boots with metal cleats and a hunter's distant gaze in their eyes, but not enough money to live. John's family moved inland to East Dereham where Stephen Fry has now settled and there they had a fish shop and sold fish from a cart and later from a van.
Craske was never strong. In 1917 he made a third attempt to enlist in the war and they took him on because they were taking practically anyone by then, but while he was training he had what was referred to as a "relapse" and no longer knew his own name or who he was, just that he missed his brothers and wanted to go home. He was diagnosed as an imbecile and put in an asylum. His wife, Laura, came to collect him, having signed a form saying she would care for him.
And care for him is what she did ever after. He was always slipping in and out of "a stuporous state", which could last as long as three years, during which time he drifted in a strange dream, although he could manage to eat and drink. I explored several theories on what was wrong with him, from diabetes to pituitary trouble, but a retired endocrinologist talked me through all the symptoms and concluded that it was depression with a "psychic neurotic basis". When I told him of the kindly family doctor who recommended that Craske went to live by the sea, because "only the sea can save him", the endocrinologist was delighted: "Wise man," he said, "the movement of the sea acts as a very good calmative for mental instability."
Following the doctor's diagnosis, John and Laura rented a cottage near the Blakeney estuary. They were lent a boat and Craske cut the sails for it, while Laura stitched them. Whenever the weather was fine they set off, out with the ebb, in with the flow, three hours each way, drifting within the safe confines of the estuary; terns diving for sand eels, the mud banks like melted chocolate; marshwort, sea poppy, sea campion, dab caught on a hook, big skies and quiet days.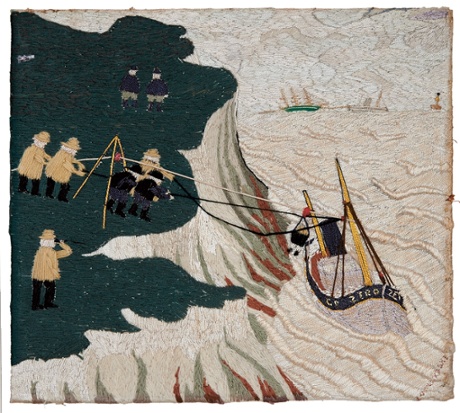 Craske got a bit better, more aware of his surroundings, and after one of their boat trips he told Laura he would like to make a picture on the lid of an old bait box. He made a painting of a red-sailed lugger leaning precipitously to one side in a storm, the wind scudding through the crests of the waves; you can almost hear the roar.
He began to paint on anything he could find: cardboard and brown wrapping paper, mantelpieces and doors, jugs and teacups. When he and Laura had to return to East Dereham, he went on painting, and when they had another spell by the sea in the village of Hemsby, further down the coast, he still went on painting. While they were in Hemsby, Craske made toy boats to sell to passersby, and that was how the poet Valentine Ackland – she always reminds me of David Cameron in every photograph I see of her – first came across him and persuaded him to sell her one of his works, even though Laura found it absurd to accept payment for such a thing.
Ackland showed the painting to her friend and very tricky lover, Dorothy Warren, who had a new gallery in Maddox Street in London, where she exhibited Henry Moore and Paul Nash as well as DH Lawrence's rather prim nudes. She was keen to add Craske to her list of artists.
Ackland went to find him. By now he had left Hemsby, but she tracked him down to Dereham. He was in bed and appeared to be in a coma and close to death. Laura thought the tall lady in trousers had come to ask for her money back, but when she was told that more of the same was wanted, she brought out all the paintings her husband had made and in return for £20 in £5 notes, Ackland took a good few away with her.
She and Warren returned to Dereham a few months later and found Craske much improved. He had produced his first embroideries and was more business-like than his wife, selling pieces according to the time he had spent on them.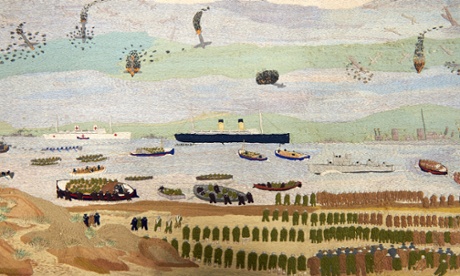 He had started on the embroidery because he could do the stitching while lying down. He used deck chair frames as stretchers for the cloth and old gramophone needles to hammer it in place. Craske was very meticulous about getting the precise tilt of a boat according to the pull of a current or the direction of the wind. I showed a photocopy of an embroidery called Rescue from Breeches Buoy to a Cromer fisherman and he looked at it and said: "See, she's foundered and she's going to get smashed. That main line there is to get the people off … they'll be alright soon enough."
The exhibition opened at the Warren Gallery in August 1929 and it was deemed a success: "the ship pictures by Mr John Craske are definitely – if crudely – works of art," said the Times. The Daily Mail declared: "the work, though childishly naive, has extraordinary charm and decorative effectiveness", adding, "The hero of the hour himself, a humble and God-fearing man, was not present as he is seriously ill."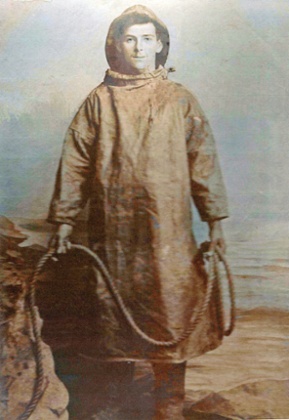 A second show did not go so well, mostly because Ackland had fallen out with Warren, having started a love affair with the writer Sylvia Townsend Warner. In a curious way, Craske became part of their romance. When they were first together, Townsend Warner was taken to meet him and was impressed by his speechlessness, his simple poverty and by what she saw as the integrity of his vision. The two women became his patrons and bought his work whenever they could, persuading their friends to do the same. The Norfolk preservationist Billa Harrod acquired a number of pieces and John Betjeman had a long embroidery which seems to have been lost. For Townsend Warner and Ackland, and for Ackland's wealthy American lover Elizabeth Wade White, who appeared on the scene a few years later, Craske encapsulated not only the beauty of the north Norfolk coast and the North Sea, but also the times when they were most happy. They had numerous examples of his work on the walls of their houses, the embroideries yellowed by cigarette smoke and bleached by the sun. And it is mostly thanks to them that Craske's work has survived, especially when in the early 1970s, Townsend Warner presented her collection, along with whatever biographical material could be found, to Peter Pears and the Snape Maltings, believing that "Craske is an artist whose work should be on view in east Anglia … enhanced in the sharpened light of a seaboard sky".
But I am jumping ahead. Craske continued being mostly silent and often ill, making pictures whenever he could. He must have produced hundreds of images, but most have been casually mislaid, and although his work did receive a certain amount of praise when it was shown in the US in the early 1940s, his reputation was never established beyond a small circle of admirers. When the Norwich Castle Museum was approached in 1947, with a request to borrow a large embroidery which they had in storage, the curator agreed on condition that her name was not mentioned, "because, quite frankly, I do not think work of this type comes under the heading of art".
Craske explained that some of his ideas came from memory and some from imagination, which was often inspired when friends told him of shipwrecks or lucky escapes at sea. He spent an increasing amount of time listening to the wireless and in 1940, he heard how the English soldiers had been pushed back to the Normandy coast. The unfolding account of the evacuation of Dunkirk inspired his most ambitious embroidery: a sort of modern-day Bayeux tapestry, 13 feet long, which told the story of men in boats being saved by the sea. He worked on it until his death, leaving a raggedy patch of unstitched sky that still needed to be filled in.
Craske's work can be seen at the NUA Gallery in Norwich, from 12 May to 6 June (nua.ac.uk/thegallery) and at the Peter Pears Gallery in Aldeburgh on 13-28 June (aldeburgh.co.uk). Julia Blackburn's Threads: The Delicate Life of John Craske is published by Jonathan Cape.