The art of Barbara Hepworth (1903-75) needs no introduction – or so you might think. Standing stones, carved totems, hollows, holes and polished eggs, white marble ovoids, their scooped-out interiors sometimes strung like musical instruments: these are so ubiquitous as to be almost a cliche of modernist sculpture.
Single Form, the gargantuan monolith with its circular sight-hole that stands outside the UN headquarters in New York, is probably the most televised sculpture in the world. Yet the curators at Tate Britain seem to believe that Hepworth is undersold, not least as an international figure. Odder still is the show they have organised – cramped, frustrating, weirdly selected and badly displayed, as if deliberately designed to diminish her.
The first gallery is a Penelope Curtis special. The outgoing director of Tate Britain and co-curator of this show is a passionate promoter of the lesser-known sculptors of British modernism. In the first gallery Penelope Curtis has taken the bold step of creating what amounts to a condensed museum of their work. This is an excellent opportunity to make the acquaintance of the graceful stone figures of Ursula Edgcumbe, for instance – lithe, incised, full of personality – but it doesn't do much to help the Hepworth cause.
For one thing her works are heavily alarmed or locked away in glass cases so that you can't touch them, as Hepworth strongly urged. For another, it demonstrates that she was by no means the only artist carving in onyx, ironstone and marble in the late 1920s – and by no means the best. She looks less like a pioneer than a disciple of almost everyone around her, from her first husband, John Skeaping, to her contemporary Henry Moore. This surely cannot have been the intention.
Like so many of her British peers, what is more, Hepworth's early modernism is always looking overseas. Her squat stone carvings recall the aesthetics of Picasso. Musician, 1929-30, is a blockish nude with massive Picassoesque hands and a cello like a huge hunk of cheddar. Two Forms – a pair of smooth marble eggs positioned so that they appear to be in close communication – so resembles Brancusi's polished ovoids as to be, let us say, closely related.
And even later on, the strung sculptures have their forebears too. Sculpture with Colour (Oval Form) Pale Blue and Red, from 1943, has its hints of sea and sky in the fresh blue interior and an inner web of strings, radial as spokes, to some people suggestive of music. Hepworth's friend, the Russian constructivist Naum Gabo made stringed forms long before she did; which may be why she was at pains to explain that hers were personal evocations of "the tension I felt between myself and the sea, the wind or the hills".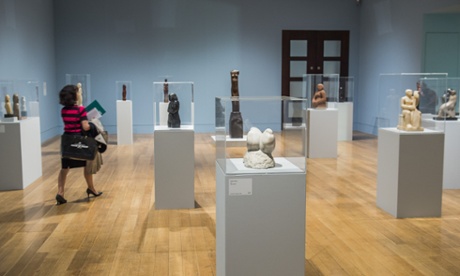 Landscape and nature are an even bigger conundrum for the show's curators. It is not just that so many of Hepworth's sculptures were made to be displayed outdoors, especially the big metal slabs with their curious guano-streaked texture that you see in British parks, or the reclining quasi-human forms outside our public buildings, or even the enormous string-winged figure nailed to the side of John Lewis on Oxford Street, London that speaks so emphatically of the 60s.
It is that the more austere her work, the more sterile it looks in the subterranean galleries at Tate Britain. The groupings of pristine abstract forms – white cones, spheres and shapes like miniature dolmens – look especially stark and unnatural in the artificial lighting, as if they were making a purely theoretical point. This is not to say that they don't come as a dramatic surprise, after all the semi-figuration, but they feel like a phase in some art historical argument.
And that is the overwhelming flaw of the show itself: it insists on presenting arguments. The curators want to advance a symbiotic working relationship (hardly news) between Hepworth and her second husband, Ben Nicholson; in order to do so they have filled the third gallery with paintings, drawings and reliefs by Nicholson that overshadow Hepworth's sculptures to such a degree her work is effectively undermined.
Worse still, there is an intense focus on Hepworth's self-curating (as they almost call it, but don't quite) – the way she staged her works, the way she handled the media. This is both drily theoretical and at the same time exposing, suggesting an excessive degree of control. A 1953 film of Hepworth hacking away in the sunlit studio gardens at St Ives, hair coiled like Simone de Beauvoir, as Cecil Day-Lewis intones the exceedingly portentous voiceover about the sea, the elements, the trees that contain the forms, and so forth, is unmitigated hagiography.
There are more than 100 works in this show, yet somehow it still manages to stray away from the very odd character of her work. The evolution is perfectly conveyed, to be sure – the works getting bigger and more expensive in tandem with her flourishing career. But what is their essential nature? People are always saying that Hepworth's art is elegant, fluent, tactile and above all graceful; it seems to me very often the opposite.
The big bronzes are rough and unyielding, standing like walls against the sky. Light comes through their perforated discs like a relief (in both respects). The ovoid carvings invite all kinds of visual associations – corkscrews, apple peel, eggs, binoculars, harps, when stringed – that they just as readily reject. The open structures of the later years resemble rusting gyroscopes, the massive wood-carvings are like 40-ton conkers, gleaming to shoe-polish brightness. The satisfaction is almost there, but always Hepworth stops short of metaphor.
Anyone who prefers her super-fluent drawings will appreciate the celebrated hospital images displayed in this show – surgeons and nurses deep in their painstaking work – and not just because the images are sensationally beautiful. What they achieve is exactly what the sculptures so often deliberately avoid – an articulation of the strange tension between figuration and abstraction in the real world around us. People, objects and landscapes are woven together, the affinities eloquently articulated. They are expressive in the very degree to which the sculptures – so tough and hard won – are not.
• At Tate Britain, London until 25 October