The hand lying on the table is small and delicate, its fingers strong but slim. Here, cast in eternal bronze, is the force that shaped the art in this light, airy room, the curved wood carvings, the sensuous stone. "My left hand is my thinking hand," wrote Barbara Hepworth. "[it] must be relaxed, sensitive. The rhythms of thought pass through the fingers and grip of this hand into the stone."
It is impossible, standing in Trewyn Studio, now the Barbara Hepworth Museum in St Ives, Cornwall, not to feel the force of that thinking. It summons the presence of the woman who lived, worked and died here, killed by smoke inhalation in a fire in 1975. She was 72, a dame of the British empire, feted and frail, admired and lonely.
She had given her entire life to her belief in what sculpture should be, pursuing her art with single-minded vision. Her work still fills the studio and its garden, exuding a fierce beauty, a powerful calm. The pieces on display range from a truculent upright baby, face scrunched and arms raised against the world, carved shortly after the birth of her first child, Paul, to the elongated curves of hardwood created out of her grief at his death in a flying accident in 1953; from the smooth marble of balls and cones standing alongside each other in simple abstraction to the delicate bronze and taut strings of a pierced, undulating form.
Outside in the garden, the early evening sun glints on polished marble and green bronzes, their exteriors rubbed smooth as glass, the insides rough with verdigris. Bumpy-edged shapes of dark metal fold on each other like wings. A huge square structure offers a climbing frame and peepholes through which to see the church tower that looms over the space. The place is a tribute to a life lived as well as to works completed; small blocks of marble – "like a flock of sheep", as she described them – stand outside the carving studio where her overall still hangs, her chisels still lie.
You can see Hepworth in this garden time and again in her famous Pictorial Autobiography, a scrapbook of her life as a sculptor, full of images of her slight figure gazing up at structures that loom over her. Throughout her career, she cared about the way in which she was seen, commissioning photographs to show her work in settings that revealed it to its best advantage. This was the place it was most often recorded. As she wrote in 1962: "I always envisage 'perfect settings' for sculpture and they are, of course, mostly envisaged outside and related to the landscape."
Yet there has been a sense in which this powerful identification with St Ives and its surrounding moorland and sea has counted against a clear-eyed assessment of Hepworth, feeding into the perception of her as a local and regional artist, rather than a figure of international significance. It has allowed Jonathan Jones, writing in this newspaper, to suggest that she is "easy to get bored by" and "second rate". "You cannot seriously set her works alongside those of Brancusi, Kandinsky, Mondrian, Pollock, Rothko or Richard Serra. She is not in the same class."
It is a judgment much contested by Hepworth's admirers, but those images of a handsome woman, with a high forehead and strong features, posing alongside her work, blur the vision in other ways, too. "I am constantly plagued by this little-woman attitude," Hepworth told Robert Hughes in an interview in 1966. He had turned up at St Ives to be surprised by "banal as it sounds – how small she is, and how self-contained. Not a gesture or a movement, not a flick of an eyebrow is wasted. How could this diminutive woman, 62 years old, with skin and flesh laid over bones as delicate as a seagull's, have modelled and carved a body of work five times the size of Michelangelo's, in equally resistant materials and on as big a scale?"
Hepworth was used to this kind of patronising approach. There's a wonderful piece of Pathé footage of an interview with a young John Stapleton where he asks why the father in her sculpture The Family of Man is not the largest figure. "Isn't he the most important?" he asks, and her answer positively drips with patrician certainty. She has given him significance, she suggests, "by his terrific, spiky sturdiness".
She deals with Hughes with the same assurance. "There is a deep prejudice against women in art. Many people – most people still, I imagine – think that women should not involve themselves in the act of creation except on its more trivial fringes. They still think of sculpture as a male occupation: because, I suppose, they have a misconception of what sculpture involves. There is this cliche, you see, a sculptor is a muscular brute bashing at an inert lump of stone, but sculpture is not rape. No good form is hacked. Stone never surrenders to force."
Yet this isn't a feminist speaking. In conversation with Cindy Nemser in 1973, she rejects an attempt to recruit her to the cause. "I hadn't much patience with women artists trying to be women artists," she says. "At no point do I wish to be in conflict with any man or masculine thought … Art is anonymous. It is not competition with men. It's a complementary contribution."
Just as her sculptures are both solid and ethereal, shaped to show the invisible motion of form as well as its visible contours, so Hepworth herself is harder to pin down than first acquaintance suggests. There has not been a big retrospective of her work in London since 1968, when she was still alive, and when the catalogue essay by Ronald Alley described her as "a brave and indefatigable woman who transcends the difficulties and ugliness of modern life and evokes a vision of radiant, calm perfection".
Now a major show at Tate Britain called Barbara Hepworth: Sculpture for a Modern World offers an opportunity to reassess the output of a woman whose work has too often been diminished both by comparisons with her contemporary Henry Moore, and by the preconceptions applied to it. As Penelope Curtis, director of Tate Britain and co-curator of the show says: "I am keen that we don't see the same old Hepworth, a particular image which she partly made, which has become the standard. I want to shift the focus slightly away from Yorkshire, St Ives and the landscape; she's got a bit touchy-feely in the public mind, and I'd like to restore the fact that she saw herself as a public intellectual."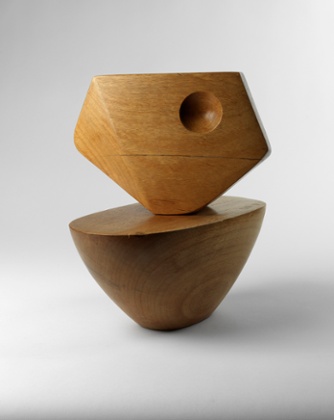 The first astonishing quality of Hepworth's career is just how easy it was for her to get started. Her father, Herbert, was the county surveyor for the West Riding of Yorkshire and he made life simple in two ways. His drives through the county gave her an abiding love of landscape – "all my early memories are of forms, and shapes and textures," she wrote. Equally importantly, Herbert was a man who believed that women had as much right to education as men, by no means the standard view in northern England at the turn of the century. Hepworth sailed through school, got a scholarship to the Leeds School of Art at 16 (where she first met Moore), and moved to London to study at the Royal College of Art a year later.
She never had any doubts, apparently. In an interview with Woman's Hour in 1967, she says she knew she wanted to be a sculptor at the age of seven, after seeing a film on Egyptian sculpture at school. "It simply became a fixture in my mind. [I had] the strange feeling that one could make anything and do anything and shape anything." She adds: "I was striving to make a thing which I could live with and hold and touch and which would have some sense of eternity in it."
This self-belief propelled her to take up carving – an activity that was not unusual for women artists at the time. (The Tate catalogue points out that in the first quarter of the 20th century, female sculptors constituted almost 40% of entrants to the profession.) What made Hepworth stand out was her sheer talent and ambition, which took her to Italy to learn to carve marble – and at the same time to meet and marry the British sculptor John Skeaping. When they returned to London, they exhibited their work as equals, and Hepworth describes their early years as "a wonderfully happy time. My son Paul was born, and, with him in his cot, or on a rug at my feet, my carving developed and strengthened."
That all changed when in 1931, on a holiday in Norfolk, Hepworth met the artist Ben Nicholson. A year later, he abandoned his wife and she divorced Skeaping. They embarked on the most significant relationship of her life, both romantically and artistically. Crucially, in the period that followed, the couple were an integral part of the modernist movement in continental Europe, exhibiting alongside artists such as Arp, Mondrian and Kandinsky.
For if Hepworth's life was changing, so was her art. In 1931, she made a sculpture in pink alabaster (destroyed in the war), which she pierced for the first time. This "irrational, inorganic piercing of the closed form", as AM Hammacher describes it, "entailed a literal and spiritual breakaway from the tradition of the closed volume".
Hepworth said: "I had felt the most intense pleasure in piercing the stone in order to make an abstract form and space; quite a different sensation from that of doing it for the purpose of realism." The technique became integral to her art, expressing not just her sculptural creed, but – as Lucy Kent points out in the Tate catalogue – giving expression to her spiritual beliefs, allowing her, as a Christian Scientist, to find a way of expanding the inner life of her sculptures beyond their physical limitations, of linking the numinous with the real.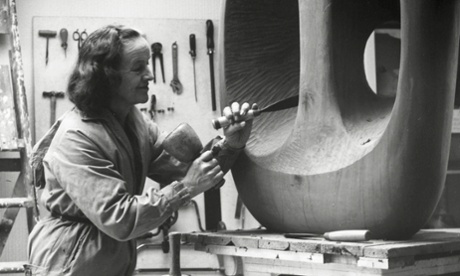 This period of creativity in London with Nicholson is recorded in a series of photographic albums, which reveal the entwined and harmonious nature of their lives. "Barbara and I are the same," wrote Nicholson in 1932. "Our ideas & our rhythms, our life is so exactly married that we can live think & work & move & stay still together as if we were one person." In 1934, the idyll became more crowded. Hepworth records her pregnancy with triplets with notable sang froid. "Suddenly I said, 'Oh dear' – and in next to no time, I saw three small children at the foot of my bed."
But in a month she was back at work carving. Motherhood was not the enemy of promise; Curtis argues that in some ways it helped Hepworth grow. Her time spent with the children – Rachel, Sarah and Simon – seems "to have deepened her own developing interest in the unconscious nature of making, and of the magic or secret life of forms". In any case, the triplets went to nursery and boarding school; they were never allowed in Hepworth's studio when she was working. She told an interviewer in 1966 that "we lived a life of work and the children were brought up in it", acknowledging only that: "It is taxing if the children fall ill. That becomes a strain."
Indeed, it's possible to argue that the onset of war, which forced the family to leave London for Cornwall in a rush in 1939, had more impact on Hepworth's subsequent career, both good and bad, than her unexpectedly large family. In London, she had been one of only two female contributors to the modernist manifesto Circle. In Cornwall, she became the centre of the progressive wing of the St Ives school; keeping her links with international art in such circumstances became part of her determined campaign for the recognition she knew was her due.
The writer Candia McWilliam notes of Hepworth: "More than we mostly expect of an artist, she had a lifelong regard for 'good form' in the sense of what should be done and how one should behave." Her autobiography is as significant for what it leaves out as for what it includes. Of the cancer of the tongue, which dogged the last decade of her life, there is no mention; the traumatic death of Paul is dealt with only in a caption. And quite the saddest sentence in the book is the one which simply says: "In 1951, after 20 years of family life, everything fell apart."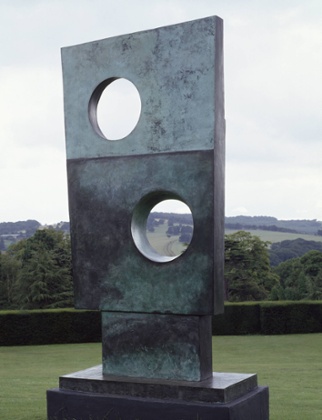 The strain had told; Nicholson left after years of increasing estrangement. According to Sally Festing's rather breathless and entirely unauthorised biography, Hepworth spent the rest of her life hoping he would return, even after he remarried and moved abroad. But just as marriage had never diminished her drive or ambition, neither did the single life. She did what she knew best, and worked relentlessly.
In fact, her horizons expanded. She wrote to Nicholson: "You never liked arrogant sculptures or fierce forms, but I do." She embarked on a series of public commissions, belatedly beginning to work in bronze, which finally enabled her to make sculpture on such a scale and in such quantities that she could build her reputation abroad. She created Contrapuntal Forms and Turning Forms, iconic pieces for the Festival of Britain and, in 1963, made sure a lamppost was moved so that Winged Figure, on the side of John Lewis in Oxford Street, could be seen to its best advantage.
Her sculptures appeared in major world exhibitions, and in civic spaces, particularly in universities, becoming part of the idealism of postwar Britain. Her towering Single Form, a tribute to her friend Dag Haamarskjöld, came to represent the peacemaking instinct of the UN, when it was unveiled in New York.
From her vantage point in the Cornish landscape, she sought an inspiration that no longer related only to geometric forms, but fed into her newly assumed role of bringing an ancient sense of harmony and fitness into the development of the modern world. All these pieces were, says Inga Fraser, assistant curator of the Tate show, "a reassertion of humanism as a counter to the second world war. She is looking back to longer-term ideals related to the past and trying to pull a thread of morality and humanity from the ancient world."
Frustrations remained. Despite the success and acclaim that greeted her work throughout her life, her essential reticence meant that she wasn't always good at promoting herself. She would rather work than talk about working. "She wasn't as willing to schmooze as some artists," says Fraser. "She saw the act of sculpting as her main purpose and sometimes refused to talk about her work or travel with it because she was so dedicated to actually doing it." In her later years, a fall and her diet of cigarettes and whisky as a cure for cancer neither improved her health nor her strength.
Above all, argues Curtis, Hepworth was "fatally compromised by seeking recognition on equal terms". The darkest shadow over her entire career was that of her old friend Henry Moore, the grand master of British modernism. Time and time again she was seen his disciple, rather than his peer, an inferior rather than an independent sculptor working in her own idiom.
Hepworth herself encouraged this. "She tended to try to measure up to him and she always wanted the same people who wrote about him to write about her," says Curtis. "It seems so obvious to me now that a critic like Herbert Read just was not as enthusiastic about her work as he was about Moore's, so she would have done better to seek other writers. Certainly at the end of her career there were younger women writers who were interested in writing about her but she didn't think they were valuable."
In this, as in much else, Hepworth was a product of her era. That is why this opportunity to look at her work afresh will be so valuable. The elegant beauty and quiet power of so much of her sculpture finally has the chance to transcend time and place and be seen in a new light, to take its position in the first rank of the long history of sculpture to which she was always sure she belonged.
• Barbara Hepworth: Sculpture for a Modern World opens at Tate Britain, London SW1 on 24 June.