The British home secretary, Theresa May, is reviewing the decision to refuse dissident Chinese artist Ai Weiwei a six-month business visa, after he accused British authorities of turning their backs on defenders of human rights.
UK immigration officials in Beijing rejected his application, claiming he had not declared a criminal conviction in his home country.
Ai spent 81 days in secret detention in 2011 after being seized by Chinese security agents during a crackdown on activists who Beijing feared were trying launch a "jasmine revolution".
He was subsequently ordered to pay a $2.4m fine for allegedly unpaid taxes although supporters said the penalty was a politically motivated punishment for the artist's fierce criticism of the Communist party.
Having confiscated Ai's passport in 2011, Chinese authorities finally returned the document last week, allowing him to leave the country for the first time in more than four years. On Thursday he boarded a plane from Beijing to Germany after obtaining a short-term Schengen visa that allows him to enter 26 European countries but not Britain.

The return of Ai's passport fuelled hopes that he might attend the opening of a major retrospective of his work at the Royal Academy of Arts in September.

However on Thursday Ai claimed British immigration officials had jeopardised those plans after granting him only a 20-day entry visa rather than a six-month business visa.

The artist published a letter sent from the British embassy in Beijing in which an immigration official said only a "restricted" visa could be issued since Ai had "failed to meet business visitor rules".
"It is a matter of public record that you have previously received a criminal conviction in China, and you have not declared this," added the letter, which was dated 29 July and signed by a Beijing-based "entry clearance manager".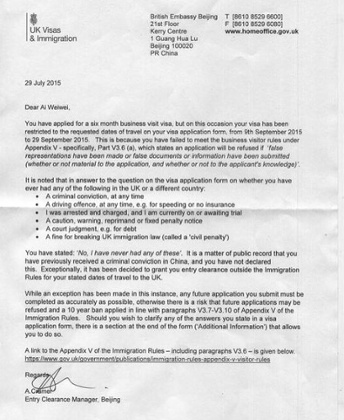 An accompanying post on the artist's Instagram account read: "Ai, who has never been charged or convicted of a crime, attempted to clarify this claim with the UK Visas and Immigration Department and the British embassy in Beijing over several telephone conversations, but the representatives insisted on the accuracy of their sources and refused to admit any misjudgement."
It added: "This decision is a denial of Ai Weiwei's rights as an ordinary citizen, and a stand to take the position of those who caused sufferings for human rights defenders."
The decision meant Ai "may not be able to attend his exhibition" at the Royal Academy of Arts in central London, the post added.
Liu Xiaoyuan, a human rights lawyer and friend of the outspoken artist, said he could not understand the "ridiculous" ruling.
"I don't know which county's understanding of criminal conviction the rejection is based on. If it's the Chinese one Ai certainly does not have a conviction."
"As a lawyer I don't think Ai has a criminal conviction. Under Chinese law Ai's case ended in the police investigation stage and has not reached the court. The case does not have a court sentence and hence by Chinese standard, Ai doesn't have a criminal conviction.
"It's very ridiculous," Liu said. "Aung San Suu Kyi and many other human rights activists have been kept under house arrest for years. Do those count as criminal convictions?"
Joshua Rosenzweig, a Hong Kong-based human rights expert who has followed Ai's case, said he was also at a loss to explain the British decision. "If they are talking about what happened in 2011 then I just don't see how this could qualify as a criminal conviction. It seems to me that either someone is misinformed or I don't know what. You cannot call what happened in 2011 a criminal conviction.
"Being subjected to residential surveillance is not the same thing as a criminal conviction. It's what the Chinese authorities call a coercive measure. You can't have a conviction without facing a court – even in China."
The immigration letter made clear that Ai's request for a six-month business visa had been denied because of "a criminal conviction in China" that was a "matter of public record", Rosenzweig said. "I would like to know what the public record is because I pay attention to these things and it is not ringing any bells."
A Home Office spokesperson said: "This case did not come to the home secretary, and she is now looking into it."
Ai Weiwei fans reacted angrily. "Disappointing. Puts a blanket of sadness over my mood," one wrote on his official Instagram account.
Jigme Ugen, a Tibetan activist, wrote on Twitter: "UK visa restriction based on trumped-up criminal charges is purely a kowtow to #XiJinping's London visit. OUTRAGEOUS!"
The Chinese president, whom activists accuse of waging a severe crackdown on dissenters, is scheduled to make his first official state visit to the UK in October.
Asked to comment on Ai Weiwei's claim that Britain had turned its back on human rights defenders in China, a Foreign Office spokesperson said: "The UK takes human rights issues very seriously. We consistently raise our concerns about a range of civil and political rights issues in our meetings with the Chinese government, including individual cases."

Responding to claims from Ai Weiwei and others that the artist does not have a criminal conviction in China, the spokesperson added: "This is a visa issue, where applications are decided by UKVI [UK Visas and Immigration] based on relevant legislation."
Additional reporting by Luna Lin