They rank as some of the most admired drawings in the world yet many people will be blissfully unaware of how artists including Leonardo, Dürer and Raphael made them: with a metal stylus over an abrasive surface often made from carbonised bone.
The mysteries of a technique called metalpoint are to be explored in an exhibition covering 600 years of art history, the British Museum will announce on Wednesday.
Remarkably, it is the first large-scale exhibition on the subject. "Like many great ideas, when someone comes up with it you slap your forehead and think: why hasn't this show been done before?" said Hugo Chapman, the museum's keeper of prints and drawings. "It just hasn't, so I'm very glad that this will be the first time."
The show arrives in London from the National Gallery of Art in Washington in September.
Metalpoint drawings are normally made with a silver or mostly silver stylus used on roughened ground in a way that ensures a trace of metal is left on the surface.
"In my wicked schoolboy days you used to be able to draw on a newly painted wall with an old 10-pence piece," said Chapman. "It's the slight roughness of the wall and metal … it just drags off a little bit of the metal on to the surface."

The show will bring together more than 100 examples of the best metalpoint, or silverpoint, from collections around the world. One of the finest is in the British Museum's own holdings: Leonardo's remarkable and detailed A Bust of a Warrior, which is so accomplished that experts believe it was a demonstration piece, showing the world his brilliance as a newly independent master.
The exhibition will explore metalpoint's fitful history up to its use by contemporary artists including Jasper Johns, Bruce Nauman and Susan Schwalb.
The technique first became popular in the 14th century, although its precise origins remain obscure. "There will be Italian historians who say it definitely started in Italy," said Chapman. "Whereas the Germans and the Dutch would say it definitely started north of the Alps … who knows?"
Italy became particularly keen on it in the 15th century, used in studios for training and preparatory studies. And then, with the death of Raphael in 1520, "it dies out. Italian artists want to do big things, they want a lot of contrast between light and shade, so it disappears never to rise again. This incredible flowering and then extinction," said Chapman.
It continued in northern Europe, however, with examples in the exhibition by artists including Hendrik Goltzius, Hans Bol and Rembrandt.
Chapman said there were significant differences between Italian artists and northern European artists, with the latter using it in the home – whether drawing a loved one or, in the case of Dürer, a dog he likes.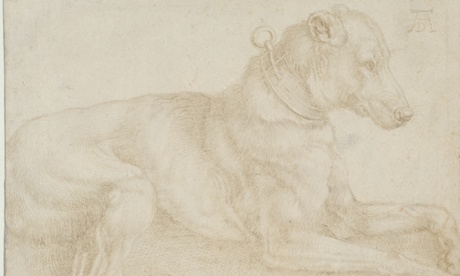 "The Italians are very conservative: silverpoint is something you do at work, you don't take it home."

Metalpoint fizzled out in the 17th century before making a comeback in the 19th century, popular with pre-Raphaelite artists such as William Holman Hunt and Edward Burne-Jones.
One of the most poignant examples from the 20th century is a 1934 metalpoint landscape drawing by the German artist Otto Dix, who had been sacked from his teaching post and whose art was condemned by the Nazis. The drawing shows a Jewish cemetery in the countryside with dark clouds hovering overhead.
"By using silverpoint he is making a statement, saying: I do belong to this great German tradition which goes all the way back to Dürer, I am part of this, whatever the Nazis say I am a German artist."
The London exhibition will be announced at a briefing to mark publication of the British Museum's annual report, the final one launched by Neil MacGregor, who steps down as director in December.
Chapman hopes the show will be something of an eye-opener. It is a simple yet difficult technique, no good for any artist who does not like making mistakes. When done well, the results can be astounding. "In a way," said Chapman, "you're going behind the scenes of an artist to see the raw creativity."
• Drawings in silver and gold: Leonardo to Jasper Johns will be in room 90 of the British Museum from 10 September to 6 December, entrance £8.