Alison Mosshart describes the purchase of her most treasured painting as one might describe pre-concert jitters, or possibly the opening stages of a stomach virus. "I was almost sick; it was, like, the biggest day of my life," recounts the Kills and Dead Weather singer. "I kept walking up and down the stairs to the gallery. The fact that it would be mine was overwhelming. I really was almost ill over it."
The art in question was by Don Van Vliet, best known to rock fans as Captain Beefheart; in his later, more reclusive years, the avant garde musician carved out an equally radical niche as a painter of crudely abstracted animals, spindly humans and the sort of landscapes where angels fear to tread.
Now, with her first solo art show, Mosshart is asserting her own crossover chops. Fire Power, which opened recently at Joseph Gross Gallery in New York, is a bold opening statement. Much of the 127-piece collection was created on tour from 2013 onward, and the work channels both that energy and isolation with protean flair.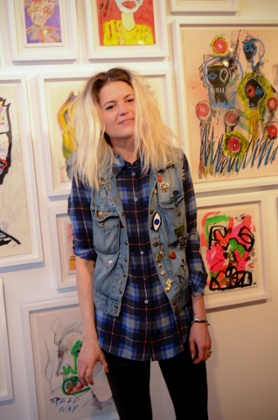 The majority of works are distorted character studies of sharp brushstrokes and contrasting hues scraped harshly together, deep crimson against lime and canary on oceanic blue; names of major American cities are scrawled above in rickety letters. (Something depressing happened in "Loss Angeles", clearly.)
"If there was one theme to the show, it would be a constant state of movement," says Mosshart, calling from her part-time home in Nashville (her other home is London). "All of the works on paper were done in different cities, backstages, hotel rooms, moving vehicles. The bigger pieces that I could actually work on in my studio were just a more abstract representation of that."
The Kills have been gigging consistently since forming 15 years ago – when Mosshart dropped out of art school in Florida to join bandmate Jamie Hince in London – and there is a distressed air to the figures she paints. However, Mosshart says that touring doesn't fill her with as much malaise as these twitchy forms suggest.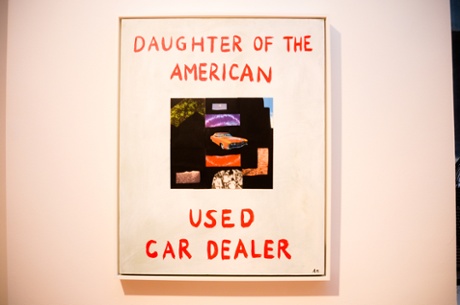 "Being on the road, I think, is the most organised part of my life. You know where you have to be every day, you know what your job is every day," she says. "I crave that tiny bit of stability, which anyone else would think is the most unstable way of living ever." Of her aggrieved-looking figures, some composites and some real encounters, she adds: "All those faces, all those eyes, all those extra teeth, they're dissections of confusion and conversations that I've had on the road. Nobody ever feels like they're completely firm. Shit's changing all the time."
The larger pieces in the show, which Mosshart created in her Nashville studio, echo the kinetic theme. A triptych of black, white, and cobalt panels sport small tire tracks – the product of a remote-controlled toy car plunked in paint – and a faded oxblood carpet stencilled with the word MAGIC threatens to fly off the wall. A paper collage blends quintessentially Americana images of young girls in prim sundresses with sandy landscapes and a red Ford Thunderbird; the text reads Daughter of the American Used Car Dealer, an autobiographical nod to her upbringing. (Her mother was a high school art teacher who first encouraged her to paint as a child.)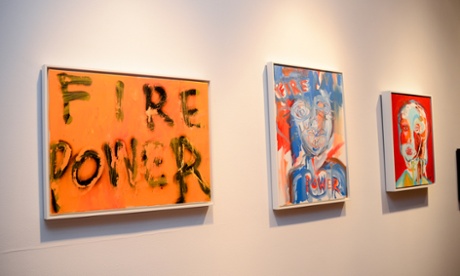 Mosshart describes her compositional style as "flash and burn ... very similar to being onstage and performing. You just go for it; you don't stop and go, 'Oh shit, I just messed that up. I gotta do that again.'" Painting is also a stress diffuser she shares with Hince. "We've been painting in each other's books and making stuff together for as long as we've known each other. It's part of our band, part of our friendship," she says. However, fun though it is to imagine Hince and his wife Kate Moss swanning past 30 Mosshart originals en route to the kitchen, it's unlikely. "He's got plenty of my stuff but I don't think he thinks of them like, 'I've gotta hang onto this.'"
With Fire Power installed, Mosshart is taking a temporary break from painting. She's finishing lyrics for the next Dead Weather album with Jack White, Dean Fertita and Jack Lawrence – estimated at a week away from completion – and the next Kills one, too, which is a few months off. After Fire Power closes on 11 July, she will lend a piece to the gallery's summer group show, most likely one of the 70-plus pieces that didn't fit on its walls for the solo exhibition.
There is one particularly intriguing collage work called Three Types of Men – one of Fire Power's equivalents of a B-side, only pictured in postage stamp dimensions in the catalogue. "Yeah, I love that one! It was my screensaver for a while. It was literally a combination of junk I kept finding on my studio floor." So what are the three types of men, in Mosshart's book? "There's like a weird JC Penney underwear model in a robe, tan and quite muscular. There's a weird superhero guy from another planet, and a glowing orb around him." She strains to remember the third, obviously the least interesting to her. "Oh, it's a sensitive type, I think. One of those."