An important Vincent van Gogh painting from a time when he was at the height of his powers – and working easel by easel with his friend Paul Gauguin – will be auctioned next month in New York.
L'allée des Alyscamps has an estimate in excess of $40m (£27m) and is a late entry for the marquee May sales in the city held by the Sotheby's and Christie's. On Friday, both auction houses put on display in London highlights that are to go on sale.
Amid the stunning Monets, Rothkos, Bacons and Warhols being sold, the undisputed star of the sales is Picasso's Les femmes d'Alger (version "O"), which Christie's expects to set a new auction world record price for a work of art.
The auction house is confident the 1955 masterpiece will sell for more than $142.4m that Francis Bacon's Three Studies of Lucian Freud fetched in New York last year.
"I'm still in shock that we have it for sale," Olivier Camu, deputy chairman of Christie's, said of Les femmes d'Alger. "It is the most important Picasso in private hands today."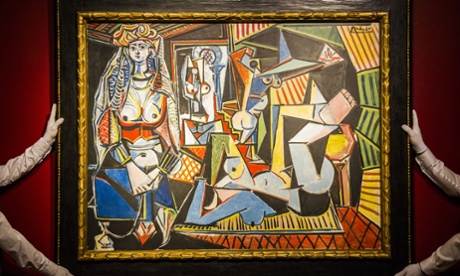 Van Gogh's L'allée des Alyscamps will be auctioned by Sotheby's, whose impressionist and modern art specialist Jeromiah Evarts described the painting as a "seminal work".
Evarts said: "We get one this special only once or twice a decade. To see a Van Gogh landscape fully formed, fully worked and of this scale is so exciting."

It was painted on 1 November 1888, an important and tumultuous year for the artist that included his Sunflower paintings and the famous ear incident.
The four Sunflower paintings had been made to decorate the guest room for Gauguin in Van Gogh's rented Yellow House in Arles, southern France.
Gauguin finally arrived in October and the two men were soon out painting together, including at the Alyscamps, a picturesque Roman burial ground in the town and the subject of the Van Gogh work for sale.
The pair were friends but personal and artistic tensions soon boiled to the surface. The relationship began dissolving horribly and culminated in Van Gogh slicing off part of his ear. Two years later, he was dead. Gauguin, meanwhile, was preparing to travel to Tahiti.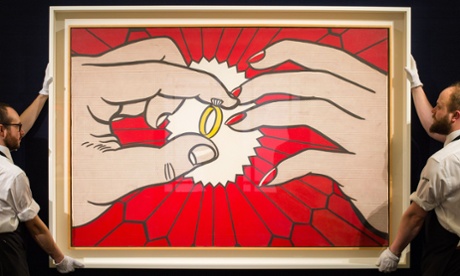 Other highlights in Sotheby's sale include a huge and vibrantly coloured abstract by Gerhard Richter, Absraktes Bild, 1992, with an estimate of $30m; a Monet water lily painting, Nympheas, with an estimate of $30m-$45m; and Roy Lichtenstein's The Ring (Engagement) 1962 with an estimate of $50m. All of them are on public display 10-14 April.

Les femmes d'Alger is available for anyone to see – along with many other delights – at the London headquarters of Christie's between 11-15 April.
Camu said it was the most important of Picasso's postwar works. "It is a sort of Gesamtkunstwerk and the more you read and look at it and think about it, the more you discover."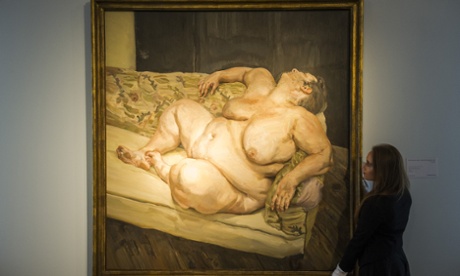 It will, in all likelihood, not be the only record breaker. Also on display is one of the four nude paintings Freud made of Sue Tilley – known widely as Big Sue. Benefits Supervisor Resting from 1994 is estimated at $30m-$50m and expected to set a Freud auction record.