Sourced from obscure newspaper clippings from around the world, Sarah Charlesworth's photographs of bodies in mid-flight are cropped, re-photographed, magnified, and then mounted on the walls of the Art Institute of Chicago.
With some prints as tall as six-and-a-half feet, the photographs – a collection of 14 images titled Stills – forces the viewer to consider the humanity of the 'bodies' in the photos: who are these people? What brought them to the edge? Did they jump, were they pushed, or was their fate a terrible accident?

Charlesworth, who died in 2013 at age 66, is considered one of the key figures in the Pictures Generation, a group of New York-based conceptual artists in the 1970s through to the early 1980s who used existing multimedia and everyday objects to create work that spoke of consumerism, political fascism, and gender.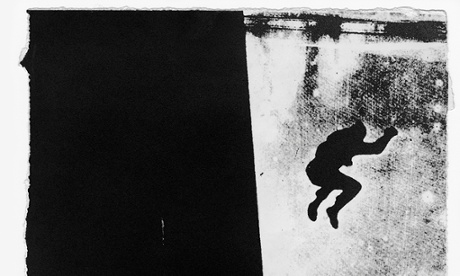 While her work is represented in museums in the US and abroad, she is not as well known as Pictures Generation peers like Cindy Sherman and Louise Lawler. Matthew Lange, her former student at the School of Visual Arts in New York who later became her assistant, says the reason is due to her restless spirit and an insistence to move on once she had established a certain aesthetic.
"People would say 'why don't you do that again?' and she would say 'I already did that, I need to keep inventing new ways to work'. As soon as you thought you knew what a Sarah Charlesworth piece looks like, all the sudden it's something different," he says.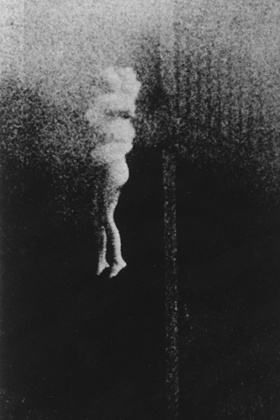 While others delved into early use of home video or film, Charlesworth was a pioneer for blowing up photographic prints, primarily newspaper images she found at the New York Public Library and elsewhere, so they became grainy abstractions that, grown to such a human scale, became accessible.
"They are so big you can almost step into them," says Art Institute curator Matthew Witkovsky. "That was so important to her."
In preparing Stills for the Chicago exhibition, Charlesworth was fully aware her work would be inevitably associated with "Falling Man," the harrowing Associated Press photograph of an anonymous man diving headfirst from the North Tower on September 11, 2001.

According to Lange, Charlesworth realized it was "unavoidable" to have her earlier work compared to that image.
She faced those concerns by returning to her original intentions for the photographs, which was to force viewers to confront the humanity of those private, but incredibly traumatic, moments.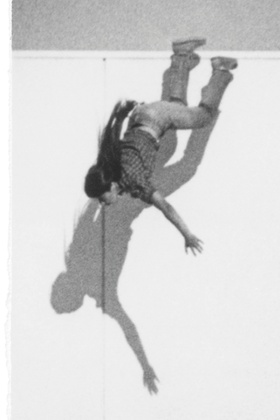 "She knew that sensationalism was part of the reason people wanted to look at these type of images, but I think she confronted it by trying to maintain empathy with the person in the picture," Lange says. "She wanted to magnify this tiny little news clipping and try to put it on a human scale."
Likewise, Stills can be seen as providing witness to the horror of those moments, while at the same time developing a personal relationship with the people whose identities have been washed away in history. The granular nature of the prints makes the leaping figures abstract. Frozen by a camera shutter, their images can offer hope, Witkovsky says.
"Even though the impact if very heavy, it's actually uplifting and joyous too because the photography has cheated death," he says. "It stills the moment so the end never comes."
Stills is on view at the Chicago Art Institute from Thursday, 17 September through 4 January 2015