Gerhard Richter and I circle the seven big of sheets of glass that lean together in the middle of the ground floor of Marian Goodman's elegant new London gallery. Richter's House of Cards is all edges and transparent planes, reaching towards the ceiling and held together by small steel clamps. It looks precarious and dangerous. Reflections of the strip lights overhead skitter across the clear surfaces. We meet our own reflections there, too.
Now 82, Richter is spry and alert, a dignified yet amiable man looking at his own work with a kind of curiosity in this spanking new gallery, designed for the veteran New York dealer by David Adjaye. Goodman and Richter are friends, and he has been showing at her galleries in New York and Paris for decades. The artist had been thinking about the sculpture of Richard Serra when he made House of Cards, and also of Caspar David Friedrich's 1823-4 Sea of Ice (also known as The Wreck of Hope), a painting of jumbled arctic ice floes. German romanticism seems far from Richter's art, but like much else, it's in there somewhere, reflected, removed, distanced.
The complications of his recent work are given full rein in this show. "In 60 years you can do a lot," Richter tells me, "And our times are so … unquiet," he says, searching for the word. Over a career of almost 60 years, Richter has made an enormous variety of works, moving between abstraction and portraiture, landscape and a kind of history painting. Among it all are monochromes and paintings of his family, paintings of the suicide and murders of the Baader Meinhof gang, and of the burning Twin Towers. The world does not pass him by. "We react and we no longer have a tradition to support us," he says. "Globalisation makes things fragment, but also brings them closer."
Here, as well as the glass sculpture, he is showing solemn grey diptychs, and photographs of landscapes, overpainted with smudges and flecks of colour "harvested" from the residues of paint left over from his large, squeegee'd abstractions. There are wild and lurid "Flow" paintings on glass, and a major series of printed, digital works, the largest 10 metres across, consisting entirely of eye-rocking coloured stripes.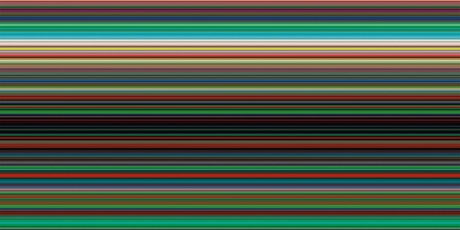 Glass also covers the mute grey Double-Grey painted panels. Trying to look more closely at the greys, the reflections keep you at bay, resisting a close inspection. But you can tell that the tonal values, warmth and coolness of these greys are not the same.
Forty years ago, Richter says, he built a narrow corridor and on one wall he hung a grey painting and opposite, a mirror. "They looked at each other," he says, "And you couldn't go in." He created an illusion of a painting that didn't need a spectator. "I have a wonderful recording of Bach's Well-Tempered Clavier, played by Andras Schiff. A writer said that this was so good it was the kind of music that doesn't need us. It is more than we can understand and more than we are. Perhaps this is a wonderful dream, but it is a quality we need. Perhaps I am getting closer … " In fact, the Double Grey paintings are dedicated to the composer Arvo Pärt. "We tried to make something together. He wrote a composition, and I made these."
There are those who say that a lot of modern music doesn't need listeners, any more than the kinds of paintings made now don't need spectators either. "Music has an advantage," Richter laughs. "You can say that someone is unmusical, but we don't have a similar word for art. You can say someone has no eye, but it isn't so precise."
Behind us, in one of the smaller rooms, hang paintings like bilious eruptions, cascades and swamps of discordant, seemingly random paint, somehow arrested in its liquid flow. Richter poured paint on a flat surface, tilting the paint around, then pressing the glass on to sections of the surface and lifting it off. We look at the paintings through the reverse side of the glass, which flattens the surface and removes it from us. "I move the paint around. If it looks good and feels right I place the glass over it." The process sounds almost childish. "The difference is that a child never knows when to stop," says Richter.
"These paintings are almost unfair. You can't paint such images, only provoke them and decide what to use. They are almost a kind of readymade." They seem to resist any kind of meaning at all, except as weird natural phenomena. Yet they make perfect sense in the context of Richter's art, though the process seems a lot more intuitive than the ways some commentators intellectualise the artist's thinking and working method. "It is their job to interpret," he says.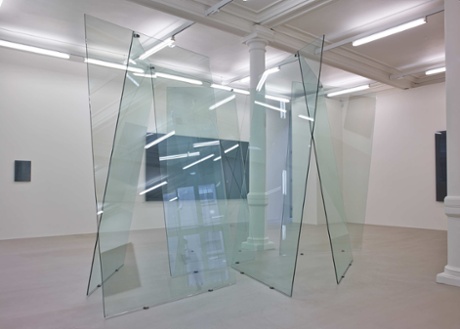 Upstairs in the big, top-lit gallery are a number of enormous works from a series called Strips. Their sole imagery is nothing but a multitude of eye-jangling, parallel narrow bands. They are almost impossible to take in. The biggest is 10 metres across. Coloured lines rush from end to end or top to bottom of the panels, with a sense of compression as well as velocity. These hectic inkjet-printed digital images have both tremendous frontal attack and a feeling that they are hurtling by. Up close, it is hard to focus, and the eye jumps between the parallel lines of colour. They are all derived from a single abstract painting from the 1990s.
Richter took one of his own works, and halved a fragment of the image vertically on a computer. He mirrored the image and repeated the process again and again. After a while patterns emerge from the mirrored, incidental skids of paint. "Rows of faces appeared, monsters, flowers, mandalas," he tells me. As the image gets halved and squeezed again and again, ever smaller repetitive patterns are produced, reminiscent of Islamic decoration, until at a certain point these horizontal bands take over. Were he to continue, he explains, the bands themselves would disappear into a kind of optical white noise, and eventual visual silence.
Richter chose sections from these bands and recombined them for these larger works. They come at you like complex visual chords. Richter had no idea what would happen when he began this process. He touches one of the panels with his knuckle. "The memory of all the images that came and went is still here."
Looking around, Richter announces that there will be no more Strips and no more Flows. "That's it, totally," he says with finality. This whole complex arc of works began while he was heavily involved in the major retrospective that toured to Tate in 2011, and took him away from his studio for long periods. What's next? "I want to make small paintings. Landscapes, abstracts, I don't know." When will you know? "When I start. The answer comes by working. My dream is to close the door and paint. It will happen. It will come."
• Gerhard Richter is at Marian Goodman Gallery, London W1, from 14 October until 20 December. Details: mariangoodman.com